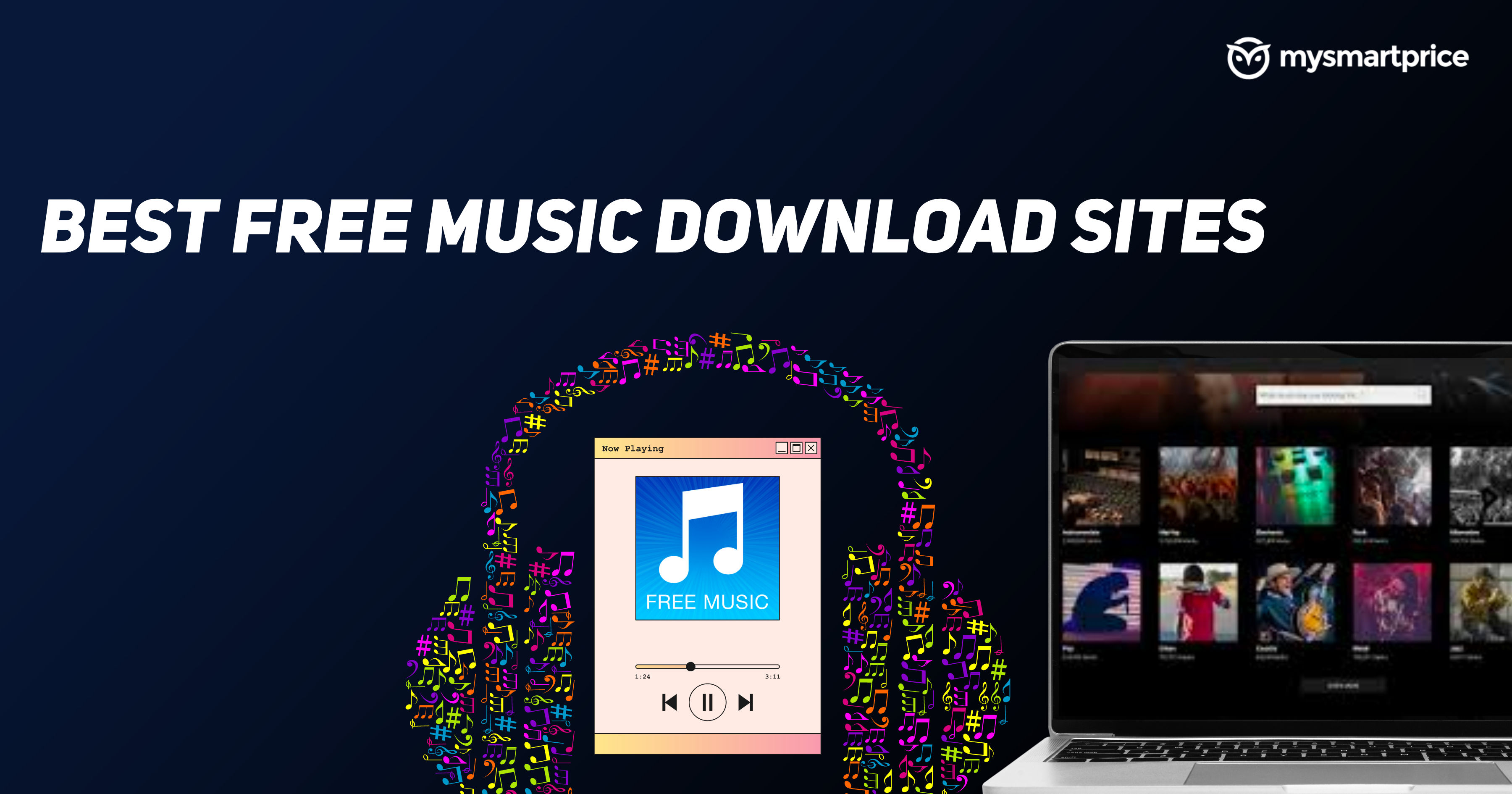 In the modern world, almost everyone with a smartphone or a camera has the ability to become a creator on platforms like YouTube, Instagram, TikTok, and more. For good content, having good music is a must and a good track can attract millions of people to content and the audio can quickly go viral as we have seen over the last few years with Instagram reels, YouTube shorts and much more.
Everyone is always looking for free music to make content or in general to listen to them. We have found 10 such websites which offer a huge collection of music that can be downloaded for free. Of course, if you use these on platforms like YouTube, you may get a copyright strike.
But, these sites give you a risk-free and easy way to discover more playlists and bands. While streaming apps like Apple Music, Spotify, Saavn, and Gaana offer a lot of options, these sites allow you to download and use them outside of the website as well. The big advantage of these sites is that you won't have to pay anything and you can explore a lot of underrated music and discover some interesting music. We have listed the ten sites in alphabetical order, let;s get started with the first one.
Also Read: Free Movie Streaming Sites 2022: 10 Best Sites to Watch Movies and TV Shows Online For Free in 2022
1. Audiomack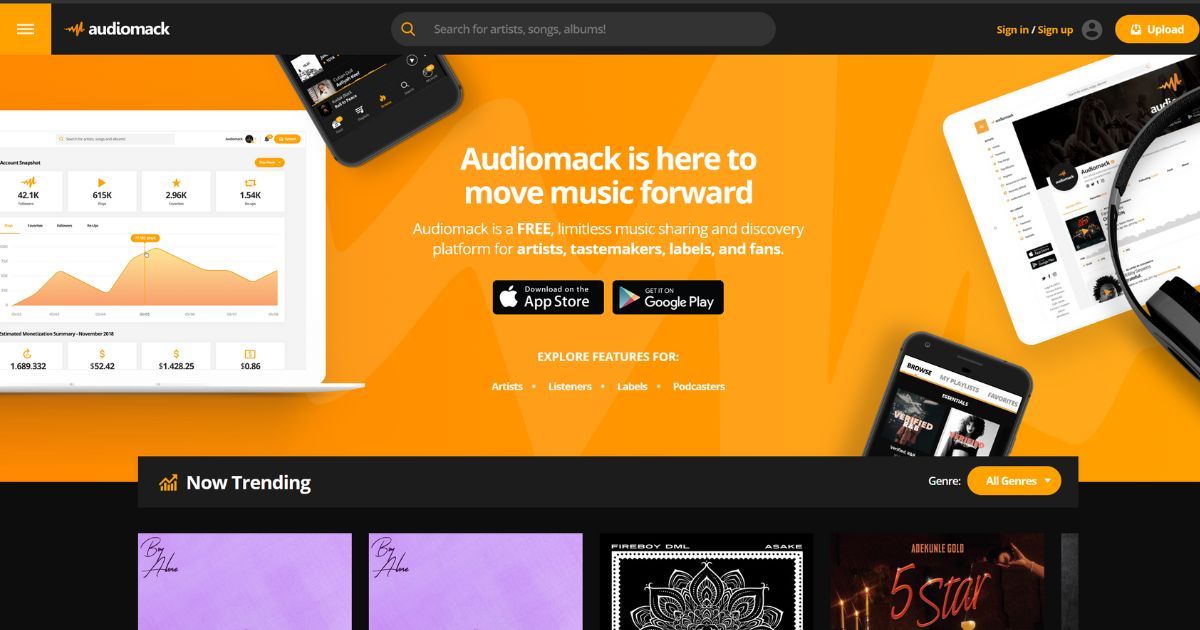 This is an on-demand music streaming and audio discovery platform that allows artists and creators to upload limitless music and podcasts. You can access this on the web or you can download the Android/iOS app. You can stream all songs for free. However, not all songs can be downloaded for free. There is also an option to embed the music track. You can use the tracks on YouTube, Media, Hype Machine, and Submit hub.
Features
Stream all songs for free

Android and iOS apps are available

Download music without signing up

Discover by Artists, Listeners, Labels, and Podcasters
2. Beatstars
Beatstars is a platform built for the performer, the beat maker, the producer, the engineer, the record label, the publisher, the videographer, the artist and the creator. You can download most of the tracks here for free. Make sure to check for the "free" tag and download the music. You will get a lot of filters and options to search for or you can just scroll through the site and discover on your own. The site is quite popular and you can also access the content using the Android or iOS app.
Features
Excellent Web UI

Focused on beats

Built for the person telling their story with music

Android and iOS apps are available

Partnership with Sony Music Publishing

Over 2 million creators
Also Read YouTube Premium at Just Rs 10 for 3 Months! Here's How to Grab the Latest YT Premium Subscription Offer
3. Free Music Archive
The Free Music Archive is also popularly known as FMA. This is an online repository of royalty-free music. This platform aims to offer music under Creative Commons licenses that can be freely downloaded and used in other works. Users can also tip musicians via donations. This platform is free to use and open to all. You can discover great music for YouTube, Facebook, podcasts and other projects.
Features
A vast collection of the archive of free music

Premium option available

Browse by Genre
4. Jamendo Music
Jamendo is a Luxembourg-based music website and an open community of independent artists and music lovers. The purpose of this site is to bring together musicians and music lovers while providing opportunities for artists to become better known and earn money through its licensing services. It allows users to download free music and stream and it allows artists to sell commercial licenses of their music for commercial use.
Users can listen to MP3 encoded audio files (96 kbit/s) and download in MP3 (192kbit/s) and Ogg Vorbis formats. Listening and downloading are free, unlimited and without any advertisements. The site is available in eight languages: English, French, Spanish, German, Italian, Polish, Russian, and Portuguese.
Features
Available in multiple languages

Filter music by Best of, Genres, and country

One-click download
5. NoiseTrade
NoiseTrade is a global online audio and book direct-to-fan distribution platform. It enables its users to upload original music and books and give them away for free without digital rights management to anyone who provides at least an email address and zip code. You can download thousands of albums and books for free. Noisetrade was acquired by PledgeMusic in 2016 and is currently owned by Paste Media Group.
Features
Can download songs for free

Need to enter your email ID to stream or download the tracks
Also Read: Instagram: How to Add Music or Songs to Instagram Story, Posts and Reels
6. ReverbNation
ReverbNation focuses on the independent music industry. It aims to provide a central site for musicians, producers, and venues to collaborate and communicate. ReverbNation was acquired by BandLab in November 2021. It offers an online streaming service for artists to promote their work and for fans to enjoy it. ReverbNation also allows artists to set different permissions for their content, and some do choose to offer free downloads. If the music on ReverbNation is available to download, you'll see a download icon next to the time duration. You can click it to save it to your computer.
Features
Over 3.5 million artists from 100+ countries

Free plan available for all

Basic and Premium paid plans are also available

Free email and social media marketing for creators
7. SoundClick
SoundClick is a music-based social community. You can stream and download it in MP3. Some tracks were also sold at the site's music store or licensed to others. SoundClick compiles daily charts for various genres, based on multiple factors. The social network offers its own profile page, where it can network with online friends. The page features photo albums, video uploads, blogs, and message boards. Users can create their own stations, where they can make their selection of SoundClick songs available to the public.
Features
Free and paid options are available

Social community

320 kbps MP3, a 160 kbps MP3, and a lossless WAV file download options
8. SoundCloud
One of the most popular and well-known amongst the many here. SoundCloud is an online audio distribution platform and music-sharing website that enables its users to upload, promote, and share audio. You can use the app for Android/iOS or use it on the web. The platform has over 76 million active monthly users, with over 175 million global users. SoundCloud offers both free and paid memberships on the platform, available for mobile, desktop and Xbox devices.
To download a track, you should be signed in to a SoundCloud account and then find a song to download. Then, you can click on more options to download the song and save it to your computer.
Also Read: Spotify Songs Download: How to Download Music in Spotify
Features
Free and paid options are available

A vast collection of songs and artists

Over 175 million global users
9. The Internet Archive
The Internet Archive is a digital library with the stated mission of "universal access to all knowledge". Apart from music, it offers free public access to collections of digitized materials, including websites, software applications/games, movies/videos, moving images, and millions of books. As of May 7, 2022, the Internet Archive holds over 14 million audio files. This is one of the best sites to find music as you get to choose from more artists there.
The best feature here is the Live Music Archive. It features shows and concerts from a range of leading artists. While no audio files are available to download, you can save the ones that are downloadable in different file formats, including MP3, FLAC, Ogg Vorbis, and more.
Features
Lots of filter options

Offers niche mediums like audiobooks and poetry

Wide variety of audio content and genres

Can be helpful to find almost anything on the web here
10. YouTube Audio Library
This one is for those who are into making videos on YouTube. This is one of the most popular places to discover music, all thanks to the vast collection of music and tracks. The Audio Library offers royalty-free audio that you can look up based on genre, mood, or artists.
There are a couple of rules that you must follow here. One, you can't resell audio as a standalone item and secondly, you may not use the music illegally or with illegal content. You can make use of this music for video, podcasts, or any other content. As you can see from the image, you can check the music's Genre, Mood, Artist, Duration, License type, and Added month and year. You can sort and filter these as well. To download, you can just click on the play button and then download the file to your computer.
Key features:
Anyone with a YouTube account can access the library and download

Dedicated to royalty-free content

Few restrictions and multiple license types

Simple interface and navigation with search filters

YouTube Audio library includes sound effects
Also Read: YouTube to MP3 Converter Online: How to Download Music from YouTube on Android Mobile, iPhone, Laptop