Vivo was the first to figure out a solution to the notch issue by coming up with a pop-up mechanism for the selfie camera. Quite recently, the brand made headlines by offering this same tech on the mid-range Vivo V15 Pro. Just when we thought the phone maker's ingenuity couldn't get any better, Vivo went ahead and announced an even more affordable smartphone that also implements a popup selfie camera that contributes to a completely obstruction-free display experience. This, of course, is the Vivo V15.
An Ultra FullView™ Display, 32MP Elevating front camera, a Triple Rear Camera and a 4000 mAh battery are just a few of the features that make this a tremendous handset. Here are the top ten reasons why the Vivo V15 is potentially the best smartphone one can find under the 25k price point.
1. Ultra FullView™ Display
The one aspect of a smartphone that makes the most impact on a user's experience is its display. With the Vivo V15, no compromises are made thanks to a completely notch-free design over its 6.53-inch Ultra FullView™ display. This LCD screen offers all the goodness of a Full HD+ resolution along with a sense of reassurance thanks to the use of a Gorilla Glass 5 layer on top. Not only is there no notch over the display, but the bezels have been reduced to a degree so fine that the phone bears a screen-to-body ratio of a whopping 90.95%. Be it YouTube videos, a round of PUBG, or just a casual scroll through your Instagram feed, the Vivo V15's display offers an unobstructed and immersive experience in all use cases.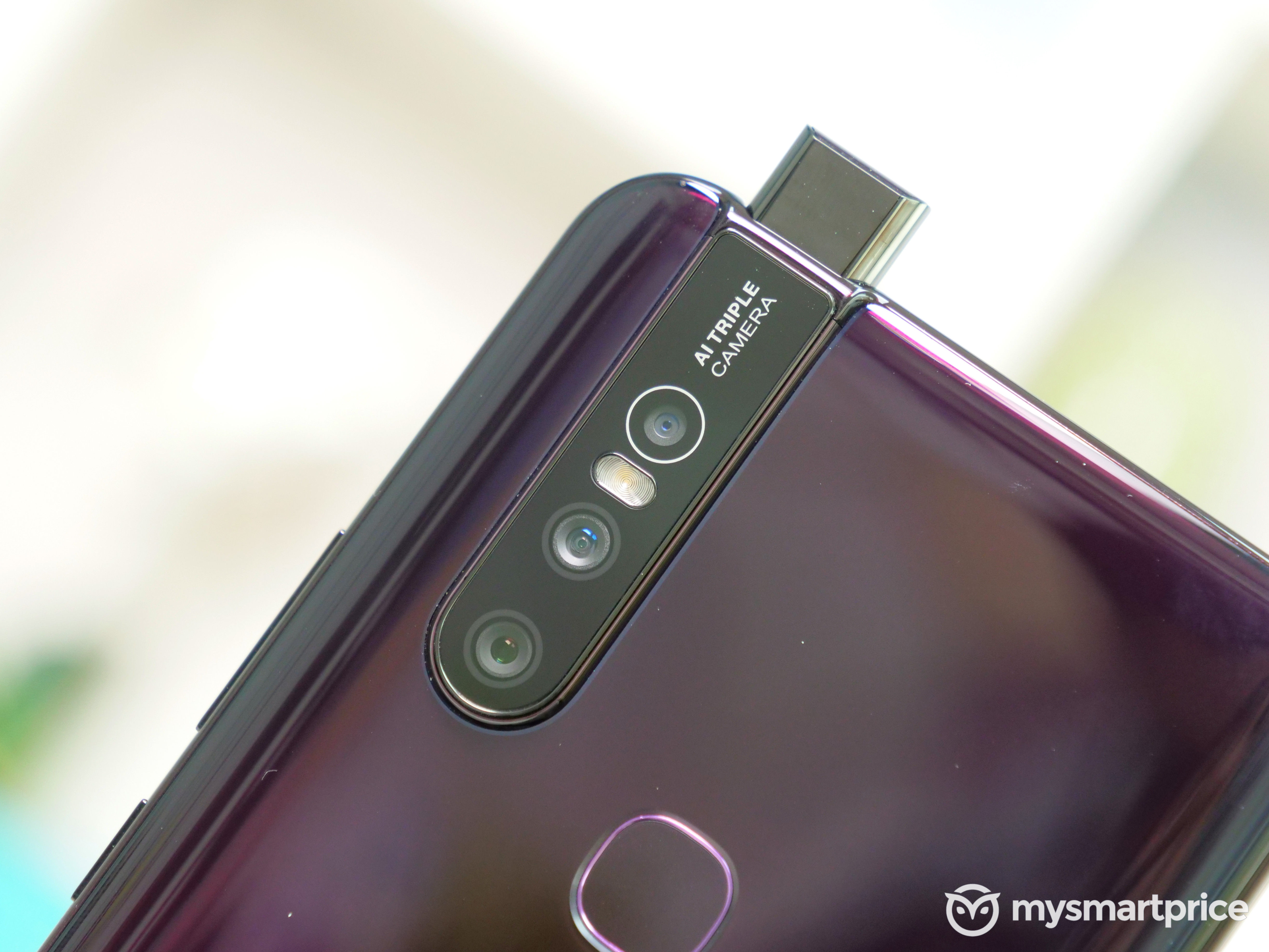 2. 32MP Elevating Front Camera
In order to provide this unhampered visual experience, Vivo has brought its elevating front camera tech to the Vivo V15. With a single tap, the hidden mechanism rises out of the top of the device, greeting you with a satisfactory robotic chime. This mechanism is more than just a party trick, as it houses an impressive 32MP imaging sensor.
This 32MP camera comes backed by a plethora of enhancement functionalities to ensure you're always on top of your selfie game. AI Face Beauty allows for alterations such as slimming your face and smoothening your skin. Furthermore, the camera app allows for a whole bunch of portrait lighting options to be applied to take your self-portraits a step further. With all these features there is no need for post-editing. Perfect selfies are only a click away.
3. AI Triple Rear Cameras
To satisfy the photography enthusiast in you, the Vivo V15 offers a versatile triple rear camera setup. The primary camera here is a 25MP, 1/2.8-inch sensor with an f/1.78 aperture that is paired with a 5MP depth sensor and an 8MP AI Super Wide-Angle camera. The primary camera is especially tuned to allow better low-light photography, with just as much care taken to ensure wide-angle photography is as clear and detailed as possible. With the AI Super Wide-Angle camera, it is possible to expand your view up to 120-degrees.
4. Spectrum Ripple Design
Gone are the days when smartphones were limited to just functionalities. Nowadays, they are all about the best of designs that act as a part of our persona. The Vivo V15 is quite a looker with its 3D curves and Spectrum Ripple Design that presents more than just a color shift. It almost feels like the rear panel is textured thanks to the mesmerizing way light reflects from it. Buyers who are in search of a phone with powerful specs paired with a unique design, look no further.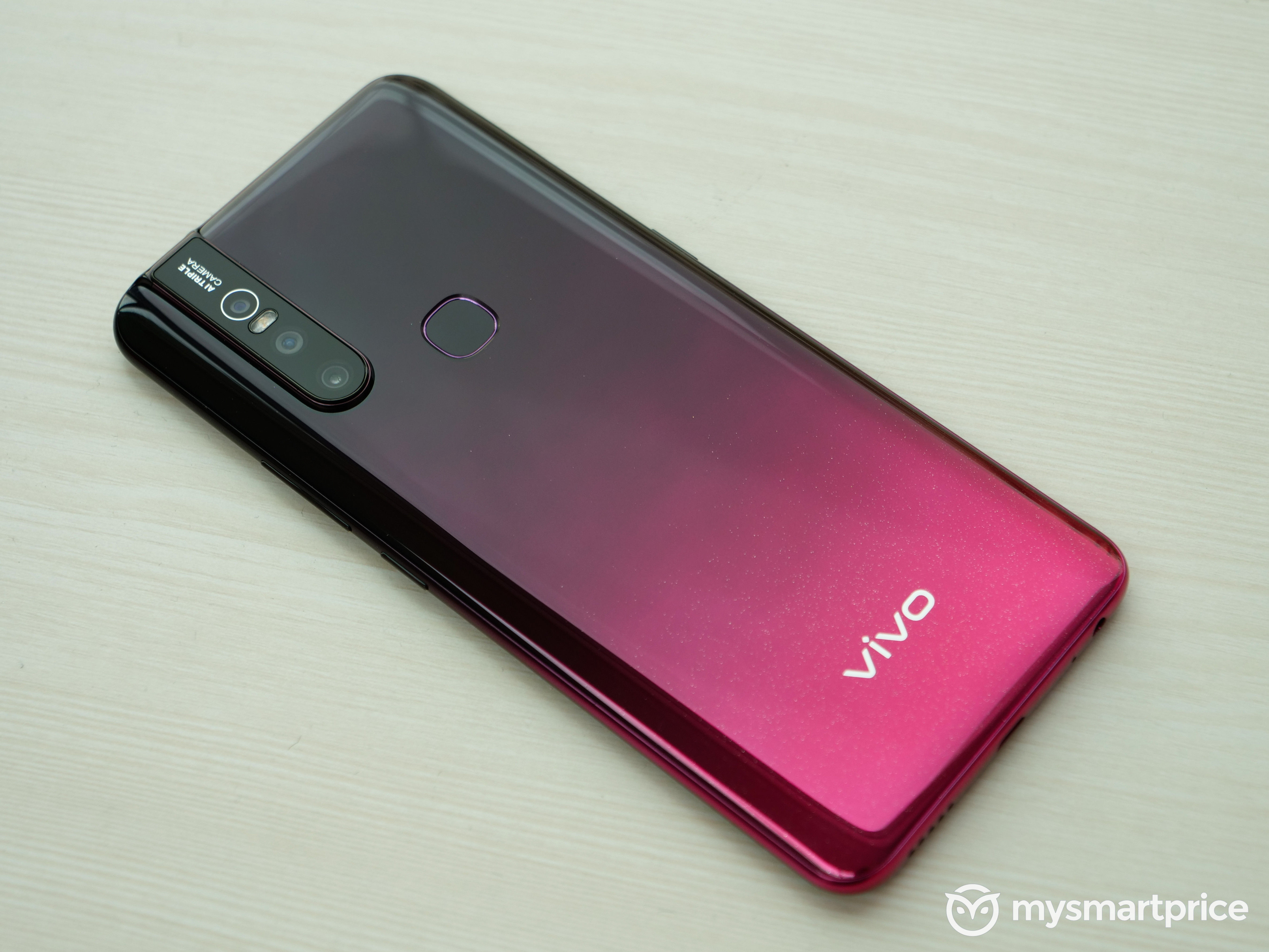 5. Formidable Performance
Being powered by a Helio P70 chipset ensures the Vivo V15 has the raw performance needed for all your daily activities be it gaming, browsing social media, or streaming videos. 6GB of RAM allows for optimum multitasking capabilities, while 128GB of storage should suffice for even the most demanding use cases. If in case the onboard storage is not enough, you get to further add up to 256GB with the use of a microSD card. All of this gets the latest Android 9.0 Pie build with Funtouch OS 9 running on top. Other than providing an excellent user experience, this latest version of Vivo's operating system is equipped with energy optimization and management features that help extend the phone's battery life.
6. Ultra-Smooth Gaming
The specialized hardware and software combination of the Vivo V15 also has another ace up its sleeve. This is in the form of Game Mode 5.0 which has specifically been tuned to provide the best gaming experience possible on a phone of this caliber. Using the provided Competition Mode, system resources can be allocated based on a game's (specially e-sports titles) needs to make sure they run optimally. Furthermore, the use of Dual Turbo technology is said to provide smoother gameplay along with up to 300% reduction in frame-drops.
7. Impressive AI Capabilities
Funtouch OS 9.0 also offers a bunch of AI-based functionalities that truly redefine what it means to be called a smartphone. The first such feature is a physical 'Smart Button' on the side of the phone that can be used to trigger essential AI features. A single click will launch the Google Assistant, while a double click can be used to call the Jovi Image Recognizer. The second feature, in particular, is the next step in smart online shopping. With Jovi Image Recognizer, databases of over half a billion products over almost a hundred top e-commerce sites are scanned to find exactly what you're looking for.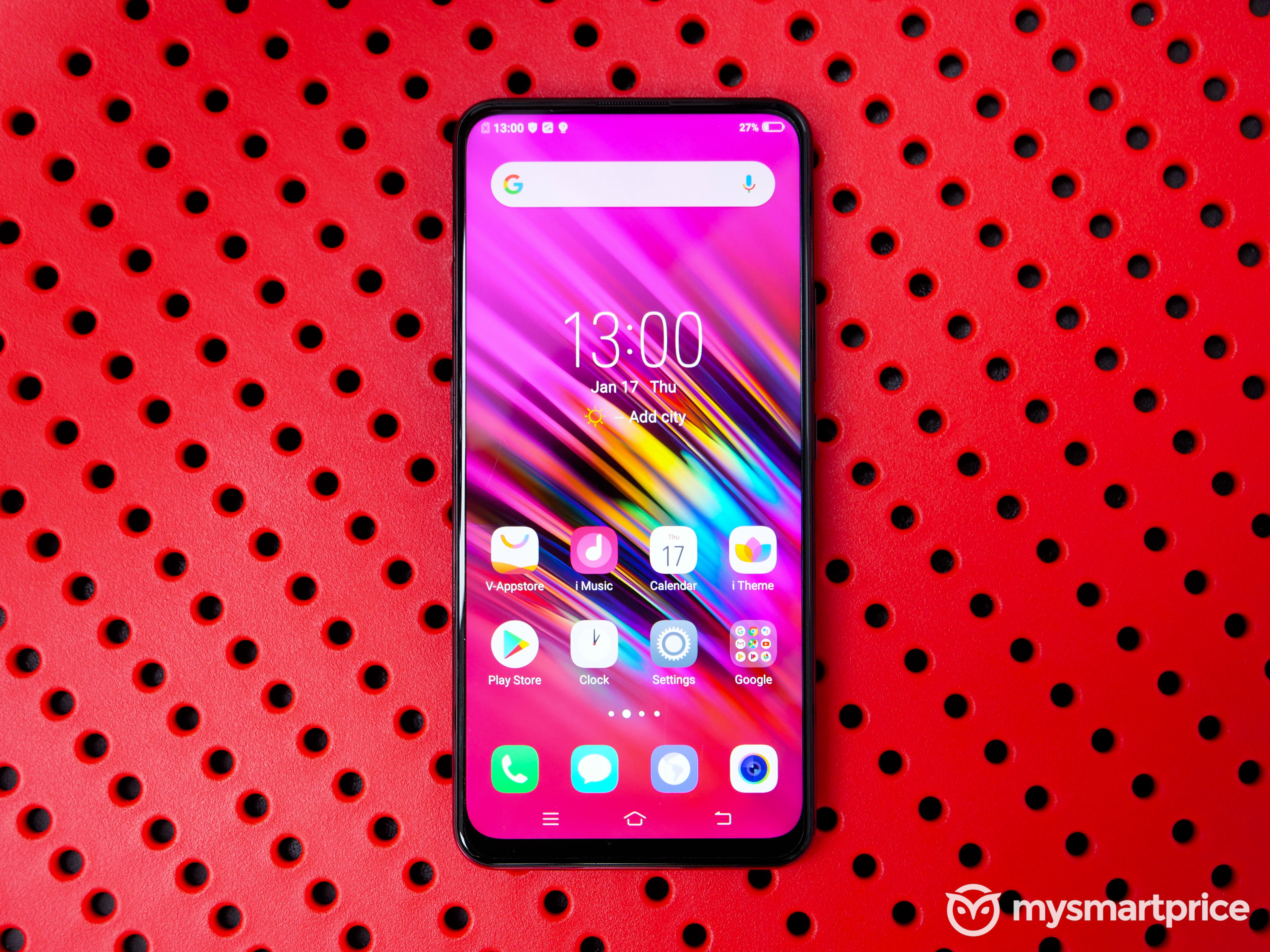 8. 4000mAh Battery
The Vivo V15 is undoubtedly jampacked with useful and intuitive features. To ensure that you get to enjoy these features for as long as possible, Vivo has loaded the V15 with a massive 4000mAh battery. While the cell's capacity is impressive on its own, Vivo's under-the-hood battery life improvements techniques are just as noteworthy. Especially with the use of a highly efficient chipset such as the Helio P70, rest assured the Vivo V15 can handle anything you can throw at it.
9. Dual-Engine Fast Charging
Once you do run out of battery on the V15, you can benefit from the super-fast charging times thanks to Vivo's exclusive Dual-Engine Fast Charging tech. This lets you rapidly top up the phone and be ready for the day. Taking a look at the numbers, a 15-minute charge can get you close to an impressive 24% charge. This allows for the phone to charge up entirely in just about an hour.
10. Free Screen Protector & Case
Smartphones are always at the risk of being damaged by outside forces despite the care taken by phone makers to make them resilient. To take safety a step further, Vivo includes a protective case in the box for the Vivo V15. The phone even comes with a pre-applied screen protector, so you don't have to worry about getting scratches on the display.
This story was created in partnership with Vivo.