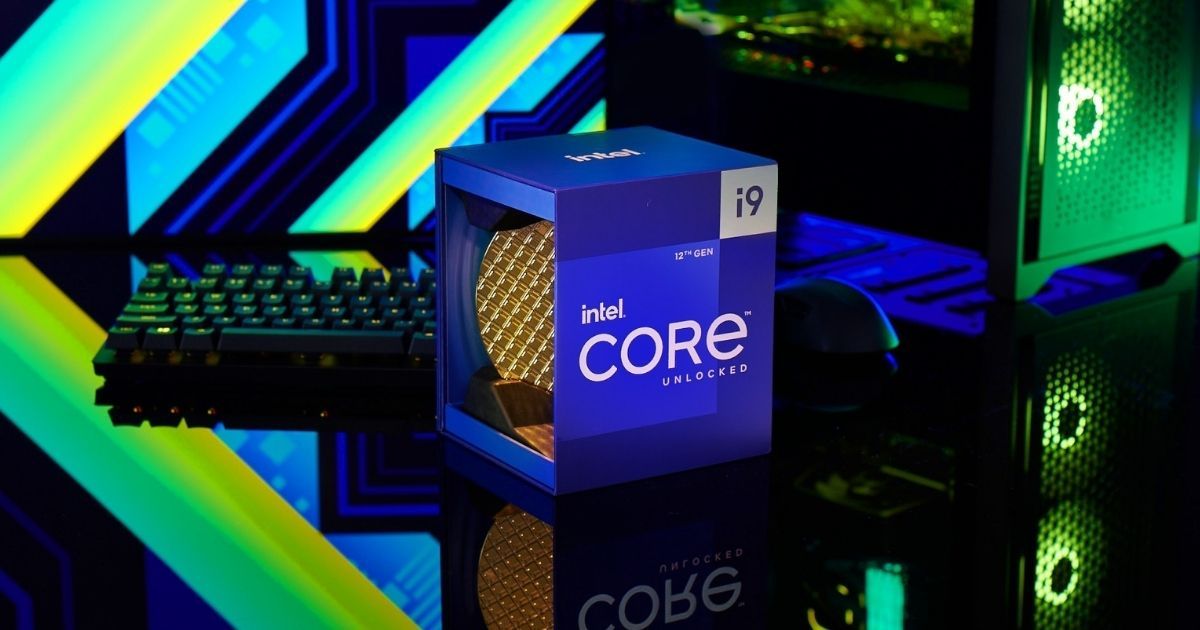 Today at the Intel Innovation Event, Intel has unveiled the latest 12th Gen Intel Core processor family. Today, the technology giant launched six new unlocked desktop processors, including the 12th Gen Intel Core i9-12900K, which offers a max turbo boost of up to 5.2 GHz and 16 cores and 24 threads. That's why the tech giant is calling it the 'world's best gaming processor', and the new desktop processors make a giant leap in terms of performance, something that gamers and professional creators always have been asking for. The 12th Gen Intel Core family consists of a total of 60 processors, and the company has claimed average performance improvement of up to 19%, better gaming and multi-threaded performance.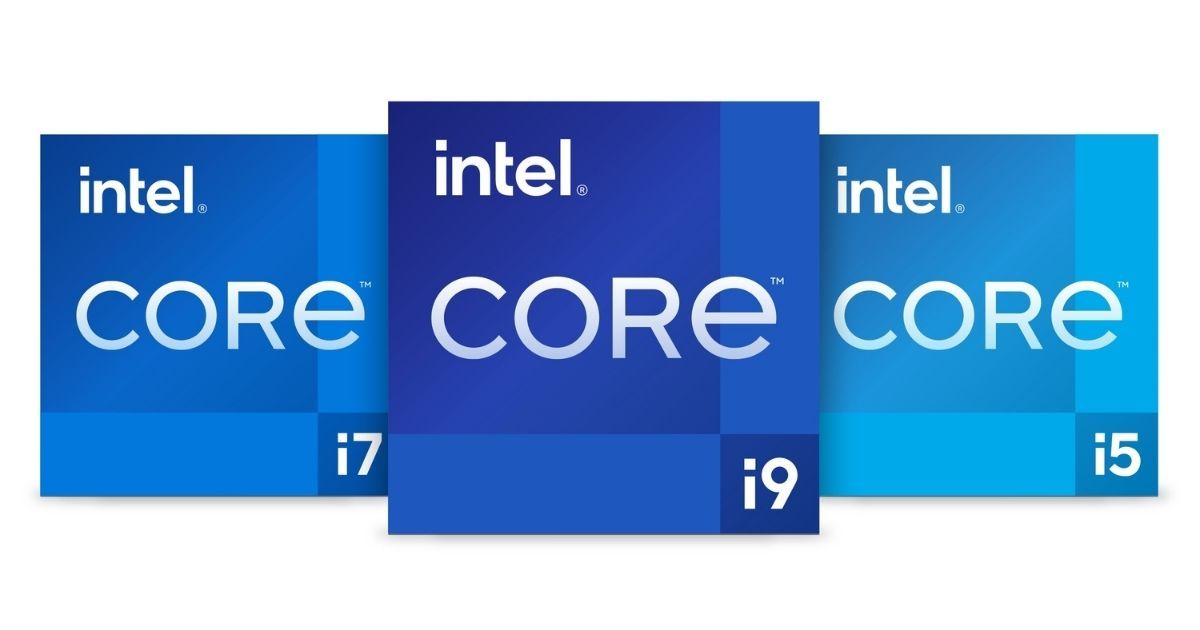 The six unlocked desktop processors unveiled today are the first processors based on Intel's performance hybrid architecture featuring a combination of Performance-cores (P-cores) and Efficient-cores (E-cores). This approach isn't new, but this approach to x86 chips is similar to what was done with Apple's M1 chips with great success. Instead of fitting many power-hungry cores into a single chip, this new approach of combining the performance cores with efficience cores will probably deliver some good results.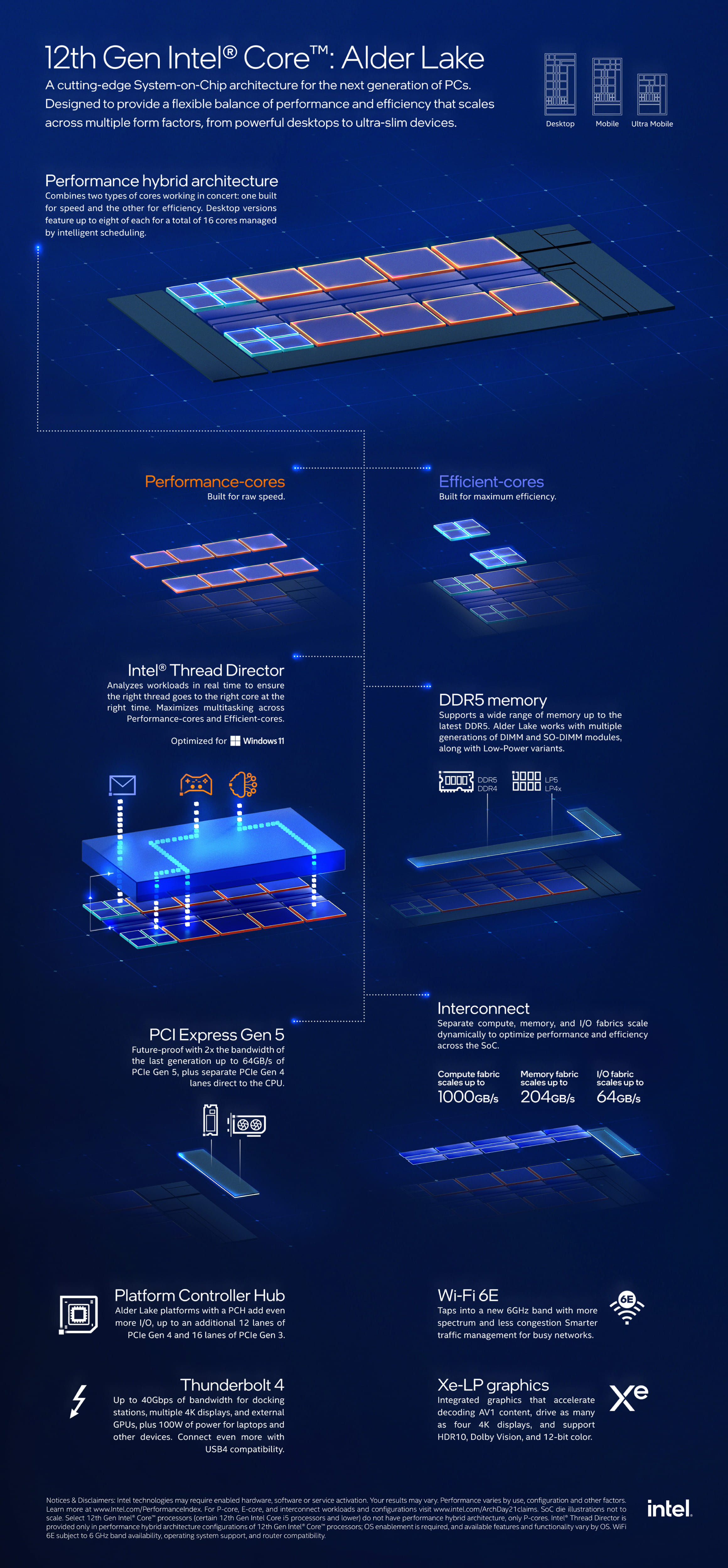 The Core i9-12900K sports eight hyper-threaded performance cores, providing sixteen threads and eight non-hyper threaded efficient cores, offering twenty-four threads across sixteen cores. The Core i7-12700K has the same eight performance cores, but only four efficient cores, while the Core i5-12600K has six performance cores and four efficient cores. While the performance cores take care of intense and heavy workloads, the efficient cores improve multi-threaded performance and handle low priority and background tasks. We were aware of Intel Core i7's great benchmark scores but now, we will see how the new CPU performs in real-life environments.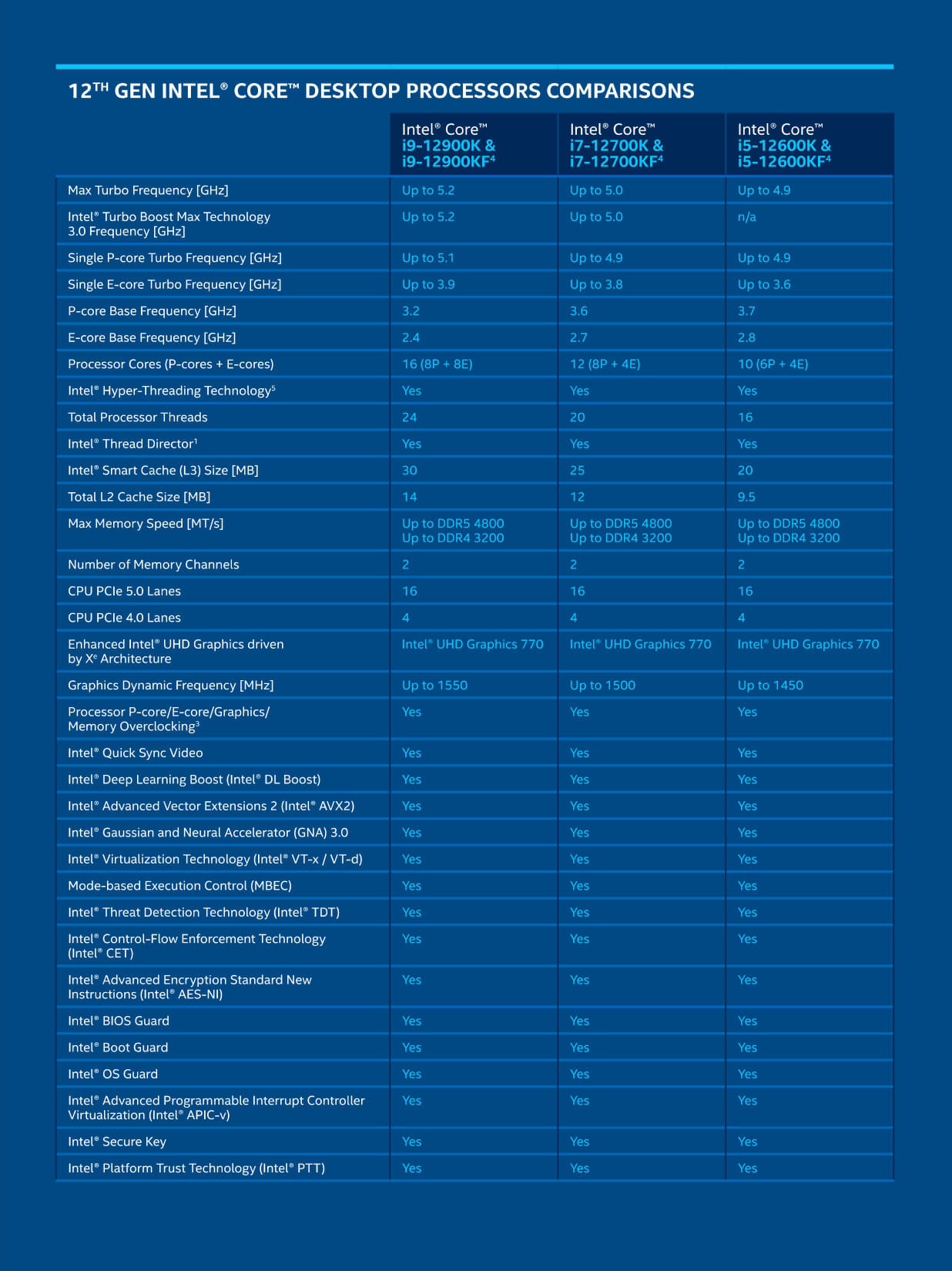 Huge boost to gaming and content creation
Intel has claimed that the Intel Core i9-12900K, the top of the line processor, provides up to 25% more FPS on Troy: A Total War Saga, up to 28% more FPS on Hitman 3, and up to 23% more FPS on Far Cry 6. Apart from killer gaming performance, the 12th Gen Intel Core processors are said to provide up to 36% faster photo editing performance, up to 32% faster video editing performance, up to 37% faster 3D modelling performance, and up to 100% faster multi-frame rendering.
Also Read: Top Intel® 11th Gen Laptops to Buy in 2021
Overclocking
Intel has also announced that the new processors offer overclocking efficient cores and DDR5 memory, and enthusiasts can try the new platform overclocking features as part of the latest Intel Extreme Tuning Utility (XTU) 7.5. Intel has also introduced the latest Intel Extreme Memory Profile (XMP) 3.0 with support for DDR5, offering additional profiles, including new rewriteable custom profiles and flexible tuning for memory overclocking.
DDR5 and PCIe 5.0
The new 12th Gen Intel Core processors are also the first to support DDR5 memory, offering much faster speeds than DDR4, and they are also the first ones to provide PCIe 5.0 with up to 16 lanes, which results in twice the I/O compared to PCIe 4.0. However, PCIe 5.0 compatible hardware isn't quite available right now, but that will change soon.
Also Read: Intel, AMD and Qualcomm Processors Compatible with Windows 11
Availability
The latest 12th Gen Intel Core desktop processors are available now for pre-order from select partners and retailers. However, they will be broadly available starting November 4. The new lineup starts at $264 or around Rs 20,000, and it can go up to $589 or Rs 44,000. By the end of March 2022, Intel expects to ship 2 million of these processors. The price list for all the processors launched today is added below.
Core i9-12900K | 8 P Core, 8 E Core | Up to 5.2GHz | 241W MTP | $589
Core i9-12900KF | 8 P Core, 8 E Core | Up to 5.2GHz | 241W MTP | $564
Core i7-12700K | 8 P Core, 4 E Core | Up to 5.0GHz | 190W MTP | $409
Core i7-12700KF | 8 P Core, 4 E Core | Up to 5.0GHz | 190W MTP | $384
Core i5-12600K | 6 P Core, 4 E Core | Up to 4.9 GHz | 150W MTP | $289
Core i5-12600KF | 6 P Core, 4 E Core | Up to 4.9GHz | 150W MTP | $264
Intel has more extensive plans that go beyond the new desktop chips. Intel has big plans for the hybrid Alder Lake architecture, which may foray into mobile and ultra-mobile chips, which could be used on laptops and other portable devices in the future.
One more thing…actually two
Intel introduced the LGA1700 socket to be used with its 12th Gen CPUs. It's a newer and bigger socket. The new socket has more pins and a more expansive space while we consider the cooler mounting holes. The new processors are not backwards compatible, so users can't use old processors in the new socket. Current CPU coolers may need an adapter as well as the CPU height seems to have been lowered, which is due to the decrease in thermal interface material layers to improve cooling.

As the new processors are unveiled, motherboards will now offer a new chipset, and here comes the Z690 from Asus ROG. The ASUS ROG Strix Z690 chipset brings support for Intel's hybrid performance architecture alongside an additional PCIe 4.0 chipset lanes, integrated WiFi 6E support allowing gigabit speeds. It will also enable higher bandwidth and additional USB 3.2 for data rates up to 20 Gb/s.