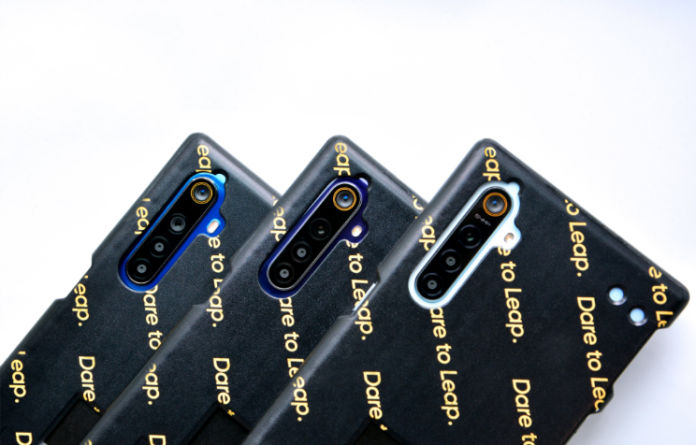 Xiaomi has just finished revealing its plans for the 64MP camera sensor at a press conference in China today but Realme doesn't want Redmi to keep all the limelight for itself. And hence, Realme's China CEO Xu Qi Chase has just posted photos of the upcoming Realme phone with the 64MP camera. The same image has now also been posted by Realme India CEO Madhav Sheth. The images are of the rear of the device and most of it is hidden beneath a case that reveals a bit of the colour and the quad-camera setup.
It appears the currently unnamed phone will be available in three colours which is Blue, Purple, and lastly White. Since the whole back is covered, there's no way to say if this is a gradient colourway or not, but knowing current trends it wouldn't be surprising to conclude. Also, it's noticeable that the overall chassis looks rather boxy with sharp corners which isn't the case with most Realme phones. The Realme official also says that the official reveal of the handset is on August 15th. Meanwhile, Realme India will be holding an event to showcase its own 64MP sensor and we could see a prototype on the stage in Delhi tomorrow.
Speculation is rife that this 64MP camera will be in a Realme 5 or Realme 5 Pro but there are no official indications of it as such. Realme's India CEO Madhav Sheth has tweeted today that he has received a unit of the 64MP camera phone. He further says in the tweet that the device will be revealed this Thursday.
Also, it seems Realme might beat Xiaomi to the punch here as there's still no launch date for the Redmi 64MP camera phone. Apart from their cameras, there's almost next to nothing we know about either the Realme or Redmi device but it looks like the budget smartphone battle is once again about to heat up.
Thanks for reading till the end of this article. For more such informative and exclusive tech content, like our Facebook page