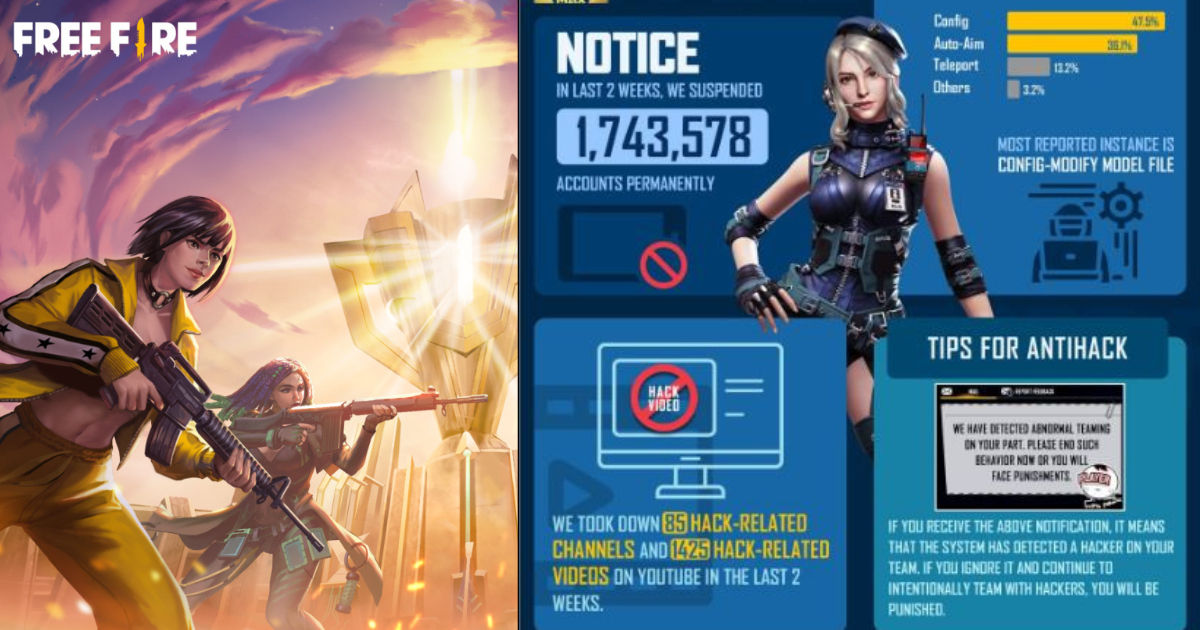 Garena always strives to provide a fair platform for every user to ensure that each player can engage in a good overall experience. Cheaters and hackers always find a way to disrupt players. Recently, Garena published a ban report that detailed a ban of over 17 lakhs accounts for using Free Fire Max Hacks in the last two weeks.
Free Fire MAX is one of the popular battle royale titles in India which has garnered millions of users. The developers always bring in fresh updates, events, and cosmetics to make players more engaged with the new stuff. Besides such huge popularity, the players of the game are still experiencing issues with cheaters and hackers. Garena has installed an anti-cheat system which rectifies and bans hackers, but they are still finding new ways to counter it.
The recent ban report also mentioned that they have taken down 85 channels and more than 1400 videos that produce hacking-related content.
Also Read: Free Fire Max OB35 Advance Server Details: Release Date, Activation Code
Garena bans more than 17 lakh Free Fire MAX accounts for using Hacks in the last two weeks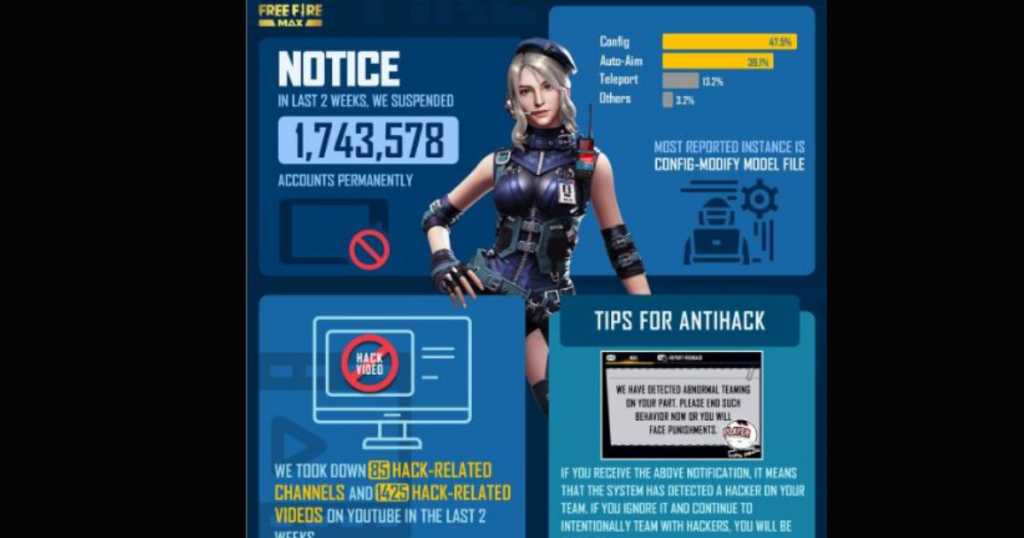 The report was posted on the official social media handles of the game. In the last couple of weeks, Garena has taken down 1,743,578 FF MAX accounts permanently. They also stated that they have taken down around 85 channels and 1425 hack-related channels and videos on YouTube. Following is the breakdown of cheat percentage and what cheats are used mostly:
Config: 47.5%
Auto-Aim: 36.1%
Teleport: 13.2%
Miscellaneous: 3.2%
The most used and the most reported cheat is Config-Modify File, which is a custom file that is capable of changing logs and internal coding of Game's files. Auto-Aim is a hack, that enables the cheater to aim directly at the opponent without any effort. Teleport allows players to shift their positions abruptly.
Garena also updated the hack-detection methods which are considered before banning a player. They will continue to monitor hackers closely in order to maintain a safe environment for every player indulged in the game. Following are some of the reasons that can get you banned in Free Fire MAX (shared by Garena):
Using modified or unauthorized game clients.
Using unauthorized tools that interact with Free Fire MAX game client.
Using non-official programs to provide an edge to gameplay.
Modifying model files to gain unfair advantages.
Utilizing glitches or bugs to exploit the gaming experience.
Being reported by multiple players and detected for abnormal gameplay simultaneously.
Bypassing Free Fire anti-hack system via illicit local data transfer.
Also Read: Free Fire May Increase Lobby Size to 60 Players Exclusively for Custom Matches, As per Leaks
It is highly urged that players do not, whether unconsciously or consciously, team up with hackers. You may be banned from the game if you do this.