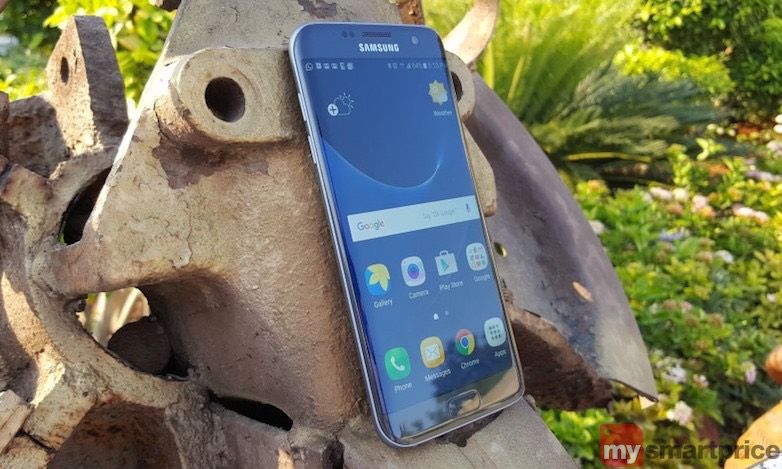 The tables have turned. Samsung, mostly jested for copying from other manufacturers, has out-designed Apple with its Galaxy S7 edge. Just a few years ago, the South Korean company's Galaxy phones were considered a poor man's iPhone. With sheer persistence, Samsung has transformed its "wannabe iPhone" line-up into a trendsetter.
Back when Nokia used to experiment a lot with smartphone designs, Samsung was criticised for having no sense of exterior design, and it seemed that the company would not stand a chance against the expertise of Nokia and Motorola. Fast forward to today, and the Scandinavian company's phone division is offloaded, the American brand is bought over by the Chinese, and Samsung is ruling the smartphone market. Unlike the Finnish brand, Samsung was quick to acknowledge and address the issues. Instead of basking in the glory of some of its successful handsets, Samsung willingly changed with time, and the Galaxy S7 edge stands testimony to that fact.
Infectious design that resists water
While the Galaxy series had always been popular, nobody loved it for the aesthetics (God bless you, if you did). Only after receiving a hostile reception to the S5, did the Korean conglomerate decide to focus on the design. In Samsung's quest for a new design language, experiments such as the metal-clad Galaxy Alpha and the Note edge with a curved screen paved the way for the Galaxy S7 edge.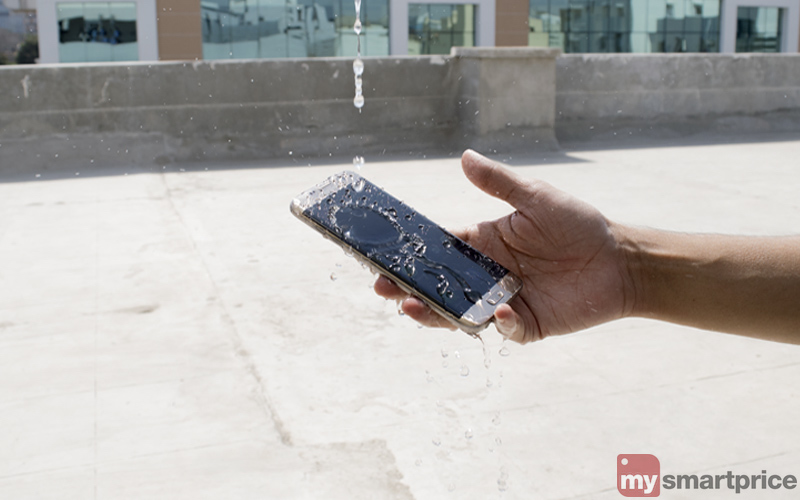 At first glance, the S7 edge can be easily mistaken for its predecessor, the Galaxy S6 edge. It sports an identical aluminium frame sandwiched between glass panels. Yet, there are nuances that separate the two. For instance, the top and bottom are more rounded on the latest phone. It also has the Note 5-esque curves on the back, which is a nice touch.
The transition from the curved screen to metal feels seamless. Minute details such as the speaker grille are carved to perfection with CNC (computer numerical control: hyperlink) milling. Such attention to detail is complemented by the use of quality material. However, the folks at Samsung did not stop just there. They went ahead and added water and dirt resistance to the device. While there's nothing new about element-proof phones, (Sony and Motorola have been selling them for years), the S7 edge is the only smartphone that does not compromise on the aesthetics for creating a water-proof phone. It is an engineering triumph that no other company has achieved so far.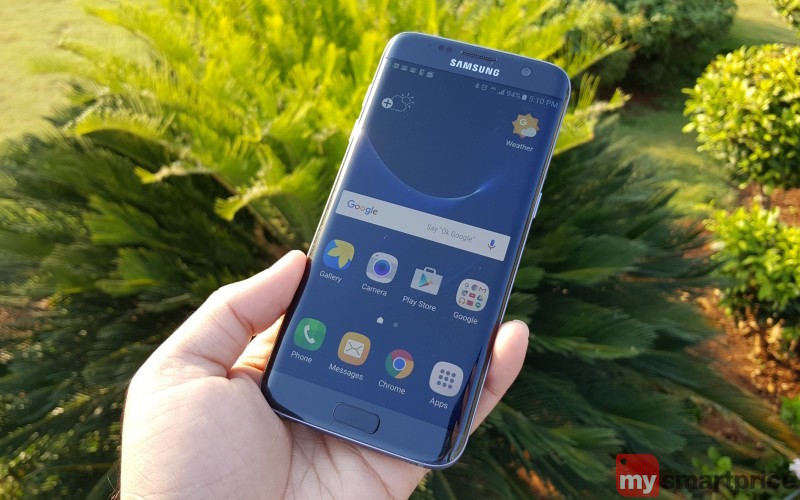 The S7 edge is one of the smallest and the most ergonomically designed 5.5-incher in the market. The iPhone 6s Plus with the same screen size, looks like an engineering failure when compared to the S7 edge. As opposed to the 'Designed in California' devices, Samsung's flagship is fit for one-handed use. It also slides and sits comfortably in your pocket.
That said, the handset is a slippery fingerprint magnet due to its glass panels. No matter how careful you are, the S7 edge gets smudgy in no time. While the S7 edge has an eye-catching design, we would not call it elegant or graceful. Those are the words we would reserve for the HTC One (M7), the iPhone 5s, and the fabula (design language) Nokia Lumia 800. Samsung's shiny golden and silver hues are somewhat in-your-face.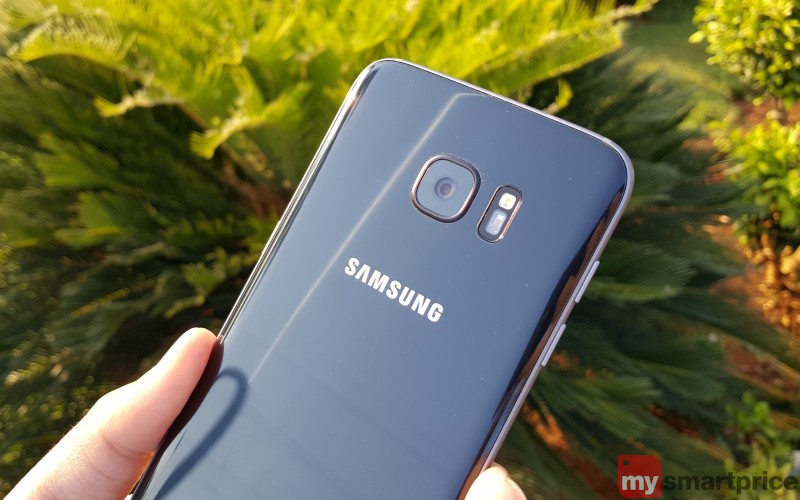 Best screen in the smartphone arena
The Galaxy S7 edge features a 5.5-inch AMOLED screen. This display is much better than the LCD panels found on the iPhones, and there's a good reason for that. AMOLEDs are emissive type screens in which each pixel in the OLEDs lights up on its own. To achieve true blacks, an OLED panel can actually switch off pixels in that area. This is something that LCD panels cannot match due to their backlight dependency.
With a pixel density of 534 PPI, the screen is incredibly sharp. The viewing angles are wide. More importantly, the display is so bright that it is readable even under direct sunlight. With curves on both sides, swiping feels smoother on the S7 edge. However, the lack of bezels increase the chance of unintentional screen interaction.
Samsung has implemented the 'Always-On Display' feature, which offers basic information such as date, time, missed calls, and text messages, even when the phone is locked. This is similar to what we've seen on Nokia (Microsoft Mobile) and Motorola handsets earlier. However, Samsung's version has a few limitations. It cannot push notifications for email, WhatsApp, and Facebook.
Software has got substance, but no style
The Galaxy S7 edge runs Android 6 (Marshmallow) with Samsung's customization on top. When it comes to the features, you can be rest assured that Koreans have it all covered. The S7 edge does everything a flagship should do, and then some more. By default, the first home screen is dedicated to a magazine-style news aggregator powered by Flipboard. The remaining home screens, as usual, host app icons and widgets. Folder structure, notification bar, and themes are a standard Samsung affair.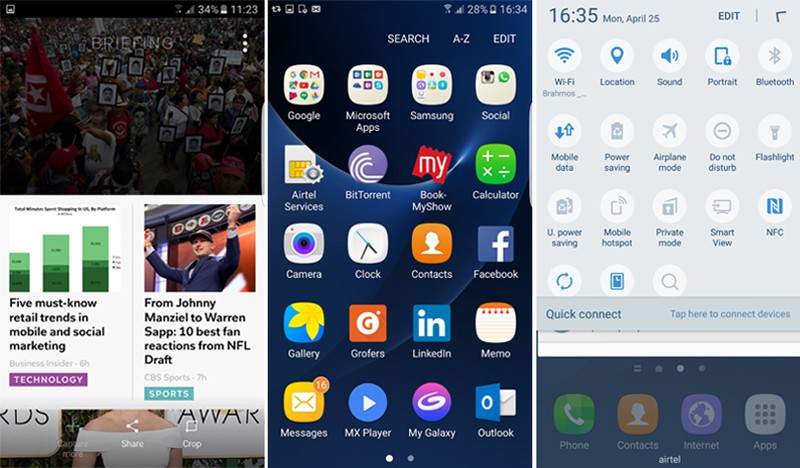 The phone's UI navigation is smooth, save for the occasional frame drop when swiping away from the home screen news feed. Apps load instantly, and we are yet to come across a game that does not work on this handset. Speaking of games, Samsung has introduced a 'Game tool' that lets you conveniently take a screenshot and even record a gameplay video. Then, there are some "edgy" apps that let you access Yahoo news feed, flashlight, compass, and more by swiping from the edge of the screen. While these can be used to show-off to one's friends, they have little use, otherwise.
So, as far as usability is concerned, there's nothing at all to complain about Samsung's Android customisation. Our gripe lies with the aesthetics. Although toned down from the previous iterations, Samsung's UI continues to be a design nightmare.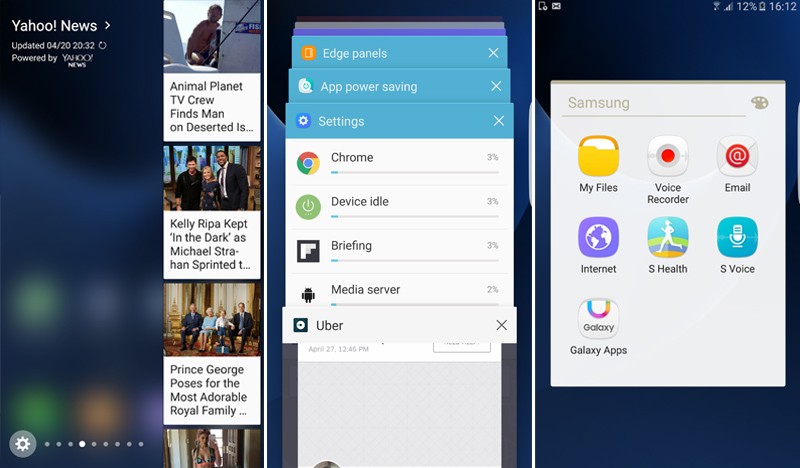 The icons have no uniformity — they come in all shapes and sizes. The UI has more colours than you can find in a rainbow. The quick setting toggles menu is so crowded that it feels overwhelming. Overall, the interface looks cluttered with no sense of cohesiveness.
On the flip side, we agree that Xiaomi's MIUI is even worse. However, the Chinese manufacturer gets away with it as the teenagers who buy these affordable phones have all the time in the world to tweak the software, change themes, and set cheesy ringtones. On the other hand, high-end phones mostly end up with middle-aged CAs and lawyers who cannot tell a theme apart from a meme.
The Taiwanese brand HTC has consistently proved that it is possible to deliver a sleek Android customization. So why can't the industry leader, Samsung, do something similar?
Fancy features
The fingerprint sensor is easy to set up and barely takes a second to identify a user. In addition to unlocking the device, the fingerprint authentication supports Play Store purchases and website logins. Since Samsung's API is open, third-party developers can also implement this feature in their apps. Not many apps have taken advantage of this feature yet, though. Samsung's stock web browser makes use of the fingerprint sensor to activate the secret mode, which comes in handy if you want to browse something without leaving a trace.
Like its predecessor, the S7 edge features a heart-beat sensor, which does what it says. It also comes with an SpO2 filter that lets you measure the oxygen saturation in blood. We're not sure how exactly it works, but we're guessing it makes use of the oxygenated hemoglobin's infrared absorbing property.
Made for shutterbugs
It is quite unusual for Samsung to not run the mad megapixel race with the S7 edge. Going by the numbers, the phone's 12-megapixel camera is a step-down from the 16-megapixel module found on its predecessor. Fans need not worry though, as the S7 edge offers one of the best camera experiences on a phone.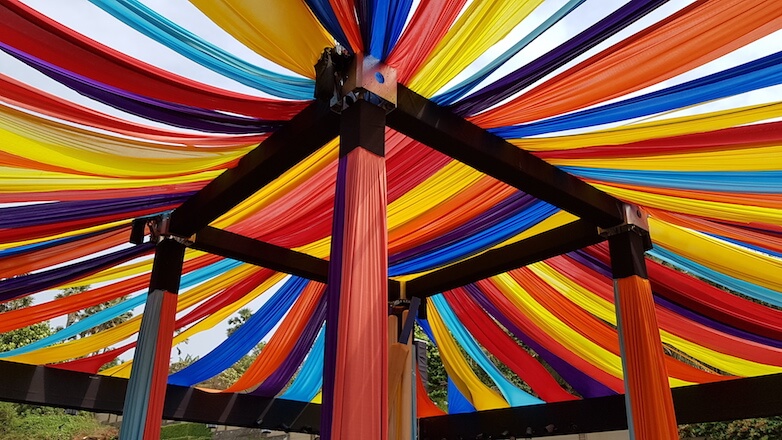 Thanks to its wide aperture and dual-pixel focus mechanism, the camera pulls off swift and brilliant low-light performance. For those not in the know, dual-pixel phase-detection is mostly used in high-end mirrorless cameras and DSLRs. As opposed to your regular Autofocus system where about only 5% of total pixels are used for focusing, Samsung's dual-pixel technology makes use of 100% pixels.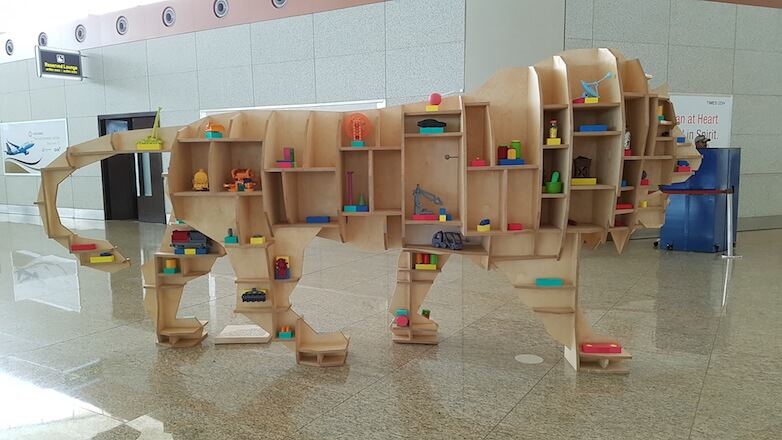 You can trigger the camera by simple tapping the home button twice. The interface is simple enough for most users. However, if you want advanced options, the Pro mode offers multiple options such as manual focus, white balance, ISO, shutter speed, and exposure. For the generation that has swapped a meal prayer with Instagram, Samsung has added a dedicated 'Food mode' in the camera.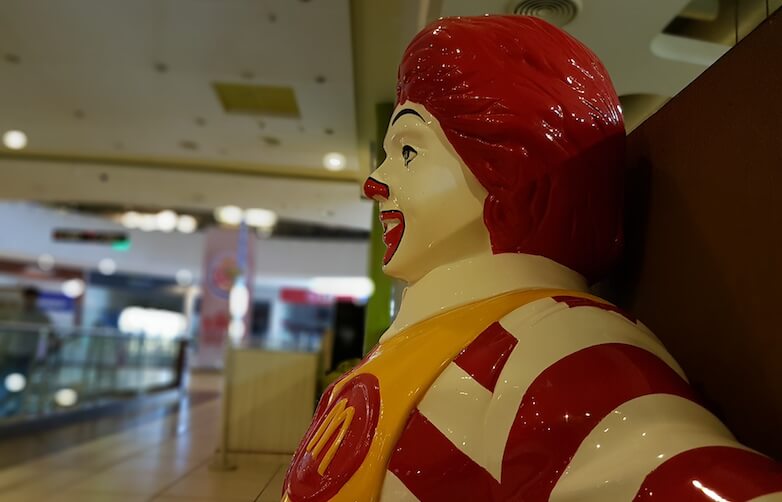 On a sunny day, the images shot with the S7 edge look as great as those clicked with its higher megapixel predecessor. Low-light is where the S7 edge shines. It captures stunning detail where most smartphone cameras go blind. The phone produces sharp images while keeping the visual noise in control. Low-light images tend to be on the warmer side, which is better than the cold halos seen on the latest iPhone.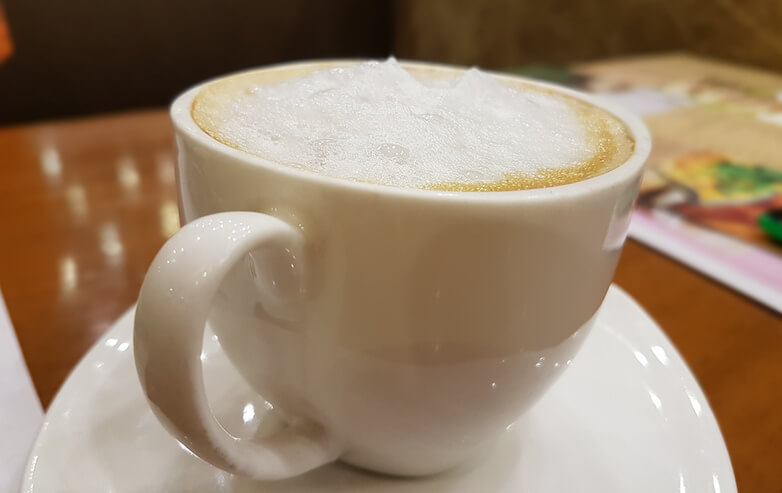 For selfies, the S7 edge sports a 5-megapixel camera. It is backed by Samsung's 'beautify' software tweaks, which can make Om Puri's skin look like that of Katrina Kaif's.
The phone records crisp videos at 4K resolution at 30fps. It is an overkill, at least for now, unless you have a gigantic screen at home. We recorded most videos in Full HD, as it supports relatively smoother 60fps.
Speed, usability, and quality taken into consideration, the S7 edge has one of the best snappers on a smartphone. If you are tired of carrying a bulky standalone camera, the S7 edge can be your ideal companion.
Stellar performer
The Galaxy S7 edge comes with two different chipsets, available depending on the market. Samsung uses its in-house Exynos 8890 SoC for India, while the Americans get Qualcomm's Snapdragon 820. We used the Indian retail unit, so cannot comment on the Snapdragon version. However, what we know for sure is that the Indian variant pulls off amazing performance.

The Exynos 8890 features four custom Mongoose CPU cores clocked in at 2.1GHz and four ARM Cortex-A53 processors at 1.6GHz. The chipset features a powerful Mali-T880 MP12 GPU (obviously, nice for gaming). Like most high-end phones, the Galaxy S7 edge comes with 4GB of RAM, which is more than enough even for heavy multitasking. The internal storage is 32GB. If you don't use two SIM cards, the hybrid slot can be used for a microSD card (up to 200GB). This should be enough to take care of your media collection. On a parallel note, the S7 edge's sound output is brilliant when paired with decent IEMs (In Ear Monitors). What we miss here is the FM radio. Now, instead of calling it irrelevant in 2016, think of it as a backup. No matter how modern your car is, you don't let go of a stepney, right? Similarly, FM radio comes in handy when, for some reason, you are unable to access the mobile network. Let's not forget that terrestrial radio can be your only source of vital information if a disaster takes out all modern means of communication.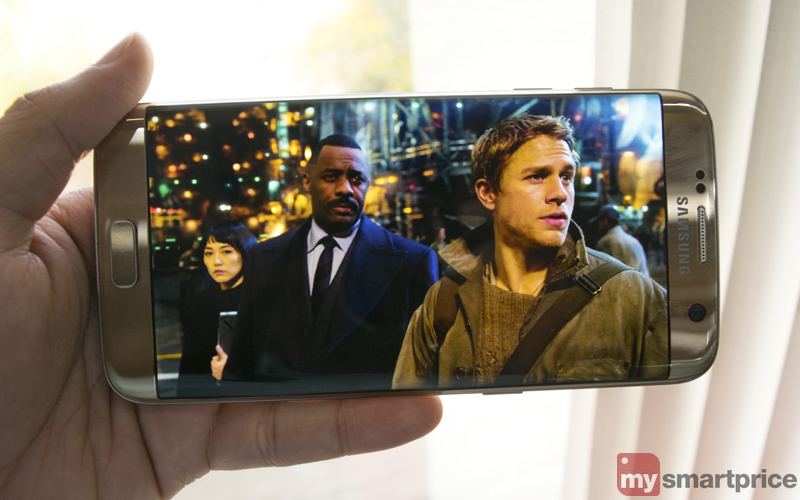 The loudspeaker performance gets a mention only if it is absolutely brilliant or downright disappointing. In the Galaxy S7 edge's case, it is the latter. The downward-facing loudspeaker is under-powered and sounds muffled. This could probably be the result of the effective waterproofing. To make things worse, the speaker is positioned in such a way that you end up blocking the speaker when you hold it in the landscape mode.
Moving on to the connectivity features, the phone's network reception is spot on. The call quality is surprisingly good for a waterproof phone. It is impressive how Samsung has managed to keep the earpiece sound loud and clear despite adding an extra layer of protection to the phone.
Leave your charger at home
Battery life has been the Achilles heel for the Galaxy S6 edge. However, the S7 edge not only solves those battery woes, but also performs way better than most flagship phones. Samsung's solution is simple and efficient – if the battery does not last long enough, increase the capacity. The Galaxy S7 edge packs in a 3600mAh battery, which is 1000mAh more compared to its predecessor. It is incredible how the folks at Samsung managed to squeeze in such a high capacity battery in a device that is so sleek.
On 4G, the battery would last me a day and half, which is impressive. There's a catch, though. We did not use smartwatches, smart bulbs, smart pillows, or dog collars (fitness trackers). If you sync your phone with any of these, the battery endurance may vary.
Sell your kidney
A typical flagship Android smartphone verdict would read like this – "If you prefer Android, go for the S7 edge. Those of you who love iOS are better off with the iPhone 6s Plus". However, the S7 edge is an exception. It completely blows Apple's latest and greatest device out of water. Be it the screen, camera, ergonomics, or construction, the Korean flagship gets a clear "edge" over Apple's latest iPhone. So, if you are looking for a top-end phone, there's no alternative to the S7 edge currently. We know, Rs.57,000 is a lot of money. However, there have been instances of the Chinese selling off their kidneys for an iPad. Why discriminate against the Galaxy S7 edge then?
Samsung Galaxy S7 Edge
57,000
What Is Good?
Premium construction
Impressive screen
Brilliant camera
Excellent performance
Long battery life
Water and dust resistance
Compact than most 5.5-inch phones
What Is Bad?
Edge screen is not useful
Lacks FM radio
Fingerprint magnet
Costs as much as a kidney (citation needed)