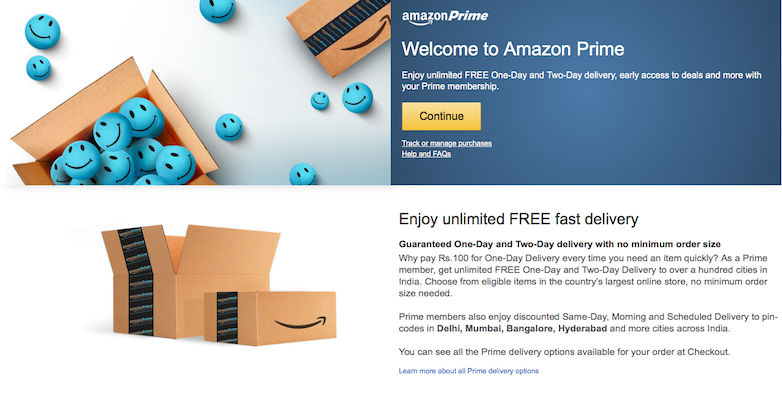 Amazon Prime is now finally available in India. If you are wondering, what is Amazon Prime and how is it different from a regular Amazon login? Don't. We've got you sorted.
Amazon Prime is, at its crux, an additional subscription for users of the E-commerce platform. Currently, the Amazon Prime subscription is available as a free trial for 60 days for all users. Post the free trial period, the subscription will cost you Rs. 499, which is also a special introductory price. The actual price for Prime is Rs.999, which is pretty low considering it costs $99 (approximately Rs. 6,700) in the US.
Excellent pricing for @amazonIN Prime in India. ₹999 a year with an introductory price of ₹499. That's a tenth of what it costs in the US.

— Harish Jonnalagadda (@chunkynerd) July 26, 2016
Here's what you get with the subscription now.
As a Prime subscriber, you will get the guarantee of free one-day or two-day delivery for all products of any value. You don't have to pay the additional fee of Rs. 100, the charge for one-day delivery option for regular customers.
Same day delivery — available in cities like Delhi, Mumbai, Bangalore, Hyderabad and few more — will also be available at a discounted price for Prime subscribers.
Prime subscribers will also get an early preview of the lightning deals, exactly 30 minutes before regular customers.
Amazon is also likely to introduce Prime specific deals.
Those who already know about Amazon Prime and what the subscription offers in the US might be disappointed to know that Amazon Prime Video is still "coming soon." Digressing a bit here, but one of the coolest shows – Transparent – is exclusive to Prime Video. Amazon is also rumoured to be bringing original content to Prime Video.
We are unsure if the inclusion of Prime Video will actually increase the price of the subscription. Will you try Amazon Prime and are you willing to pay for a subscription? Let us know in the comments section below.