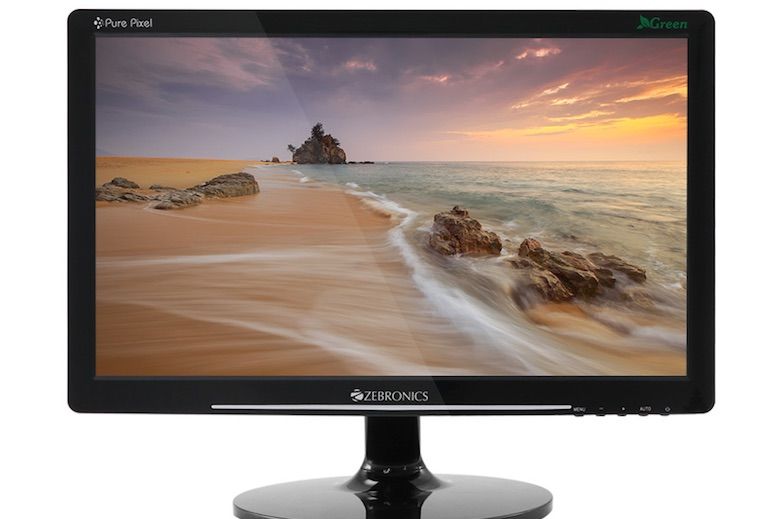 Chennai based computer peripherals manufacturer Zebronics has launched a new, affordable, full HD LED monitor in India. The monitor named the Zebronics ZEB-A22HD 'Pure Pixel' has been priced at ₹7,777 and is available in stores across India.
The Zebronics ZEB-A22HD is being touted as an ultra slim, sleek monitor that features a glossy front panel. As for tech specs, the monitor boasts of a native resolution of 1920*1080 pixels with a response time of 5ms. Other important bits from the spec sheet include a 170-degree viewing angle, a 500000:1(Dynamic) contrast ratio, 0.248mm pixel pitch, and a brightness rating of 300cd/m2. The Zebronics ZEB-A22HD also gets twin 2X 2 watt speakers and has a power consumption figure of 25 watts. The entire monitor weighs in at 3 kg.
Commenting on the launch of the Zebronics ZEB-A22HD, Mr. Pradeep Doshi, Director – Zebronics said;
"We are thrilled to bring our latest LED Monitor Pure Pixel, as the name suggests it shall bring the purest viewing experience at pocket friendly prices. Its been designed as per the needs of the growing generation – low on power consumption & high on viewing  comfort."
The Zebronics ZEB-A22HD claims to let users watch and enjoy fast moving videos and images without flicker or eye fatigue thanks to its Pure Pixel technology that has a high response time to minimize input latency which in turn dramatically reduces image tearing during gaming.
For the price it is retailing for the Zebronics ZEB-A22HD looks like a decent buy. That said, before we go ahead and recommend this product to you, it would be a great idea to wait for a proper review by our in house monitors and PC peripherals expert Nachiket. We are hopeful getting a review unit of this monitor soon.
Watch this space!