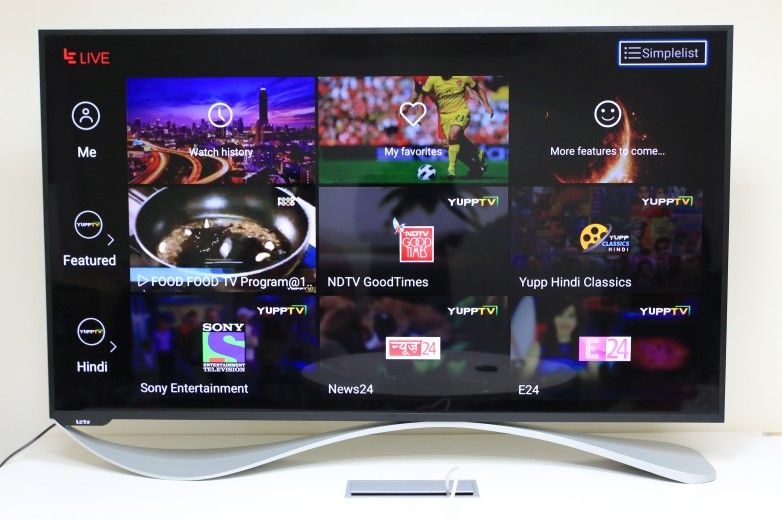 Daniel Sennheiser, the CEO and scion of the family-owned Sennheiser audio brand, is one of the most honest men I have ever met. I say this because he once told me in an interview that it's practically impossible for the larger entities like Sennheiser to compete with Chinese players in the budget and mid-range IEM/headphone segments. This seemingly suicidal candour stems from the fact that Sennheiser is a staunchly family run business and that means Mr Sennheiser isn't answerable to board members and investors hell bent on keeping the company stocks in the green.
This man speaks the truth and it's amply evident from the fact that the Chinese players have utterly dominated the budget segments in everything ranging from mobile phones to consumer audio (IEMs, DACs, and headphones) with products that beat their established competition in terms of price as well as performance. And there are plenty of good reasons for this phenomenon. Unlike larger entities, most of these Chinese brands don't have to deal with advertising and marketing budgets, offline sales logistics and commissions, brick and mortar outlets, and other costs associated with being a large company. Operating mostly in the online realm, these brands therefore have the ability to squeeze out products that incorporate higher quality components even when the budget is tight.
The Chinese Equation
This is basically, what Daniel alluded to when he said it's nigh impossible to compete with Chinese manufacturers in the budget and mid-range segments. However, the same phenomenon is missing in the more traditional electronics spaces such as televisions. That isn't a surprise considering the multi-billion dollar investments required for LCD fabrication plants. While Chinese-made LCD panels have generally been considered second rate, they have already begun snapping at the heels of the those offered by Sharp, Samsung, and LG especially in terms of quality. That's close, but still no cigar, as is evident from the cheap TVs from Vu, Intex, Micromax, Noble, and others which look downright terrible compared to premium alternatives.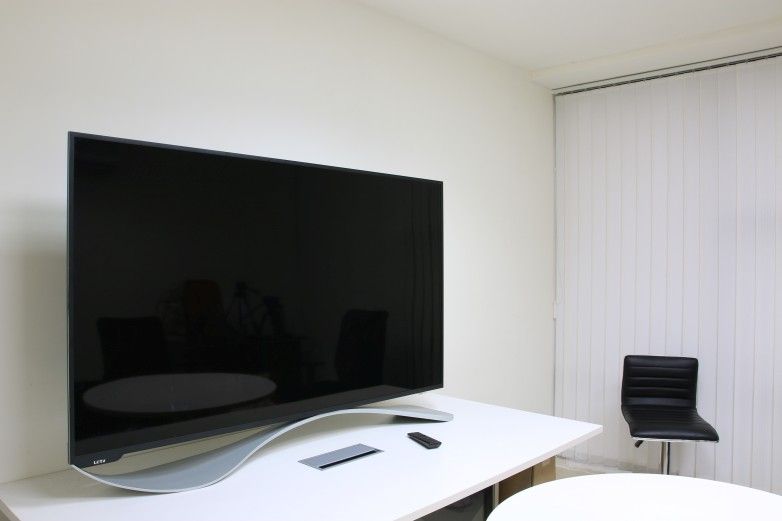 However, the Chinese electronics giant LeEco isn't called China's Google without good reason. It's going big and determined to replicate its success in the mobile phone space with its new range of TVs. That also explains why it has skipped the budget and mid-range segments and went straight for the premium category of 4K TVs outfitted with quad-core processors and boasting of high-quality LCD panels and premium build quality. The USP of these offerings is that they cost literally a fraction of the cost commanded by the LG, Samsung, and Sony equivalents, while promising to offer similar quality and performance levels. That's quite a tall order, especially whenit involves a relatively new player going against TV manufacturers with quite a bit of pedigree and a multibillion dollar legacy of R&D in the display space.
To find out just that, we acquired the LeEco Super3 X65, which is an imposing 65-inch UHD TV costing just under a lakh rupees. This might seem like a lot of money, but let's not forget that's a whole two lakh rupees cheaper than any of Sony, LG, or Samsung's 65-inch UHD alternatives – all of which cost in excess of three lakh rupees. Considering the massive price difference, it would be a miracle if the Super3 X65 can keep up with the more expensive TVs in terms of quality and performance. Nevertheless, LeEco would have a winner on its hands even if the TV offers decent enough performance at this price.
Design and Build Quality
The LeEco Super3 X65 may not have a bezel-free design, but that doesn't stop it from looking absolutely gorgeous. The black bezel optically blends in with the LCD panel thanks to the sheer size of the TV. It's also fairly slim with the panel measuring in at just over a centimetre thick, with the bottom five percent of the TV being 5 cm thick to accommodate the I/O ports and other internal electronics. Then again, it's not like you're going to notice this from the front anyway. The Super3 X65 looks smart and svelte despite its size thanks to a minimalist angular design incorporating the branding next to a status LED in a small notch in the frame that serves as an opening from the flowing hunk of aluminium serving as its base.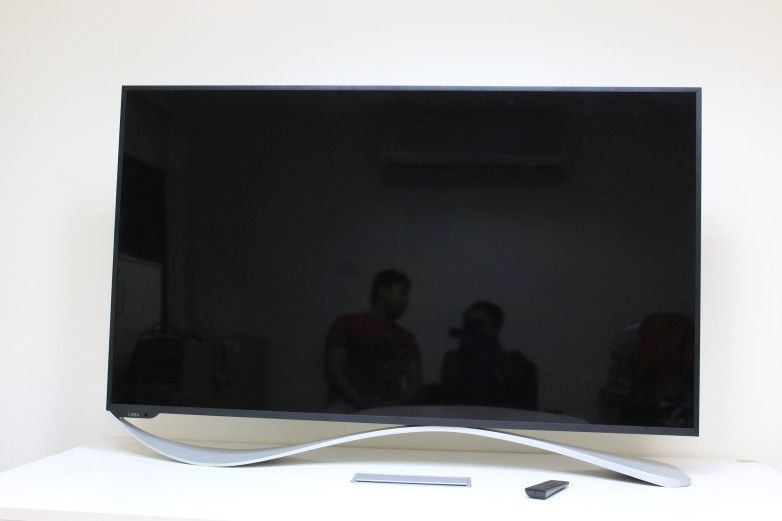 Visually, the base looks like something that would be right at home in a modern art gallery, but unlike most examples of modern art, it is both aesthetically and functionally brilliant. LeEco designers have done away with the standard base design and instead opted for one that resembles a wavy aluminium leaf that seems to gently suspend the panel without any conspicuous anchor points. Not only does it make the ridiculously large panel appear delicate and weightless, but the engineering is sold enough to ensure that the 24 kg chassis is also wobble free. The aluminium construction of the stand ensures that its weight is contained to 5 kg. This is a pretty damn good start, because LeEco evidently hasn't cut corners in design and engineering aspect. This is commendable since this TV costs a third of what you'd otherwise pay for an equivalent offering from an established TV maker.
While the 24 kg heft of the TV (sans the stand) might sound imposing, let's not forget that we are dealing with a glass panel that's 65-inch large. The weight has largely been contained by the plastic chassis, which doesn't look cheap at all thanks to high-quality plastics used all around. This is a good idea since these sorts of TVs usually get wall mounted, and the Super3 X65 has provisions for the same. This includes connectivity ports being designed to accept cables without making it difficult to exercise the wall mounting option. Speaking of which, the connectivity options cover practically everything, but an extra HDMI port or two would be appreciated over the standard three provided.
Connectivity
On the bright side, all of the ports are HDMI 2.0 compatible, which means it's compatible with all contemporary 4K sources. One of the ports even has ARC (Audio Return Channel) which makes it ideal for bypassing the inbuilt speaker system and rerouting the audio bitstream to a superior external setup. Other connectivity options include three USB ports, two of which are USB 3.0, SD card slot, component/composite (analogue) video, optical/coaxial audio outputs and PC audio input, legacy RF input that no one uses this days, and an Ethernet port. The TV also supports Bluetooth 4.0 standard as well as 802.11ac Wi-Fi standard, while working with with 5 GHz radios along with dual-band MIMO support for high-bandwidth streaming.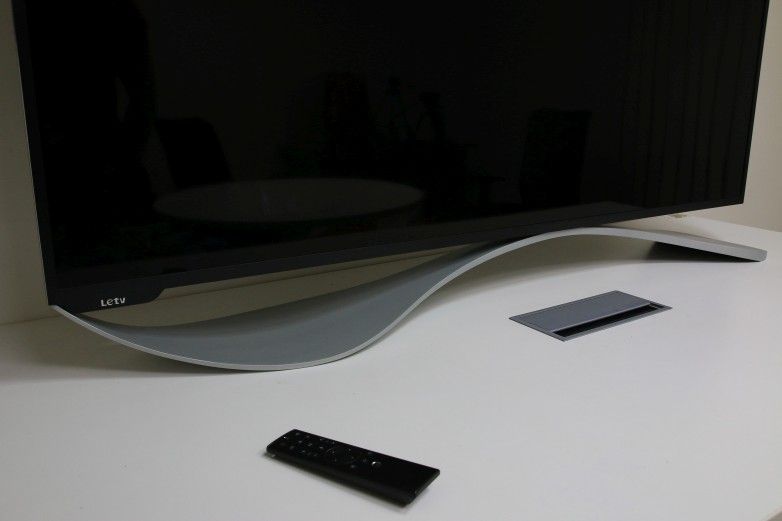 Although this feature gets largely overlooked, the ease of enabling the 1:1 pixel mapping feature in this TV is a godsend for picture quality. The capability to just that is absolutely crucial for any modern video source supporting full colour gamut and the RGB colour space such as computers, videogame consoles, and high end Blu-ray players. This feature can be enabled by choosing the "Point-to-Point" option within the aspect ratio selection menu. Once set up this way, the picture quality for UHD digital sources improves significantly. The Super3 X65's inbuilt video playback through the USB and SD card slot is pretty great, with support for all major file formats and a smooth and fast viewing experience. The TV's 150 watt power consumption is also quite decent for a panel as large as this, but it's not like you're going to worry about power bills when you can afford a TV of this calibre.
Hardware and Remote Control
The LeEco Super3 X65 may be cheap, but it doesn't skimp on hardware. At its heart lies a 32-bit quad core ARM Cortex A17 SoC which is clocked at 1.4 GHz and complemented by a quad core Mali T760 MP4 GPU, which might not be the latest chipset, but it's still pretty damn fast. And that fact is quite evident in the way the TV zooms through the UI without any hint of stuttering or lag. Everything moves quicker than what you're used to even when you compare it to premium brands. The UI itself is clean and easy to navigate, but I found the picture settings menu lacking in terms of setup options. The minimalist remote is well designed, ergonomic, and designed intuitively enough so that you don't have to visually hunt for remote functions. The best part is that it also incorporates air mouse function to allow motion-based cursor control. This makes navigating the menus and entering text a fast and pleasing experience.
Software and User Interface
The only place where you can feel the corners being cut is the OS itself. The Super3 X65 runs a quasi Android TV setup that's actually Android 5.0 Lollipop with an EUI skin on top. That also means, you don't have direct access to Google Play Store and all associated apps. Having said that, the TV can be sideloaded with Android apps and Google Play Services for more apps. However, not all of them work. Most disappointingly, Netflix is incompatible, whereas plain vanilla version of YouTube cannot be installed either. YouTube for Android TV, however, works without a hitch. You still can't cast YouTube content to the TV from your phone, though. That's a huge saving grace because the inbuilt YouTube app is downright terrible and doesn't even support 4K, 2K, or even 1440p streaming.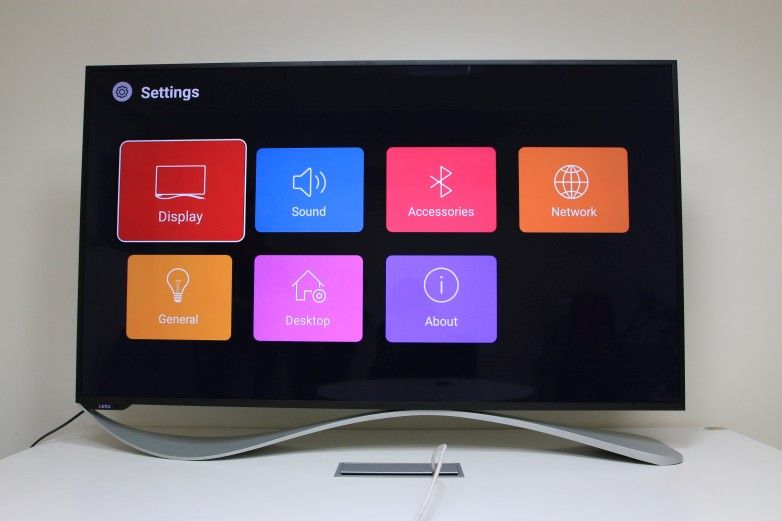 It's a poor showing, the cost of the TV notwithstanding, when a premium TV doesn't enable a hassle-free software experience. A decent Android TV implementation and app support are bare necessities at this price range, especially since we are dealing with a TV and not a mobile phone, where you can at least expect some of the user base to be technically proficient enough to bother with sideloading apps. LeEco should've just coughed up the licensing costs for implementing proper Google Play Services support. That way, users won't have to deal with the hassles of sideloading APKs just to get YouTube working like it's supposed to work.
As a consolation, the TV comes with a host of streaming video services through the LeVidi and Live apps, in addition to free subscriptions to YuppTV and Eros Now for streaming Bollywood movies and TV channels, although the choice for the latter is limited to English and Hindi News channels and mostly South Indian entertainment fare. Sadly, none of these channels support 4K content, so everything looks pixelated and underwhelming on the 4K TV.
Objective Picture Quality Tests
The real crowning glory of the LeEco Super3 X65 is the IPS panel. Setting it up was hassle free, with the basic picture settings accessible through a streamlined menu. Once the TV was fed with UHD signal and set to 1:1 pixel mapping mode, calibrating it was a breeze. My first concern was the shock of finding that there were no provisions to switch off noise reduction, contrast enhancement, edge sharpening, and other image processing gimmicks. This leads one to assume that the TV is doing it automatically, without any means to switch it off. And switching these enhancements off is of utmost importance to achieve optimal picture quality. Most incredibly, the LeEco seems to have had the sense to avoid going overboard with these enhancements, when practically every manufacturer dials them all the way to 11 leading to a horrible default image. In effect, the Super3 X65 will look like a million bucks the moment you calibrate the basic brightness and contrast settings.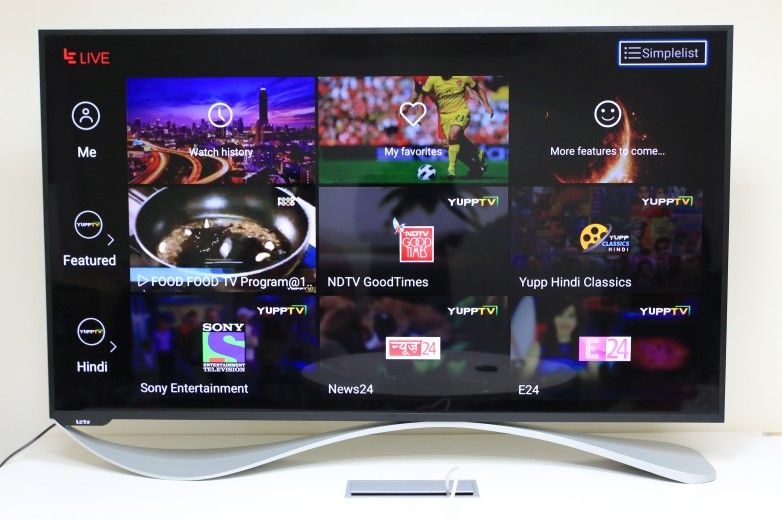 With the TV set up optimally, it absolutely surpassed my expectations in the objective picture quality tests. One expects a TV that costs the third of its competition to skimp in the most expensive component – that is, the LCD panel and the video processing electronics. However, that sure doesn't seem the case here. The first sign being the Spyder Colorimeter calibration didn't make that much of an improvement over the baseline calibrated image of the TV. This is a good sign. The high contrast ratio of 4000:1 ensures great black detail, and this was evident in the black level test, where the TV managed to differentiate between all the black swatches from the pure black background. The white saturation tests showed no sign of bloom with all except the final tint closest to pure white being visible. This points to the ability of the TV to resolve brighter areas with great detail.
The contrast test reveals the true worth of any TV and puts the panel as well as the image processing circuitry through the paces. Surprisingly, the Super3 X65 passed with flying colours despite its dirt cheap pricing (for the real estate). The TV was able to distinguish between all gradients, including the tough-to-resolve blue, red, and magenta samples. This sort of performance is uncharacteristic of a panel that's ideally priced competitively. Upon further investigation, I found out that LeEco uses the sort of phosphor coated LEDs that increase the colour gamut and accuracy of the panel. This technology is usually found in high-end colour accurate PC monitors, where pure blue LEDs are coated with red and green phosphors to maintain purity of the whites thereby leading to superior colour performance. LeEco hasn't exactly detailed what sort of phosphor coated LEDs it employs, however, the result is quite apparent. The colour performance of the panel is downright amazing for the price. The sharpness, gamma, and the viewing angles of the IPS panel were on point as well.
Subjective Blu-ray Tests
Test patterns are great to reveal the inherent weaknesses of a TV, but the real world implications of these parameters and how it all works together is only evident in subjective tests through a library of movies and games. The sort of video material that I'm intimately familiar with, thereby revealing flaws and strengths that would otherwise wouldn't be conspicuous in the test patterns. First up was the Blu-ray disc of the underrated gem Pandorum, which can reveal black crush, if any, and also strain the video processing circuitry with plenty of scenes lit in monochrome blue, red, and green hues. The Super3 X65 was able to resolve the darker areas with consummate ease, but the high contrast ratio of the TV allowed it to give the move a great deal of depth that's otherwise absent in most LED-backlit LCD panels, and quite reminiscent of plasma and OLED panels. This is praise of the highest order. The excellent colour reproduction was evident in the TV's capability to render the monochrome blue, red, and green scenes without any blockiness or cartoonish rendition. These scenes appeared natural, unlike the unnatural patchiness evident in TVs with inferior panels and poor video processing circuitry.
The sound quality was surprisingly good for a flat panel, especially when comapred to alternatives in the same price segment. Just don't expect a bass-rich full-bodied sound expected from a dedicated speaker system and you'll be good. The TV's inbuild speakers were loud enough to fill our mid-sized room while maintaining a decent degree of fidelity subject to the limitations of speakers crammed into a flat panel display.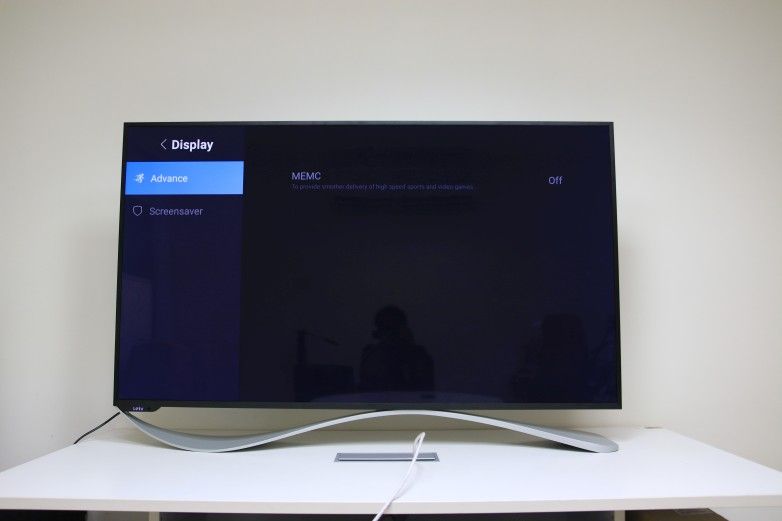 The same is evident in the rich tapestry of colours in Zombieland's "Enjoy the Little Things" scene with the kaleidoscopic bedlam in the souvenir shop, which looked vibrant as expected. The skin tones in the Shaun of the Dead Blu-ray served as ample advertisement of the TV's colour accuracy, whereas the Suck Blu-ray revealed the capability of the panel to reveal the almost nuanced changes to colour and saturation done for cinematic effect. Most lowly TVs tend to fail to capture these subtle tricks of cinematography and post processing. What impressed me the most was the Super3 X65's ability to deliver high contrast that's reminiscent of emissive displays such as OLEDs and plasma TVs. This can be seen in The Descent Blu-ray where the light sources actually exhibit luminance and not appear flat and fake like they do in most LCD panels.
Worth Every Paisa
There's no doubt that the LeEco Super3 X65 punches above and beyond its weight category. It may cost a third of what TVs from its established counterparts, but the picture quality is on par and in some cases better than TVs costing thrice as much. Having said that, this is a 4K TV and it's genuinely hard to find that sort of content. This TV unfortunately isn't too good at upsampling, with some degree of softness evident while playing Blu-rays from regular sources such as standalone players and the PS3. I got around this problem by using my PC to natively upsample Blu-rays to the UHD format. While upsampling is a hit-and-miss affair for pretty much all TVs, this is something you should bear in mind considering the fact that there isn't much UHD content available now.
The lack of proper Google Play Store support and the need to sideload apps is unbecoming for a premium TV, even if it's going for a steal. Speaking of which, one of the reasons why LeEco can sell this TV so cheap is the lack of overheads associated with offline sales in brick-and-mortar showrooms. That also means this TV is pretty hard to get and almost always out of stock on LeEco's own online shop as well as other e-commerce portals. The bottomline is that there's no doubt that the LeEco Super3 X65 is worth every paisa, while offering superlative performance that's beyond reproach. The only problem is that practically everyone knows this fact. Good luck finding one of these in stock.
LeEco Super3 X65 TV
₹ 99790
Design and Build Quality
8.5/10
What Is Good?
Terrific picture quality
Excellent value for money
Great design and aesthetics
Solid build quality
Lightning quick UI
Air mouse function
What Is Bad?
Lacks Google Play Store
Can't cast videos from phone
Upsampling is lacking
Availability is scarce
Thanks for reading till the end of this article. For more such informative and exclusive tech content, like our Facebook page