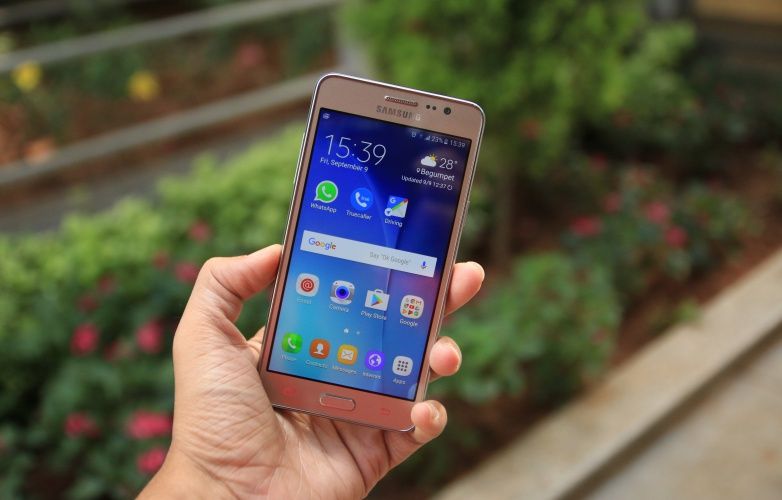 The entry-level segment in India caters to two kinds of users: the first category comprises of first-time smartphone buyers who're not well-versed with the technology on offer on smartphones nowadays, and want a smartphone that fulfills their basic 'phone' requirements. The second category comprises of those who want the maximum 'bang for their buck' but without them having to shell out a lot of money in return.
For both these kinds of users, smartphone manufacturers have been launching a dime a dozen handsets every year. Samsung, the Korean manufacturer, has been a key and reliable player in this segment, with eight devices on offer as of date. This is despite the increasing competition from Chinese phone makers who've been perforating the Indian market. Samsung has still managed to have a strong foothold on this segment, owing to a few key factors: the fact that you can purchase a Samsung device simply by walking into an offline store as opposed to the online-only sales model, especially if you live in two-or-three tier cities where online shopping still hasn't been tapped into as much; and secondly Samsung's undeniably strong reputation. A first-time smartphone user is more likely to spell out Samsung as the most reliable brand in the country even today.
Having reviewed the Galaxy On7 Pro, I shifted my focus to its smaller-sized sibling, the On5 Pro. Both phones differ in only a few aspects such as the size, display, processor, camera, and battery. They were released as upgrades to last year's Samsung Galaxy On5 and Samsung Galaxy On7 models respectively. Interestingly, the new On5 Pro differs from last year's On5 only in terms of an additional 8GB of internal storage space and an extra 0.5GB of RAM. That's all. You'd wonder why Samsung would have gone all the way to manufacture a smartphone with just these bare minimum additions?
Evidently, Samsung's agenda has been to manufacture as many devices as possible in each price point. But, even then, is the device really worth the money you're shelling out, especially when there are countless options available for the same price point? We find out.
Samsung Galaxy On5 Pro: Design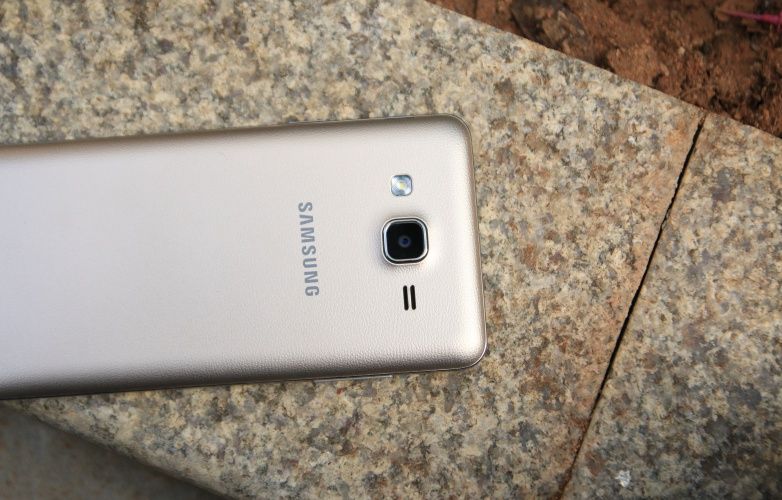 Samsung plays it safe with a tried-and-tested design language, so the phone looks like yet another of Samsung's entry-level smartphone with a plastic body with curved edges, a plastic back panel and a plastic rim running around it. In short, there's nothing extraordinary that stands out for the On5 Pro.
It is understandable why Samsung wouldn't want to experiment with the design, especially in this segment. The design worked wonders for the company in the past with people lapping it up, and the company happily walking away with the moolah. So, when you have enough sales with an existing monotonous design, why bother experimenting with a new design, right?
However, the tide has begun to turn. You have several great-looking options in the entry-level segment such as the Redmi 3S Prime, which have been seeing increasing popularity in the Indian entry-level segment. So, it is about time for Samsung to pulls up its sleeve and brings something new to the table if it doesn't want to be torn down by its competitors (read: Xiaomi, Le Eco and Lenovo).
Having said that, there are quite a few things where Samsung's design works well: it feels sturdy and has a nice grip, the tactile feedback on the power button, volume rocker, and home button is good. Also, a key detail about the users of the entry-level segment is that while they may not necessarily be power users, they would definitely want the handset to last them long, and in that aspect, the On5Pro delivers. While most handsets nowadays end up with a cracked display in a single drop, Samsung's On5Pro survived multiple falls without a scratch.
There are areas where the company has cut corners, which make the phone look rather drab. Case in point is the plastic rear panel. It is flimsy and feels very poorly designed. The plastic rim is likely to erode over usage and time. The capacitive keys at the bottom of the display aren't backlit so they might be inconvenient to use until you get used to them.
The phone's compact size makes it easier to operate it with one hand. However, for this reason alone, I would choose the On5 Pro over the On7 Pro.
Samsung Galaxy On5 Pro: Display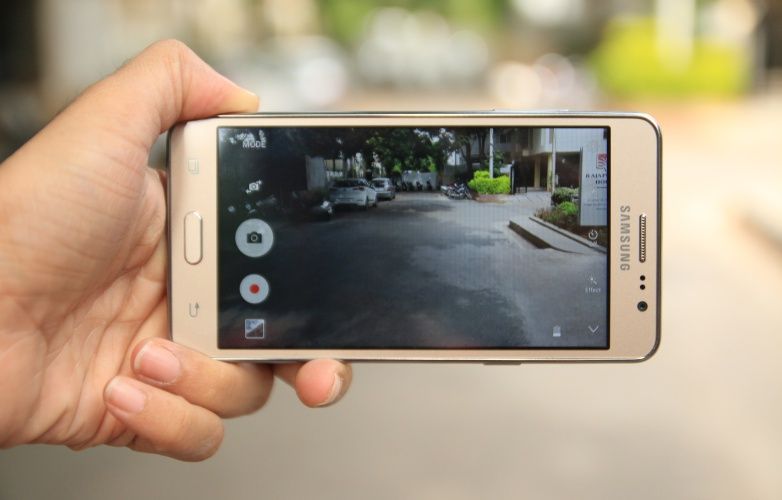 The On5Pro comes with a 5-inch TFT display with a resolution of 1280x720p, which is the same as on the previous On5 model. The pixel density of around 293 PPI is nothing to write about, but it gets the job done. The bigger issue, however, are the washed-out colours. Perhaps, only to keep up with the competition, Samsung should have used an IPS (In-Pane Switching) screen. Since my primary driver is the AMOLED-equipped OnePlus X, I found the On5's reproduction of blacks to be hugely disappointing. Viewing angles are strictly average, as the colour shift becomes noticeable at acute angles.
The display's brightness is high enough, and works decent even in bright sunlight. Be warned though, the phone lacks an automatic brightness control. In order to make up for that, the phone comes with an outdoor mode which increases the brightness to the maximum setting. Do note that it lasts only for 15 minutes.
Samsung Galaxy On5 Pro: Hardware
The device uses Samsung's own Exynos 3475 quad chipset. It comprises of a quad-core 1.3GHz Cortex A7 CPU and a Mali-T720 GPU. The phone has 2GB of RAM, 16GB of internal storage space, and a microSD card slot that supports up to 256GB of space. Unlike many other recent phones that offer a hybrid slot, making you choose between a secondary SIM and additional storage space, Samsung's Dual SIM device comes with a dedicated microSD card.
Now, at a time when most entry-level smartphones boast of a 13-megapixel snapper, the On5Pro settles for an 8-megapixel rear camera with F2.2 aperture and LED flash. At the front it has a 5-megapixel camera with F2.2 aperture.
Connectivity-wise, the device is compatible with Band 3(1800MHz), Band 20(800MHz) and Band 40(2300MHz), so you won't have trouble with most 4G services in India. Other connectivity options include Wi-Fi 802.11 b/g/n, Wi-Fi Direct, hotspot, Bluetooth v4.1, GPS with A-GPS and GLONASS, FM Radio, and a microUSB v2.0 port.
You must also note that the device lacks features such as fingerprint sensor that you get on most entry-level phones from Chinese manufacturers, so that's a competitive disadvantage right there.
Samsung Galaxy On5 Pro: Camera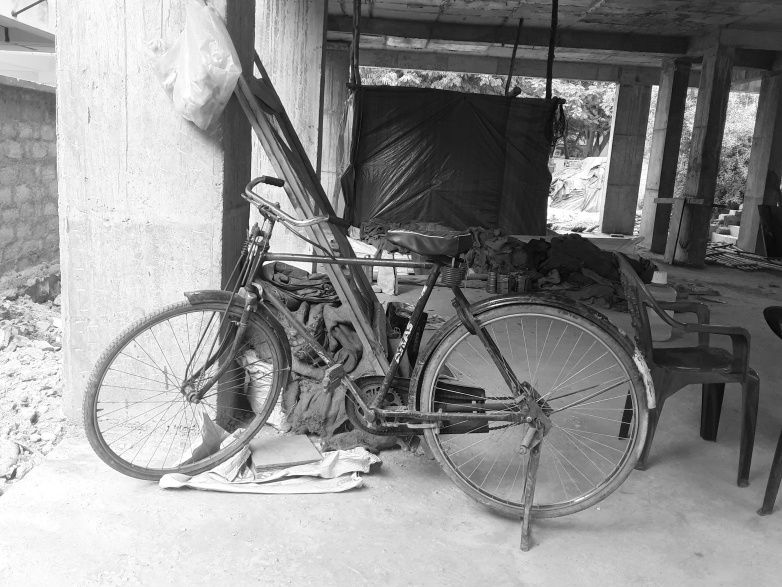 The camera app on the On5Pro is a basic affair. You have effects such as Negative, Sepia, and Grayscale to choose from. There are also modes such as Auto, Pro, Panorama, Continuous Shot and Beauty Face. The Pro mode allows you to adjust the ISO sensitivity, exposure value and white balance manually.
The phone comes with a neat quick launch feature that lets you trigger the camera pressing the home key twice in succession. The option works even from your lock screen. For those of you not so fond of an on-screen shutter, you can use the volume rocker for the same.
Pictures taken on a sunny day contains a good amount of detail. The performance, however, takes a hit as darkness creeps in. The low-light shots come with a lot of noise.
Samsung Galaxy On7 Pro: Software
The device runs Android 6.0 Marshmallow with Samsung's TouchWiz UI on top of it. The software offers you a ton of interesting features which I'll walk you through in this section.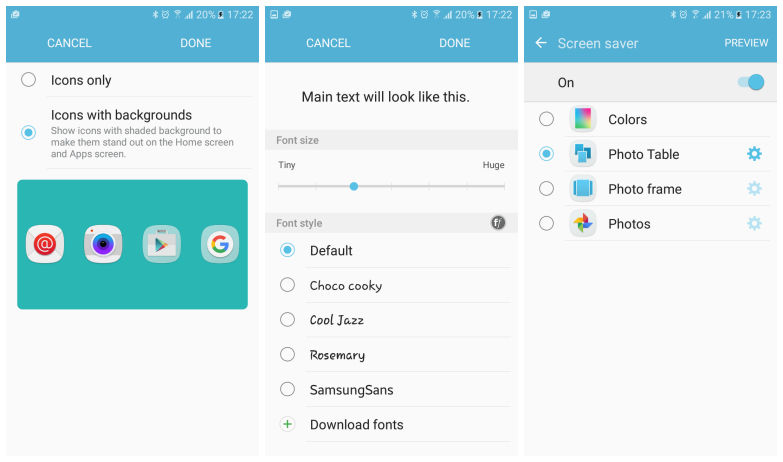 The icons are pretty inconsistent in their shapes, but you can set that right by using Icon Frames from the Settings menu, which provides a translucent frame of sorts around the icon to provide a certain degree of consistency. Google apps such as Gmail, YouTube, Photos and Hangouts have been clubbed together, and so have the tools such as Memo, My Files and Voice Recorder.
In terms of security, the phone allows you several options. You can lock your phone instantly using the power key. There is a Smart Lock feature, which unlocks your phone when it senses the phone's proximity to any of your Bluetooth devices (like a smartwatch or your car's music system). Moreover, the phone offers 'On-body detection', 'Trusted places', 'Trusted device', and 'Trusted Voice' that can be set using your preferences. In use-case scenarios, though, these features are hardly practical.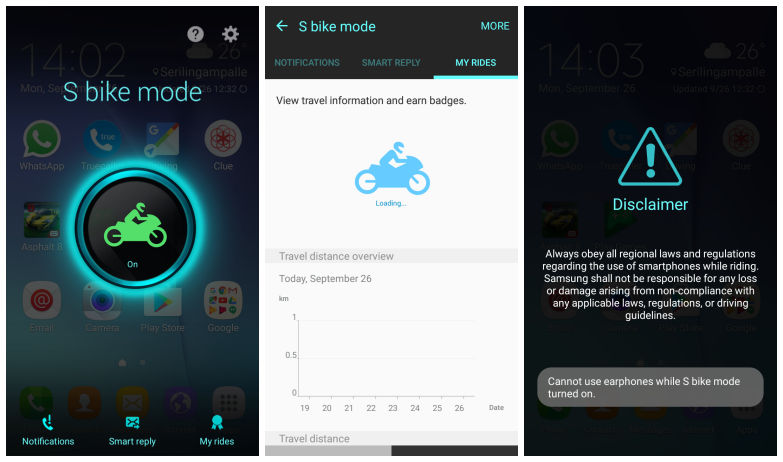 The S-Bike mode is also handy when riding a bike. It gives you only the important notifications, and sends the caller a message informing him/her that you are currently riding a two-wheeler. Do note that you cannot use earphones while using the S Bike mode.
The phone also offers you gestures such as One-Handed operation mode which adjusts the screen size to increase ease of use. You can reduce the size of the display by pressing the home key thrice in quick succession. Since the phone is already compact, I doubt this feature will be of use to most people. You can also adjust the size and position of the keyboard for easier input with one hand.
Samsung has also incorporated the Find My Mobile feature which allows you to track your mobile phone from your desktop in case you happen to lose your phone.
Samsung Galaxy On5 Pro: Performance
In terms of performing everyday tasks such as messaging, making calls, browsing the internet, I had no trouble with the On5 Pro. It can even handle graphic intensive games such as Asphalt 8: Airborne and Modern Combat 5 if you don't mind slight stutter. While the gaming experience is nowhere close to the high-end devices, you get what you pay for.
I tried listening to FM Radio through the smartphone and wasn't able to tune in to any of the radio stations at all. On the other hand, other phones such as the OnePlus X had no issues tuning in to FM radio. I'm sure the non-functioning radio will disappoint the target buyers.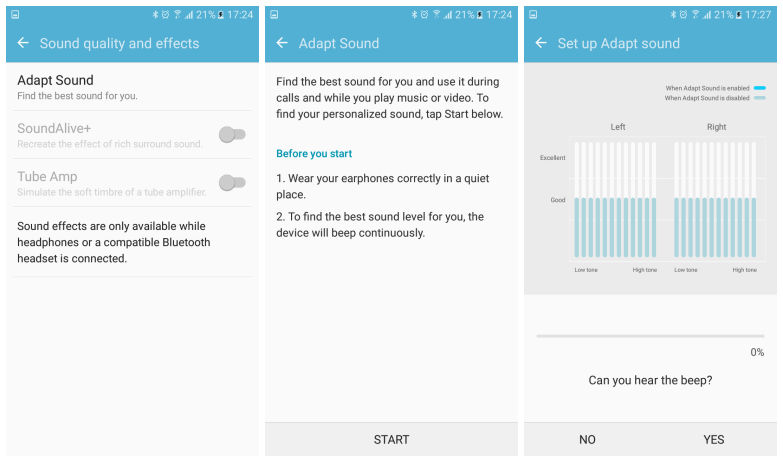 To amp up your music experience, the phone offers plenty of sound settings. This includes presets as well as Adapt Sound technology that can "find the best sound for you". Then, there are options such as SoundAlive+, which can recreate the effect of surround sound and Tube Amp through which you can simulate the soft timbre of a tube amplifier. Using the bundled earphones, I didn't find much difference with both these options switched on. Speaking of which, the earphones are simply average: neither bad, nor anything extraordinary. Surprisingly, equalizer settings are missing in the On5 Pro.
The onboard loudspeaker sounds quite muffled due to its placement at the back. To make the matters worse, it is not even loud enough. This is a pain if you wish to watch YouTube videos or make Skype calls by placing it on the table.
Samsung Galaxy On5 Pro:

Battery
With its 3,000mAh battery, you can be rest assured that the phone will easily last you a day and a half on moderate usage. The phone takes about two and a half hours to charge fully from zero to 100 percent. So, with its battery, the On5 Pro brings out its trump card.
There are two nifty battery features – Power saving mode and an Ultra Power Saving mode – which work brilliantly to save on battery life. I remember having turned on the Ultra Power Saving mode at about 16 percent, that allowed me to use the phone for another four-five hours before I was able to charge it again.
Samsung Galaxy On5 Pro: Verdict
The Galaxy On5 Pro currently retails for ₹7,990. For the same price you have better devices such as the Redmi 3s Prime, the Moto E3 Power, and the Lenovo Vibe k5 Plus. Another great option is the Redmi 3s Plus, which can be picked up from offline stores. The On5Pro offers nothing extraordinary by which to entice power users, save for the battery life.
Having spent considerable amount of time using the On5 Pro, I can say that this smartphone is only meant for first-time smartphone buyers who would want to own a device from a reliable manufacturer. But with the recent Note7 debacle, even that's at stake now.
Samsung Galaxy On5 Pro
7,990
What Is Good?
Great battery life
Bright display
Software has few nifty features
Sturdy build, compact size and one-handed usage is completely possible
What Is Bad?
Boring design
Screen could have been better
Speaker is placed at the back because of which sound isn't loud or clear
Camera not up to the mark