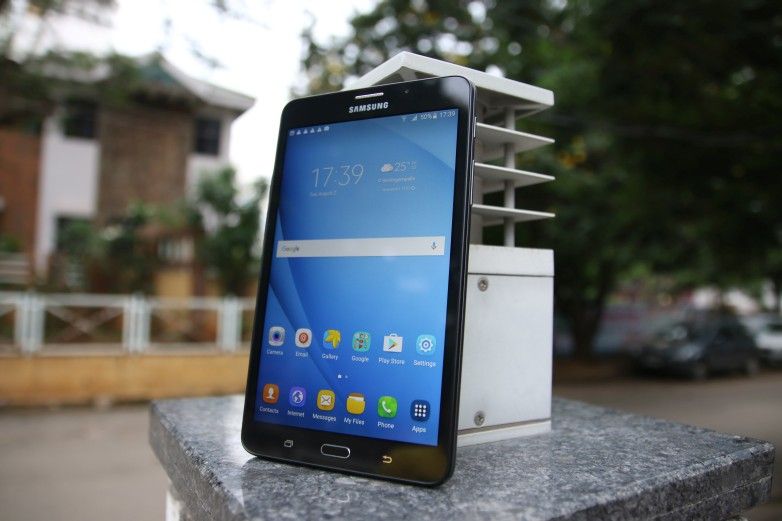 With a projected loss of $17 billion looming over the heads of Samsung executives like the mythical sword of Damocles, I feel a bit sorry for the Korean electronics behemoth. After all, as serious it might be, this is an unfortunate case of someone being complacent and callous down the design, engineering, and Q/A lines, which has now snowballed into a multi-billion dollar debacle that will ultimately cause irreversible damage to the company's reputation and consumer trust. At the end of the day, this was definitely an inadvertent mistake. The Samsung Galaxy J Max, however, wasn't exactly a mistake.
There's no easy way to put this, but Samsung is essentially selling a camel to unsuspecting consumers under the delusion that they're buying a horse. One glance at it is enough to assume that you're dealing with a standard 7-inch tablet. But take a closer look and you can spot a rather conspicuous chrome earpiece on the contrasting all-black glass front fascia. That's the J Max practically screaming out that it's a smartphone. Or is it? After all, which phone maker in its right mind will make a mobile phone that's 4.28-inch wide, which by itself also makes the J Max physically painful to hold as a smartphone. While it's possible to curl your fingers across the width of the device, you're going to be in a world of hurt after just a few minutes on a call.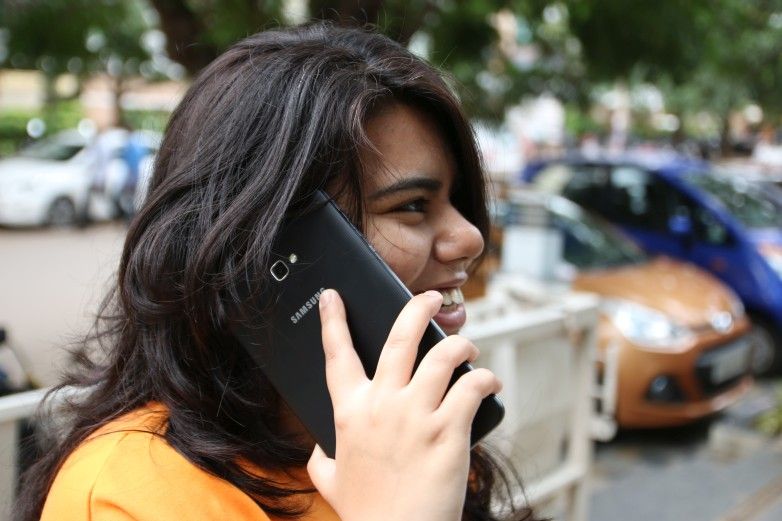 Samsung Galaxy J Max: A Phone or a Tablet?
This brings us to the million dollar question. Is this a phone or a tablet? Well, no one really knows, and that includes Samsung. You'll find conflicting version from Samsung's own official website itself. The Galaxy J Max is categorised as a tablet on the company's official website, yet the official description within the same website also defines it as a "4G enabled smartphone" and a "large screen mobile phone". However, the consensus all round is that the device is actually a phablet, so it will be treated as such in this review. That, in turn, brings forth a host of problems for the Galaxy J Max. It's not just its unwieldy dimensions that make it unsuitable as a phone, but it lacks some important features expected from a smartphone.
While it's de rigueur for Samsung to exclude the all-important light sensor (say bye bye to automatic brightness adjustment) in its budget and mid-range phones, the J Max also lacks a proximity sensor. That's inexcusable in a mobile phone, which is expected to be brought close to the face often while making and receiving calls. Without a proximity sensor, there's no way to switch off the display and touchscreen and prevent your face from inadvertently tapping it. Samsung gets around this problem by locking (and not switching off, mind you) the screen a split second after you make or receive a call. This is not only inelegant and wasteful, but it also is grossly ineffective. I found myself invariably putting the call on hold with my ear and forehead (yes, forehead. This is a bigass phone, after all) and that in turn made me miss out on a lot of important calls.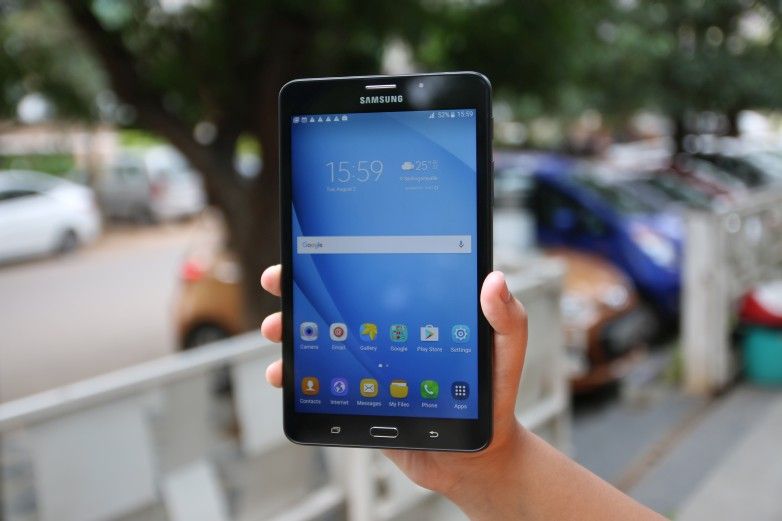 Samsung Galaxy J Max: Cutting Corners
This omission is most egregious because a proximity sensor is one of the cheapest components in a phone's sensor array. That makes one wonder about the sort of logic Samsung engineers relied on to justify doing away with something that's inexpensive to implement, yet affects basic functionality in a significant manner. And that isn't the only place where Samsung has cut corners in an exasperating manner.
The Galaxy J Max comes with just 8 GB of internal storage. While it may not seem like a big deal considering the fact that the phone comes with a dedicated microSD slot that's expandable up to 256 GB, let's not forget that it's not possible to install apps directly to the microSD card. This is a huge problem because when you consider space reserved for system and essential apps, you're left with a precious few gigabytes of free space for anything else. That means, it isn't remotely possible to install larger apps such as high-end mobile games. Now, before you cite Marshmallow's (Android 6.0) new adoptable storage feature, this is where I mention that the J Max ships with Android 5.1 (Lollipop), which in turn is a huge problem in itself. So you're essentially left with a phone with a two-year old OS that simply has no possible way to run large games and heavy apps. That's a huge deal breaker for most people.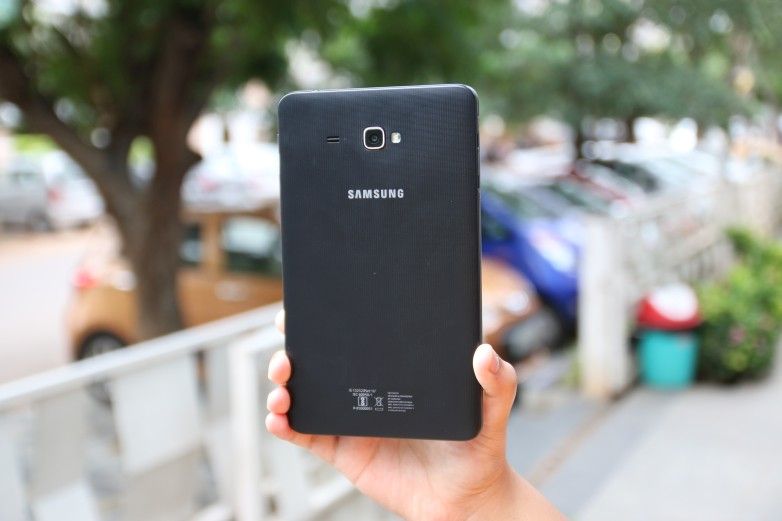 Samsung Galaxy J Max: Design and Build Quality
Glossing over these deal breakers, the Galaxy J Max feels like any 7-inch tablet that's being used as a phone – large, unwieldy, and painful to hold in one hand. Not only does making and receiving calls with it make you look somewhat mentally challenged, but fitting it into a pair of jeans is a Herculean task. Even then, the top 20-percent of the phone still sticks out of the pocket leaving the rear camera exposed. This is a major annoyance unless you're into executing sting operations and directing MMS clips. The lack of common sense extends to the button placement as well. The power and volume rocker buttons are placed too high to be reached with a single hand. The capacitive buttons for App Switcher and Back functions aren't backlit, whereas the tactile Home button is too small and fiddly.
The phone has an all plastic construction that doesn't feel cheap, but at the same time it doesn't feel as premium as the metal endowed Xiaomi Mi Max. The relatively soft, rubbery rear panel is textured and provides great grip. This is good because it's highly unlikely that the 7-inch, 289 gramme monstrosity will survive a fall. Not when it lacks Corning or Asahi branded protective glass. The rear panel also houses a 8-megapixel camera backed by a dual-LED, dual-tone flash and complemented by a 5-megapixel snapper at the front for selfies. Thankfully, Samsung has had the sense to incorporate full-fledged dual-SIM slots in addition to a dedicated microSD slot. There are at least some perks of having an oversized phone after all.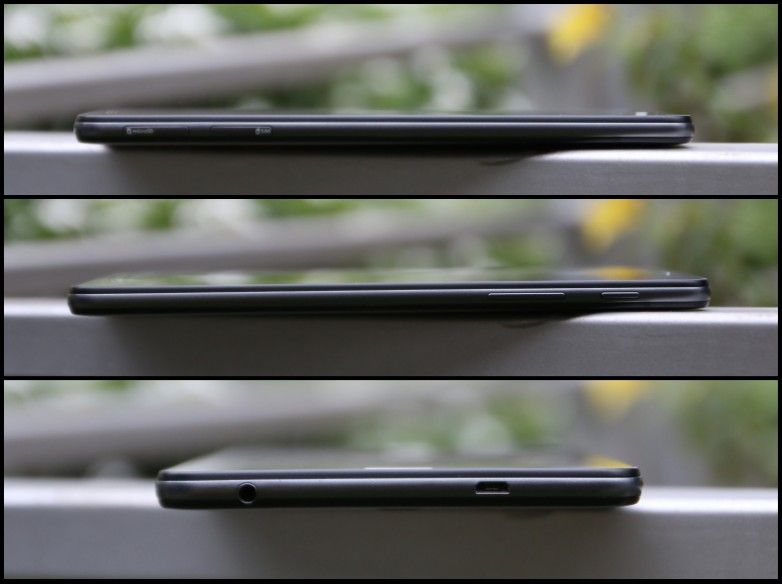 Samsung Galaxy J Max: Hardware, Connectivity, and Performance
While the phone has LTE support, it's a crying shame that it isn't compatible with dual-band Wi-Fi. It's a terrible feeling to be left out of the sparsely populated (and hence better) 5 GHz Wi-Fi networks in office and be forced to connect to 2.4 GHz networks like every other pleb out there. It's the little things such as these that are crushing reminders of the fact that you probably should've chosen a well-specced Xiaomi or Lenovo alternative instead. Speaking of which, the SoC is a disappointing Spreadtrum SC8830 featuring a 1.5 GHz quad-core Cortex-A7 processor mated to a dual-core Mali-400MP2 GPU. The RAM itself is 1.5 GHz, which is a travesty since it's not uncommon to find devices costing a fraction of the J Max's asking price feature 2 GB of RAM.
Compare the 32-bit processor of the Spreadtrum SoC, the measly 1.5 GB RAM, and the underwhelming dual-core GPU to its competitors' Snapdragon 650/652 (Xiaomi Mi Max) or Snapdragon 615 (Lenovo Phab Plus), and it becomes apparent what a raw deal you're getting with the Galaxy J Max. This is painfully evident not only in the synthetic tests, but the phone stutters and lags in everyday usage scenarios. The basic animations of scrolling, pinch zooming, app switching showed signs of stutter even under light load and just a few apps running. Add more apps to the mix and the phone has difficulty keeping up with keyboard input. HTML5 applications in browsers, especially video content, are severely affected by the phone's poor performance, with the phone not being able to keep up with some websites specialising in video content (just don't ask what kind). As a consolation, the call and signal quality was pretty decent, and I had no difficulty latching onto 4G networks.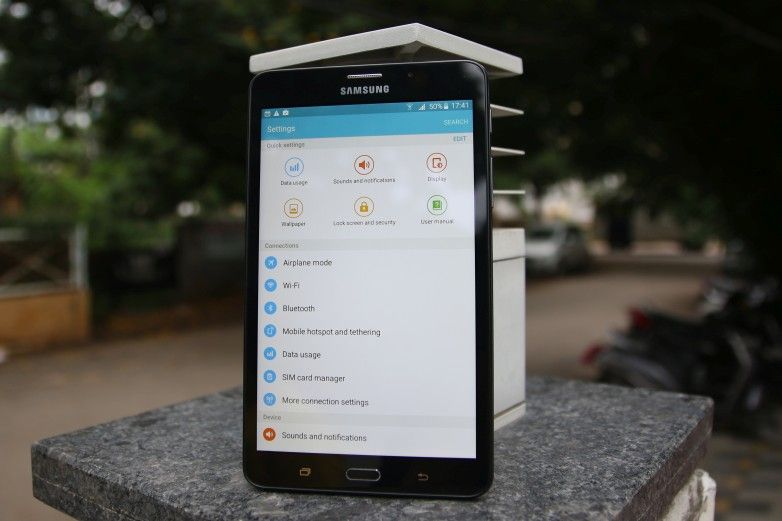 Samsung Galaxy J Max: Display Performance
The Samsung Galaxy J Max's 7-inch WXGA screen (800×1280) fares poorly against the Full HD screens (1080×1920) of the Xiaomi Mi Max and Lenovo Phab Plus, both of which exceed the pixel density of the Galaxy J Max (219 ppi) by an average of 100 ppi. Unlike its Xiaomi and Lenovo competitors, the J Max also lacks an IPS LCD panel. Needless to say, the the display fared poorly in my tests, so don't expect to be regaled with a quality viewing experience. The screen is a scratch and smudge magnet, so given enough time and rough handling the lack of vibrant colours, poor viewing angles, and poor contrast will cease to matter eventually.
Samsung Galaxy J Max: Camera & Image Quality
The 8-megapixel front camera shoots underwhelming pictures under perfectly bright conditions. The dynamic range isn't helped by the omission of the HDR mode, which is considered a standard addition these days. The F1.9 front camera has standard features such as autofocus, touch focus, dual-LED and dual-tone flash, and 720p recording. As expected, the low-light photos come out quite terrible, and the problem isn't helped by the dual-LED flash either. The video recording is sadly restricted to 720p, which is a shame since all of its closest competitors feature Full HD recording. The video quality is strictly mediocre. The front camera faces the same low-light gremlins of the front camera, with the images appearing cartoonish and devoid of detail even under ideal lighting conditions. So don't bother with the embarrassment of using a device as large as this to shoot selfies, the photos don't justify the humiliation of snapping self portraits with a tablet-sized phone.
The camera interface is a standard affair with the bottom edge meant for the virtual camera shutter button, video recording button, camera switching, and preview. The top edge has options handy for settings, picture resolution/aspect ratio, flash, timer, and effects such negative, sepia, and greyscale. Additional modes include the standard Panorama, which is decent enough to capture wider vistas and a Pro mode that gives control over exposure, ISO, metering, and white balance. The continuous shot snaps a series of images in rapid succession, whereas the animated GIF mode is pretty cool too. The Sound and Shot mode does exactly as advertised, while the Sports mode optimises the camera for high-speed photography. The Beauty Face mode is just what most ladies need to snap Tinder profile photos primed to set unsuspecting guys up for disappointment.
Samsung Galaxy J Max: Battery Life
The upside of having an oversized phone is that you have plenty of space for cramming in a battery. It's pretty shameful then that Samsung has only managed to shove in a 4000 mAh battery in a phone as monstrously as large as the Galaxy J Max. This is bad when you consider the fact that the Xiaomi Mi Max comes with a sizeable 4850 mAh battery despite a much smaller footprint. Needless to say, the Xiaomi trumps the Samsung with a 10 hour screen-on time, as opposed to the J Max's 6 hour endurance.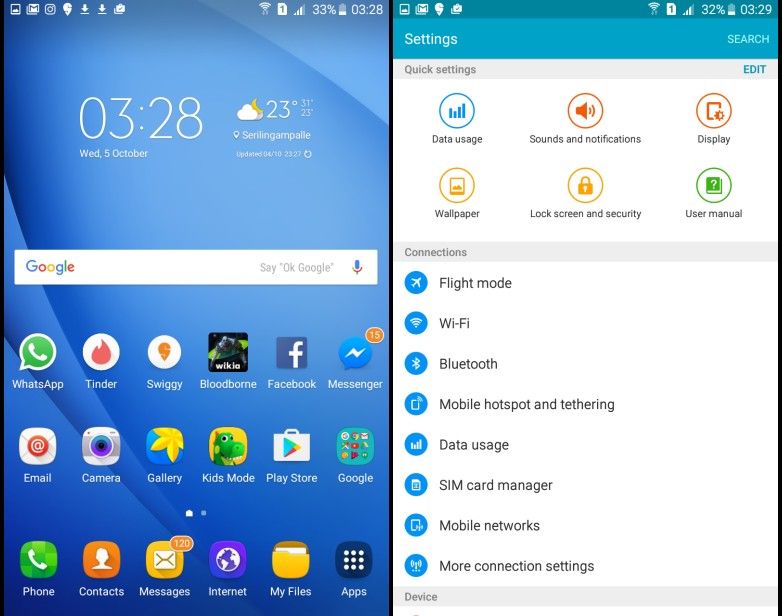 The total battery life of one and a half day doesn't seem bad, but then you can't help but realise that the battery life could've been a whole lot better. This is all the more true since the J Max only needs to power an inferior chipset and a lower resolution screen. The lack of any fast charging option is another bugbear because the standard 1 amp charger takes quite a lot of time to juice up the non-removable battery. Having said that, the battery should be good for one and a half days worth of everyday tasks, which includes extensive browsing, email, instant messaging, moderate video playback, and a fair bit of social media usage.
Samsung Galaxy J Max: Software, UI, & Features
As it has already been explained in detail, it's extremely disappointing that Samsung chose to hobble the J Max with a two-year old Android 5.1.1 Lollipop mated with an older version of TouchWiz. The UI is typically Samsung, with the same ol' setup featured on various other phones from the same manufacturer. However, what the J Max does well due to its size is the Multi Window Mode that enables a host of multi-tasking functions on the phone. Apps supporting this feature can be displayed split-screen when the device is used horizontally. This allows easy switching between apps, adjustment of window sizes, and performing other tasks such as copying data between apps. However, the poor performance of the SoC and the limited resolution of the screen makes the mode harder to use and cuts down usable real estate.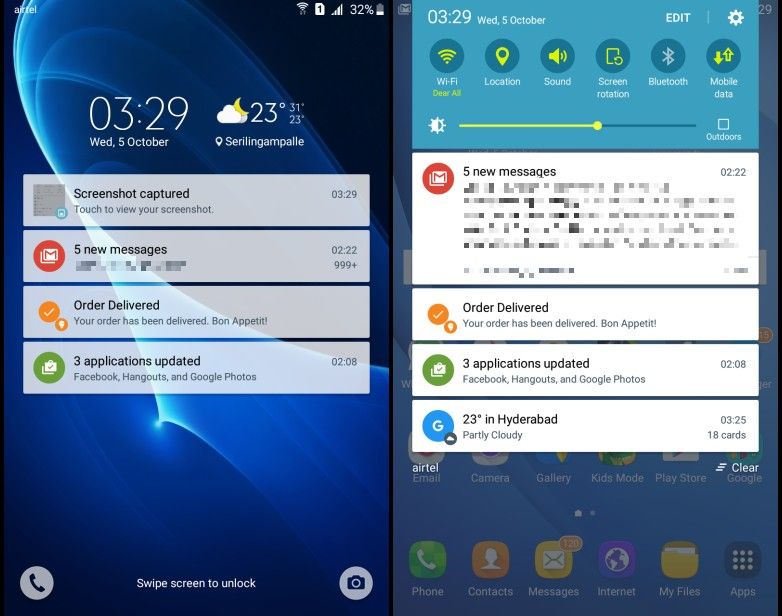 Apart from the standard suite of Samsung apps such as Galaxy Apps, Video Player, Gallery, Notes, Memo, My Galaxy, Smart Manager, and Kids Mode, the phone comes bundled with Opera Max. This works with Samsung's Ultra Data Saving mode to use Opera's proprietary data compression tech to save data by reducing bandwidth overhead. The S Bike mode also finds its way onto the J Max, which allows users to put the phone into the answering machine mode while they are riding. It ensures safety allowing the rider to answer calls only when the ride has ended, with the capability to automatically answer calls with preset messages directing callers to call back later. The notification shade and lockscreen feature the same TouchWiz brand of shortcuts that make life easier by allowing access to a host of options without having to enter the settings menu.
Samsung Galaxy J Max: A Deal Breaker
The idea of a 7-inch Samsung phablet for Rs 13,400 doesn't seem like a bad idea. That is, until you take a gander at the competition such as the Lenovo Phab Plus (Rs 14,000) and the Xiaomi Mi Max (Rs 15,000). Doing that makes the extent of compromises Samsung has inflicted upon the Galaxy J Max to deliver a larger format at a competitive price painfully obvious. At the end of the day, a phone with cripplingly limited storage, woefully underpowered Spreadtrum SoC, and just 1.5 GB of RAM is a bad deal no matter how competitively priced it is or the brand name backing it up.

It's hard to recommend this phone when anything between just a few hundred to a thousand odd rupees extra can get you phones with significantly better screen, larger battery, powerful hardware, competent camera, and latest version of Android. If it were my money, I'd just cough up the sixteen hundred bucks extra for the Xiaomi Mi Max, which is a significantly better phone in every conceivable aspect compared to the Samsung Galaxy J Max.
Samsung Galaxy J Max
₹ 13400
What Is Good?
Didn't explode
Decent build quality
LTE support
Dedicated microSD slot
What Is Bad?
Didn't explode
Lacks something as basic as a proximity sensor
Cripplingly meagre 8 GB storage
Ships with two-year old Android Lollipop
Woefully underpowered
Measly 1.5 GB RAM
Below average camera
Lacklustre TFT display
Thanks for reading till the end of this article. For more such informative and exclusive tech content, like our Facebook page