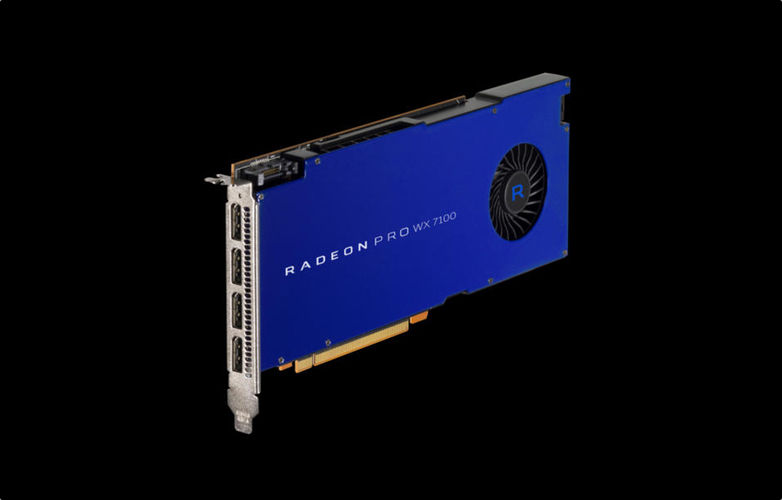 AMD is pretty pumped after launching its new Polaris architecture-based GPUs. Apple, Microsoft, Sony have preferred using AMD's new GPUs in their new products over Nvidia's Pascal GPUs. AMD is also hoping that it will be able to overcome its years of struggles in the CPU market after it launches the upcoming Zen CPUs. AMD's upcoming CPUs are said to be as fast as (if not faster) Intel's latest high-end consumer-grade CPUs. Now, AMD has released a new lineup of Radeon Pro WX GPUs that support up to 5K videos.
The AMD Radeon Pro WX lineup of GPUs are made specifically for professionals in the movie industry, but they can also be used for gaming. Movie and VR (virtual reality) content creators would be very pleased with these new Polaris-based GPUs. The $399 AMD Radeon Pro WX 4100 has 4GB of GDDR5 memory, and it delivers up to 2 teraflops of single-precision performance. It can also support a single 5K monitor at 60Hz and four 4K monitors at the same refresh rate.
The $499 AMD Radeon Pro WX 5100 GPU has 8GB of GDDR5 memory, and it delivers nearly 3.9 teraflops of performance. The company says that it can handle VR content creation. The fastest GPU in the new lineup, the $799 AMD Radeon Pro WX 7100 delivers 5.7 teraflops of performance and has 8GB of GDDR5 VRAM. The company already sells the Radeon Pro WX 9100 at the top-end of its professional GPUs and the Radeon Pro WX 2100 at the low-end.
AMD's new professional GPUs are cheaper than competing solutions from Nvidia. The latest GPUs in the Quadro lineup from Nvidia start at $500.
[Via: PCWorld]