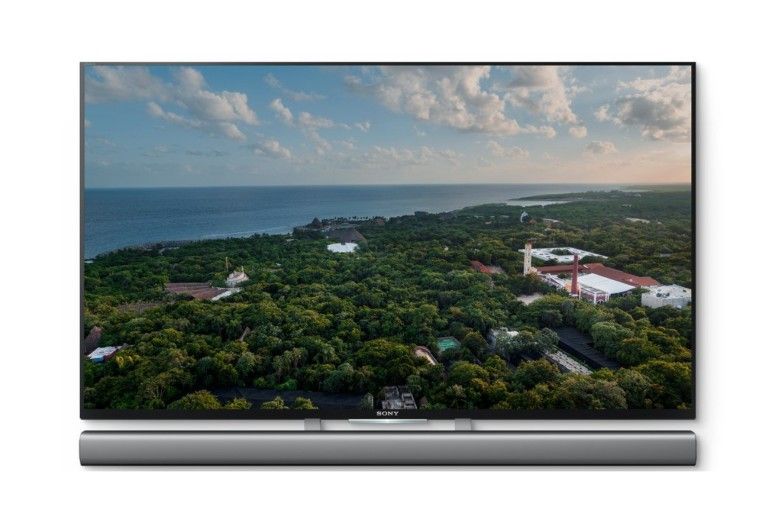 The process of reviewing consumer electronic products usually involves companies sending us latest products, which are then rigorously pushed to their very limits until we glean enough insight to bash or issue a recommendation. However, sometimes the most expensive and newest models don't translate into the best choices. This is one of those times, especially when it comes to televisions.
If you've been keeping up with TV technology, the battle for supremacy is being played out between the decidedly superior but heavily outnumbered and outmarketed OLED and the backwards and frankly utterly horrible LCD technology. To be brutally honest, the fact that the big three TV manufacturers have already sunk countless billions into their LCD fabrication plants is one of the major, and arguably the only good reason, why LCD TVs have prevailed over their vastly superior and also very dead plasma competitors.
What is Quantum Dot? LCD's Answer to OLED TVs
The LCD camp, however, has hit back with quantum-dot technology. To put it simply, it employs the wonders of nanotechnology to help LCD panels overcome a major flaw – the conspicuous lack of colour accuracy. Nevertheless, even though quantum-dot enhanced LCD TVs deliver better efficiency, brighter brightness, and wider colour gamut, they still have all the existing flaws of plain vanilla LED-backlit LCDs. So while quantum-dot LCDs are a step above the regular LED-backlit LCD TVs, they are nowhere in the league of OLEDs. These TVs are instead better approached as cheaper LCD alternatives that try to match the colour accuracy of their superior OLED competitors.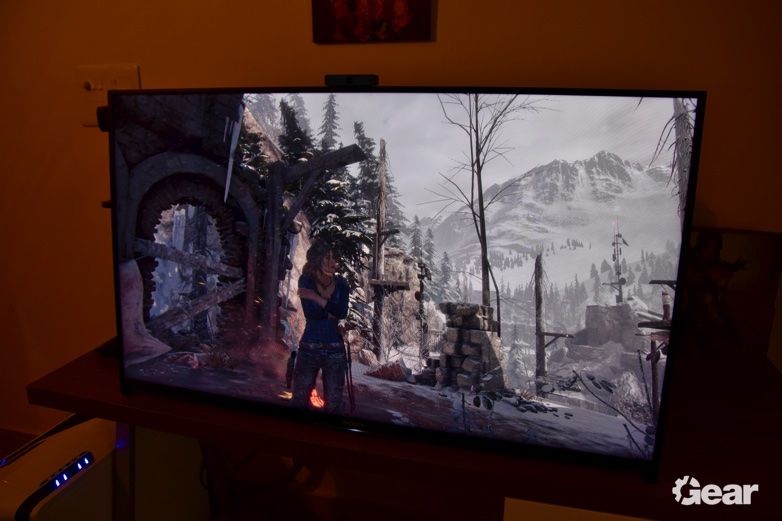 When you put this into perspective, it's not that hard to realise the atrociousness of the big three LCD manufacturers choosing to sell quantum-dot TVs at prices that are on par, and at times even higher than, LG's OLED TVs. It doesn't take a rocket scientist to figure out that it makes absolutely no sense paying more for what's essentially a cheaper imitation of a superior products. And that's precisely why I chose to give the ridiculously expensive 4K quantum-dot TVs a miss and instead focus on ones that actually do what they were originally intended to — that is, offer a cheaper LCD alternative to OLEDs.
This is exactly what the Sony KDL-43W950D does. It's a 43-inch TV incorporates quantum-dot technology for a relatively more affordable Rs 77,900, which happens to be sort of money more Indian consumers are willing to spend for a quality viewing experience. And because it's Full HD panel, it can display the most widely available content without resorting to lossy upscaling like its 4K cousins. What's more, since it also comes stock with a surprisingly good speaker system in the shape of an external sound bar-esque setup, it's also perfect for an overwhelming majority of consumers who don't fancy the hassle and cost of hooking up their flat panel TVs to external speaker setups. On paper, the Sony KDL-43W950D sounds like just what I'd recommend for someone seeking a complete and hassle-free quality TV experience at a reasonable price. Let's see if it lives up to the promise in real life.
Sony KDL-43W950D: Design and Build Quality
The Sony KDL-43W950D is by no means a flashy, flamboyant TV. It's design is simple and minimalist with a sharp angular theme dominated by blacks; the only respite coming in the form of a chrome status light bar right below the company logo at the bottom edge. The edge lit panel is a little over a centimetre thick, with the electronics packed in at the bottom bumping up the overall thickness to 7 cm. The bezel itself is pretty thin and inconspicuous, which helps the brilliant 43-inch Full HD panel stand out. The slim rectangular mirror finished camera sporting a chrome fascia too doesn't look out of place when mounted on the top edge. The hybrid metal and plastic construction employs lightweight but high quality plastics to save weight and metal where structural rigidity is required, which leads to a sturdy design that is pretty light at 15.4 kg.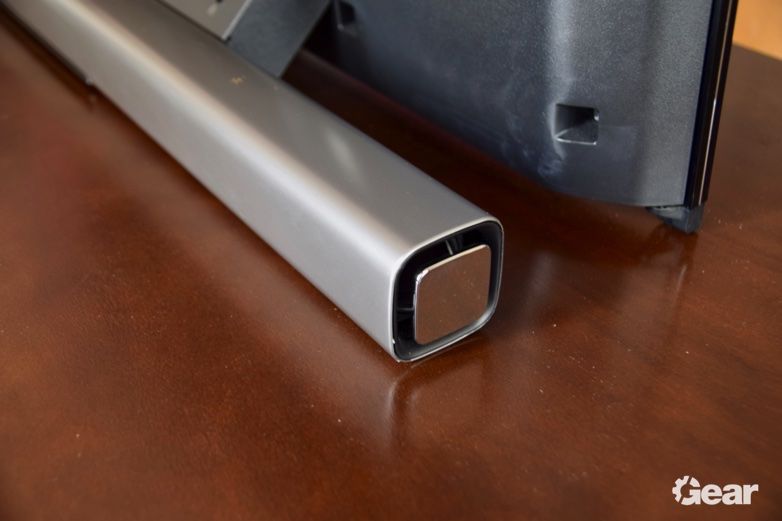 Sony has been particularly clever with the TV stand. When mounted on a table, the TV appears to rest mysteriously on a pair of tiny nubs at the bottom. However, in reality, the TV is tipped at a small angle and resting on the speaker bar connected to the back panel with a sturdy bracket. Try imagining a picture frame, and that's pretty much how this stand works. Not only does this setup look pleasantly minimalist from the front, but it also makes for one of the sturdiest stands in the business, with virtually no wobbling evident even when you rock the panel hard. The speaker bar by itself houses two radiators at each end, which can get surprisingly loud while maintaining good aural fidelity. It gets even in the wall mount configuration, with the speaker bar appearing to be suspended weightlessly below the panel. The grey finish of the speaker bar offering a pleasing contrast to the all black design of the panel.
Sony KDL-43W950D: Hardware, Connectivity, and Remote
The Sony KDL-43W950D is pretty well equipped when it comes to the connectivity department. For your money, you get four HDMI ports, one of which is the handy ARC-capable one, and the usual litany of legacy component, composite, and RF ports that practically no one uses these days. Also present are two USB ports, digital and analogue (hybrid headphone/subwoofer) audio outputs, and the trusty old ethernet input. In addition to these basic interconnects, you also get an IR Blaster accessory and a camera cum microphone module that sits atop the TV. The TV, however, shines the brightest with its wide array of smart connectivity options such as Google cast, screen mirroring (Miracast), wireless photo sharing, Wi-Fi direct, and host of other apps and features that allow you to use your iOS or Android smartphones to control, interact, and otherwise add value to the TV viewing experience. As expected, the TV supports newer 5 GHz Wi-Fi routers.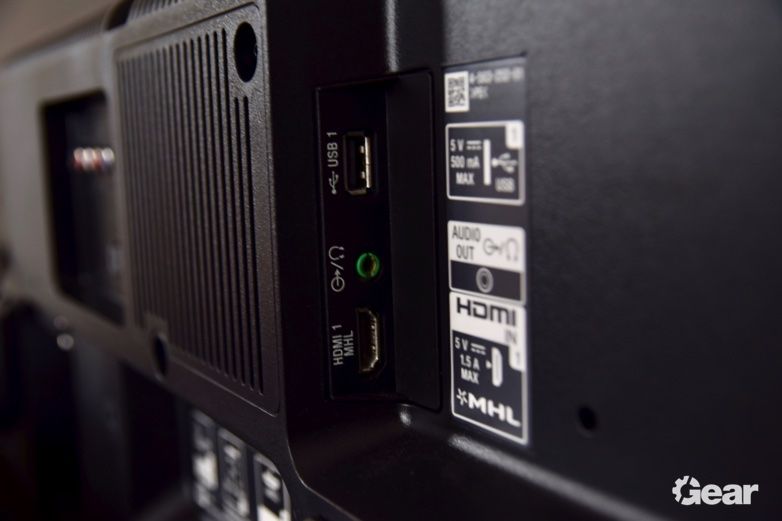 While Sony hasn't revealed exactly what sort of SoC powers the TV, it's snappy enough to run the UI and most standard apps without much lag or stutter. However, don't expect it to run high-end games such as Asphalt 8: Airborne and Modern Combat 5 at sufficient framerates even at low settings. The onboard storage is 8 GB, but the Android OS itself is pretty light, so you get well over 6 GB of free space for applications. This isn't bad considering this is a TV and not a smartphone, where people tend to install a lot of apps.
The remote control is a rectangular slab devoid of any contours, so it isn't particularly ergonomic. But, on the bright side, the button shapes and arrangement is varied and intuitive enough to make operation a breeze even in dark viewing conditions, despite the lack of backlighting. There's a large dedicated button for Netflix, which is followed by a prominent wheel-like arrangement of the D-pad with the essential function such as the handy drop-down Action Menu, Back, Home, Discover, TV, and Guide arranged concentrically around it. The rockers for volume and channel selection are large and prominently placed for quick operation. The bottom array is filled with cleverly sized keys for playback controls, which are provided tactile dots for intuitive operation. This comes handy across video streaming apps such as Netflix and YouTube, in addition to the inbuilt video player as well.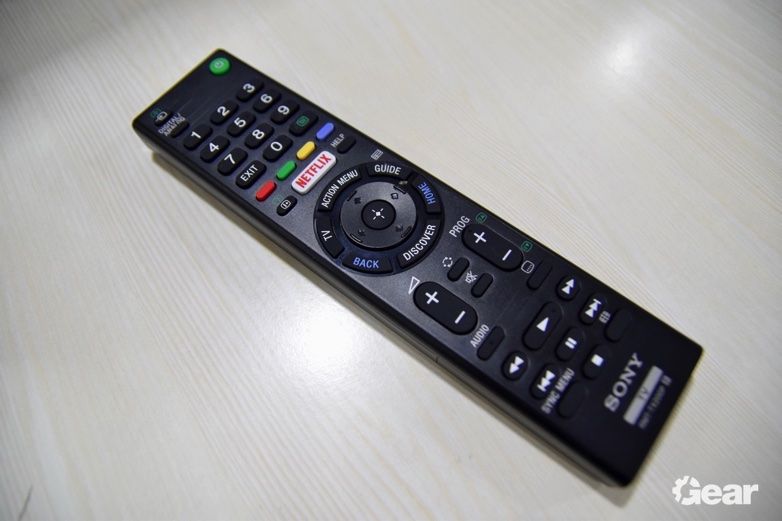 Sony KDL-43W950D: Software and User Interface
Sony was among the first TV manufacturers to adopt the connected TV standard and it shows with the KDL-43W950D. The full fledged Android TV setup makes for a rich viewing experience with a host of streaming services that come pre-installed out of the box such as Netflix and YouTube, in addition to streaming apps such as BigFlix, SabTV, and Sony's own on-demand streaming service providing home-bred content. Comprehensive Google Play Store access also opens up a whole world of apps to improve the Android TV experience.
Navigating the UI is breezy with the D-pad on the remote since the Home menu consists of apps neatly segregated and stacked on top of each other in rows. Practically everything you need is just a couple of key presses away thanks to a clever menu design. The only sore point is the lack of a touchpad or motion control option on the stock remote. This makes text input and using the inbuilt browser cumbersome, but you can work around the problem by attaching any mouse and keyboard into the onboard USB ports. You can even pair your PlayStation DualShock controllers or any third-party ones for Android for gaming.
Sony KDL-43W950D: Sound Quality
I usually don't write much about sound quality of flat panel TVs because it universally sucks. The dimensional constraints of the design makes it physically difficult to achieve good aural fidelity. However, the Sony KDL-43W950D bucks this trend with a clever speaker bar that doubles up as the TV stand in the tabletop configuration. The elongated stereo speaker contains two side-firing radiators and an equal number of bass-reflex ports for both channels. Sony describes it as a subwoofer, and although that doesn't appear plausible from the way it looks, but it effortlessly manages to recreate lower frequencies with surprising authority.
While frequencies at both the high and low end of the audio spectrum are rolled off to some degree, the KDL-43W950D manages to squeeze commendable detail out of the highs, with pretty good vocal performance in the mids, while also delivering punchy bass as well. To avoid the risk of this mutating into an audio review, I'll simply say that the Sony KDL-43W950D easily has the best audio performance of any flat panel TV I have witnessed. After putting it through the paces with varied genres of music, I can safely say that you don't really need a separate speaker system. In fact, it's loud enough to fill up large rooms with great quality sound.
Sony KDL-43W950D: Picture Quality
Sony has equipped this quantum-dot TV with a great video processor and a host of picture enhancement algorithms. This includes noise reduction, dynamic contrast, dynamic colour, ambient light sensing and adjustment, and myriad other gimmicks that sharpen edges, sex up colour, and artificially improve colour, contrast, and brightness. So the first thing you should do is turn each and every one of these off, because they absolutely ruin everything as with all image enhancements. What impressed me most with the TV are its absolutely comprehensive picture and sound setup menus. The adjustments for more advanced parameters such as gamma, sharpness, colour temperature were welcome, but the TV outdoes itself by offering the ability to tweak individual colours. This might not be useful for a layman, but it helped me greatly when fine tuning the TV with the Spyder colorimeter. Speaking of which, the colorimeter confirmed the wide gamut capability of the quantum-dot TV and how close to perfect picture quality it gets after adjusting just the basic brightness, contrast, and colour temperature settings.
This good showing was amply evident in the objective picture quality tests, where the KDL-43W950D rendered the test samples with consummate ease. The TV excelled in the black level and white saturation tests, while delivering the sort of performance expected from a high-end panel. The separation between the dark and bright swatches was spot on, with a lack of noise evident in the gradients. However, the TV showed its true colours in the contrast test, which measures the TVs ability to resolve difficult colour gradients. While most regular TVs falter with the deeper gradients of blue, red, and magenta, the KDL-43W950D nailed the entire spectrum with unerring accuracy. The gamma was spot on and well calibrated out of the box, whereas the optimal sharpness could also be dialled in through the picture settings. The viewing angles are great and don't show much colour shift even at the extreme angles. However, let's not forget this is an LCD panel at the end of the day, so the performance in these categories wasn't as good as its OLED counterparts. However, it does come pretty close with the colour-based tests.
All this translates well into the real world as it was evident from the subjective Blu-ray tests. I had a particularly good time playing a high quality rip of The Grand Tour, as the masterful cinematography and its mad riot of colours underscored the ability of the Sony KDL-43W950D to render accurate colours and high contrast with a flair that's missing in even the most expensive regular LED-backlit LCDs. The high contrast ratio was evident in the darker scenes within Pandorum, The Descent, and Suck Blu-rays, where the light sources appeared convincingly real, as opposed to washed out white spots we are used to enduring in regular LCD TVs. The TV managed to capture the black details in the cavern scenes within The Descent, whereas the rich tapestry of colours in Zombieland's "Enjoy the Little Things" scene with the kaleidoscopic bedlam in the souvenir shop looked pretty vibrant too.
The colour accuracy further stood out through the convincing skin tones rendered in the Shaun of the Dead Blu-ray. The TV also managed to best the hard-to-render scenes from Pandorum and The Descent, which are lit up in monochrome red, green, and yellow light sources. Most LCD TVs can't resolve the gradients required for a smooth picture quality in these scenes, but the KDL-43W950D delivered flawlessly. Very few high-end LCD TVs, this side of OLEDs, can achieve this feat.
Conclusion: Quantum-dot Done Right
There are no two ways about this. It's nigh impossible to avoid recommending the Sony KDL-43W950D. Even other TV manufacturers stubbornly refuse to price their quantum-dot TVs at affordable rates, Sony has done the right thing by positioning this technology as a cheaper alternative to OLEDs. In fact, this is the right strategy to lure quality conscious buyers away not only from OLED TVs, but also from rival manufacturers who insist on bundling this interesting technology only with their high-end 4K offerings.
The KDL-43W950D might be positioned in the crowded 60-80 grand price bracket, but its superlative quantum-dot panel allows it to best the competition and punch well above its weight, while besting most TVs that cost well over a lakh. When you combine this with the best sound system in business and a versatile and powerful Android TV experience, you have a TV that you just can't help but recommend with full conviction.
Thanks for reading till the end of this article. For more such informative and exclusive tech content, like our Facebook page