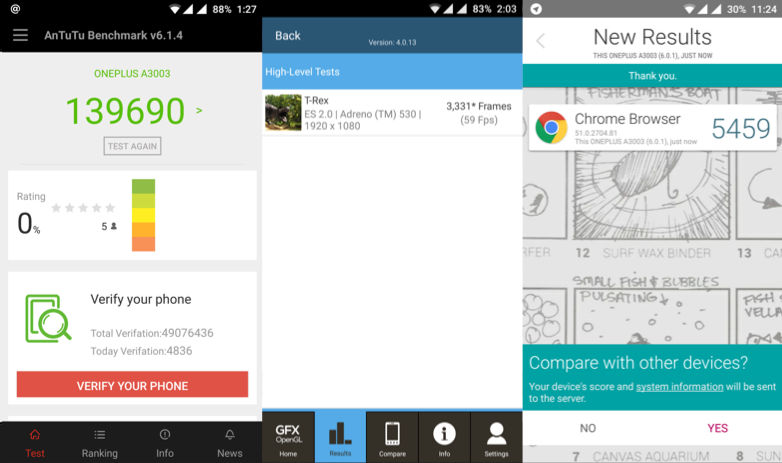 Chinese smartphone makers OnePlus and Meizu seem to have got themselves in trouble, going by recent reports. The report comes from world famous XDA developers who claim that popular benchmarking apps, AnTuTu and Geekbench, have been tricked by these OEMs.
These developers claim that the company made certain changes in the system which caused these smartphones to receive a higher score in the AnTuTu and Geekbench benchmarking tests. The same issue arose in the case of a few individual apps which have been observed to run at a higher clock speed. Meizu is also said to have made these changes on the Meizu Pro 6 Plus which launched last year in China. Also, the OnePlus 3 and its successor the OnePlus 3T are already said to be in the list of top ten modern smartphones on AnTuTu, as revealed by them.
On being questioned by these XDA developer about these tactics, OnePlus is said to have responded:
In order to give users a better user experience in resource intensive apps and games, especially graphically intensive ones, we implemented certain mechanisms in the community and Nougat builds to trigger the processor to run more aggressively. The trigger process for benchmarking apps will not be present in upcoming OxygenOS builds on the OnePlus 3 and OnePlus 3T.
This benchmarking issue could affect the preferences of consumers. What are your thoughts about companies making use of such tactics to get ahead? Do share with us in the comments below.