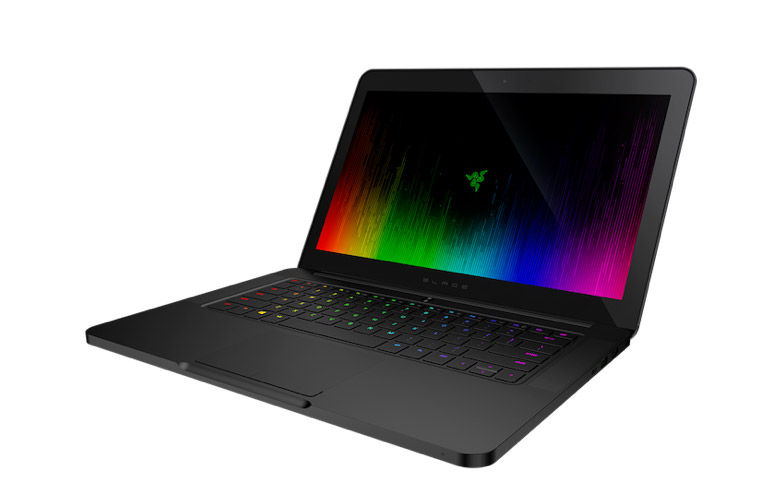 Razer, manufacturers of gaming laptops and accessories, has announced that its 14-inch Blade gaming laptops will now be equipped with Intel's 7th generation Kaby Lake processors. The new 14-inch Razer Blade laptop will be available with a choice of a 1920x1080p IPS matte screen or a 4K 3840x2160p capacitive multitouch display.
Razer claims the new 7th generation Intel Core i7-7700HQ processor gives the laptop 2.8GHz of quad-core processing power and Turbo Boost speeds, which automatically increases the speed of active cores up to 3.8GHz. The earlier Razer Blade model came equipped with a 6th generation (Skylake) Core i7 CPU. Like its predecessor, the Kaby Lake equipped Blade laptop packs an NVIDIA GeForce GTX 1060 graphics processor, which both NVIDIA and Razer claim, make the laptop VR ready. The new Razer Blade laptop also packs16GB of RAM, in addition to the NVIDIA GTX 1060 GPU, and features SSD storage of up to 1TB. The new Razer Blade model also features a 16.8-million colour Razer Chroma backlit keyboard with individually backlit keys.
Pricing for the new 14-inch Razer Blade laptop starts at $1,899 or approximately ₹1,27,000, up from $1,799 or approximately ₹1,20,000 for the earlier model. While the 4K touchscreen variant will only ship sometime in the second quarter later this year, the Razer Blade with the Full HD 1080p screen configuration will be available on the company's website starting today in North America and Europe.
[Source: The Verge]