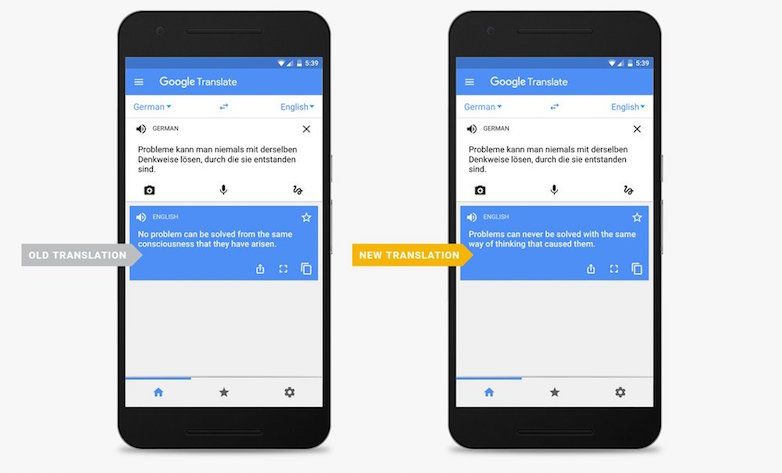 Google's neural machine translation which translates complete sentences all in one go instead of phrase by phrase has now been extended to Hindi, Russian and Vietnamese. Google Translate, Product Lead Barak Turovsky announced this in a blog post:
Last November, people from Brazil to Turkey to Japan discovered that Google Translate for their language was suddenly more accurate and easier to understand. That's because we introduced neural machine translation—using deep neural networks to translate entire sentences, rather than just phrases—for eight languages overall. Over the next couple of weeks, these improvements are coming to Google Translate in many more languages, starting right now with Hindi, Russian and Vietnamese.

Neural translation is a lot better than our previous technology, because we translate whole sentences at a time, instead of pieces of a sentence. (Of course there's lots of machine learning magic powering this under the hood, which you can read about on the Research blog.) This makes for translations that are usually more accurate and sound closer to the way people speak the language.
These three new languages will now be available in the Google Translate app for mobile (Android and iOS) and the web (translate.google.com), apart from Google Search and the Google App.
Google introduced its neural machine translation last year with French, German, Spanish, Portuguese, Chinese, Japanese, Korean and Turkish languages. The company claims that its neural machine translation removes errors to up to 55 percent and 85 percent and focuses on getting the entire sentence right rather than just phrases in the sentence.
Google has said that it plans to increase the number of languages to its neural machine translation over the next coming weeks.