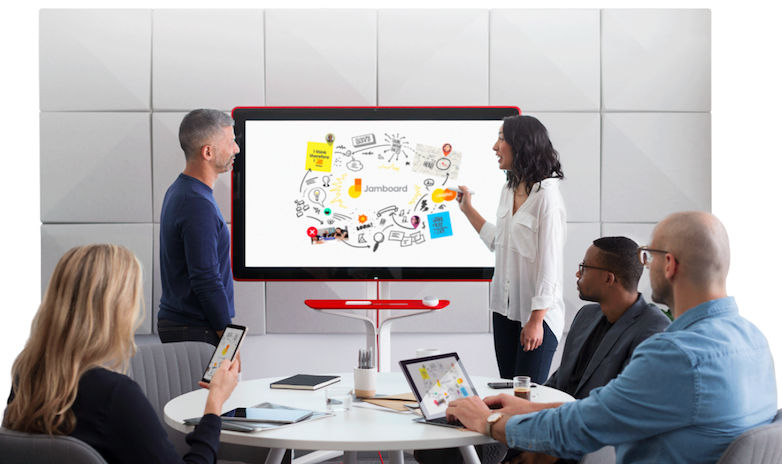 Google's Jamboard, first shown off in October last year, will be available in the US sometime in May for $4,999. In addition to the $4,999 (approximately ₹3,32,823), customers will have to shell out an additional $600 (approximately ₹39,946) annually as a management and support fee. Those purchasing the Jamboard before September this year will have to shell out only $300 (approximately ₹19,973) for the same. Google revealed details about the device's availability at the Google Cloud Next conference in San Francisco.
For the uninitiated, the Google Jamboard is a giant 55-inch 4K touchscreen, designed as a cloud-based collaborative space for business users. The digital whiteboard, as Google describes it, brings with it the real-time collaboration capabilities of G Suite, letting you pull in work from a variety of Google's apps including Gmail, Docs, and Drive. In addition to letting you use your fingers or a stylus as input, the Jamboard allows multiple user from different devices to access the Jamboard and users can post documents or images on the it via cloud using their smartphones or tablets.
The Google Jamboard has a built-in wide-angle HD camera, down-firing speakers, built-in microphones, and features two USB 3.0 ports, and also supports USB Type C and HDMI 2.0. Along with Wi-Fi, the device also supports NFC. Its touchscreen display allows for 16 simultaneous touch points.
Unfortunately, there isn't any information on when the device will make it to India. For now, its availability is limited to the US.
[Source: The Verge]