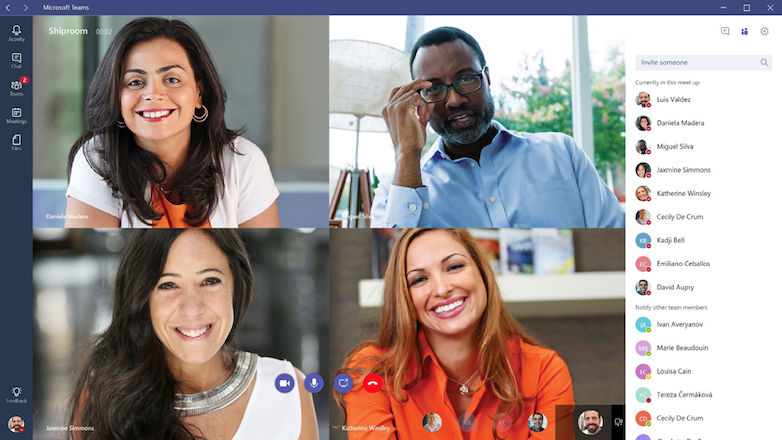 Microsoft has launched its Teams app worldwide, and the chat-based workspace in Office 365 is now available in 181 markets and in 19 languages.
Since its preview in November, Microsoft has introduced several new features to Teams including an enhanced meeting experience with scheduling capabilitites; mobile audio calling, with video calling on Android now, and coming soon to iOS and Windows Phone; email integration; and new security and compliance capabilities. Microsoft has also added the ability to email a channel, including attachments, send messages with markdown-based formatting, and receive notifications about all posts in a channel.
Microsoft Teams has all of the Office 365 applications including Word, Excel, Powerpoint, OneNote and SharePoint built into it, and have recently also added support for open and public teams within an organisation besides the enhanced meeting experience. Microsoft has said that more than 150 software integrations are in the offing, including Bots from Growbot, hipmunk, and ModuleQ. The company has also partnered with SAP and Trello to build new integrations.
Other new features that make the app more accessible include support for screen readers, and high contrast and keyboard-only navigation. The company promises improved guest access capabilities and a deeper integration with Microsoft Outlook, besides a richer developer platform in June this year.
Microsoft claims that more than 50000 organisations including Accenture, Alaska Airlines, Cerner Corporation, ConocoPhillips, Deloitte, Expedia, J.B. Hunt, J. Walter Thompson, Hendrick Motorsports, Sage, Trek Bicycle and Three UK have started using Microsoft Teams since November.
Given that Microsoft Teams is integrated with the Office 365 service, and is available for free as part of each of their subscription models, its chances of adoption are great. Slack's concerns are definitely not without reason.