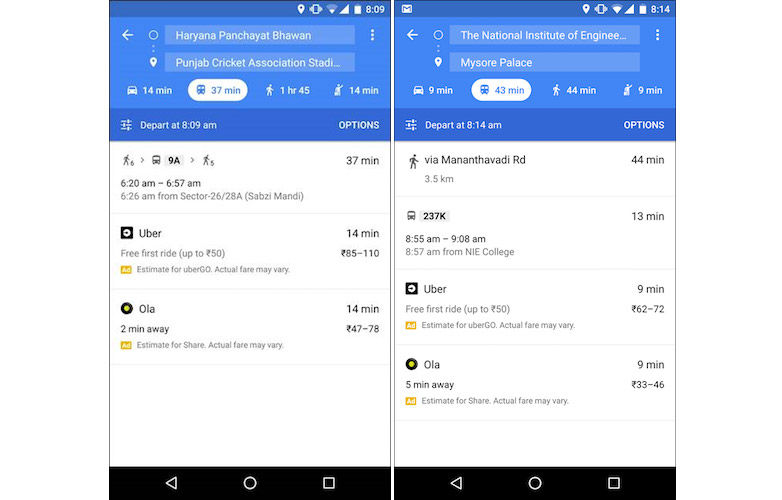 Google has rolled out an update for Android and iOS, expanding its transit feature in Google Maps to seven more Indian cities including Chandigarh, Lucknow, Vadodara, Indore, Mysore, Surat, and Coimbatore. The feature is now available in a total of sixteen Indian cities. Aside from the seven newly added cities, the transit feature is also available in Delhi, Mumbai, Bangalore, Chennai, Kolkata, Jaipur, Hyderabad, Pune and Ahmedabad.
The Google Transit feature, designed to help with your commute, shows you bus routes and stops, including details such as departure and arrival times, the names of bus stands, and even where to change buses, in addition to the directions Google Maps gives you on getting to a certain specific location from your current location. The Google Transit feature is available on Google Maps for Android and iOS as well as through your browser.
To try out the feature in Google Maps, simply tap at the 'transit icon' indicated by a little tram, when getting directions to your desired destination. This should display bus numbers, times, routes and other information.
Commenting on the expansion of the Transit feature to 7 more Indian cities, Sanket Gupta, Product Manager, Google Maps, said in a statement, "Google Maps is your guide to the world around you, and this launch is part of our effort to reflect the real world and provide you with relevant information about your surroundings."
[Source: Google]