LineageOS is the new after-market custom Android ROM project started by the ex-Cyanogenmod members. The project kicked-off in January, and today, the LineageOS stats page shows a million active installs already. The OnePlus owners rule the top position among a lengthy roster of compatible devices.
After Cyanogen Inc discontinued the CyanogenMod, its members and community found a new home at LineageOS project. The stats page of the project shows that OnePlus users top the list with two devices.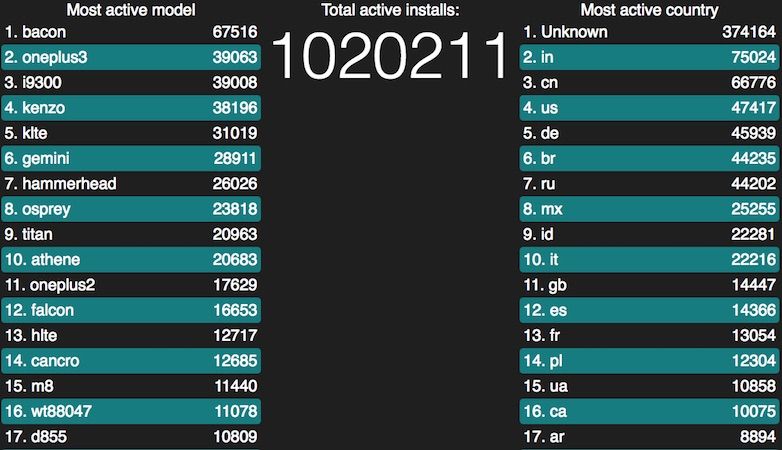 Topping the list is a device dubbed Bacon which the internal codename for OnePlus One and has over 67, 500 active installs. Following that is the OnePlus 3 with 39,000 installs. That is not surprising since OnePlus One originally shipped with Cyanogen OS pre-loaded. However, OnePlus 3 ships with OxygenOS.
The roster of highest installs also includes Xiaomi Redmi Note 3 (Kenzo), Samsung Galaxy S III (i9300), Xiaomi Mi 5 (Gemini), Samsung Galaxy S5 (klte), and others.
India ranks second in the list of most active countries and has OnePlus One ranking on the top as the most active model while most were using a Jio 4G network.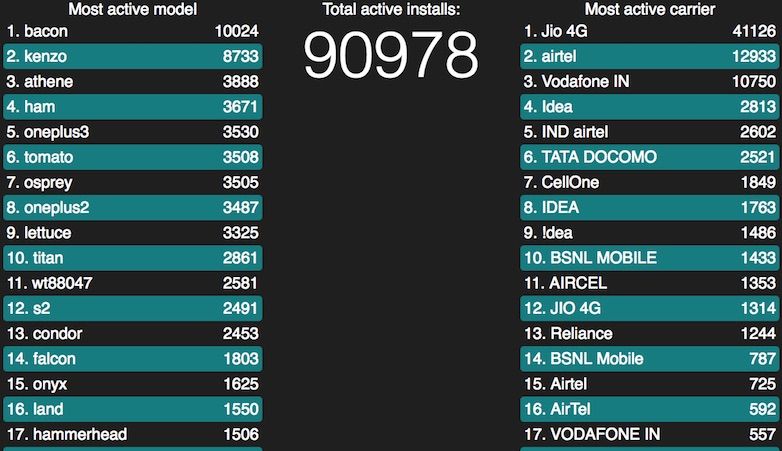 Gaining a million installs in a matter of three months is indeed impressive for LineageOS. However, there is no way to tell if those million installs are active at the same time and not reflashed post changes.
The LineageOS does a commendable job of adding extra features, and a new life to your two or three-year-old device.
If you have a two or three-year-old Android phone, do check if the LineageOS is compatible with it or not. Spending a few hours tinkering might extend its life.
[Source: LineageOS Stats]