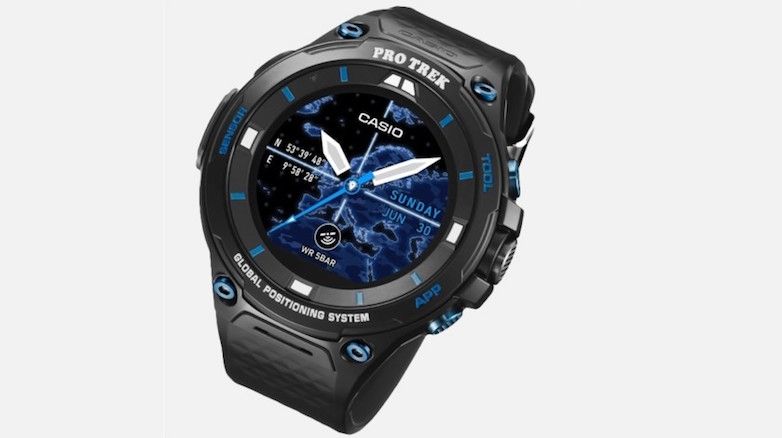 Ahead of the year's biggest watch and jewelery show, Baselworld that will commence in Basel, Switzerland tomorrow, Casio has already announced the device it will be showcasing at the event – a limited edition smartwatch called the Pro Trek Smart WSD-F20S.
This new smartwatch is based on the Pro Trek Smart WSD-F20, and has quite a few features similar to it. Just like the older model, the Pro Trek Smart WSD-F20S sports a 1.32-inch dual layer LCD 320×300 display, built-in GPS for hiking and traveling, and a display that can turn to monochrome when the battery power is low.
The WSD-F20S comes in a unique blue and black colour scheme and sapphire crystal and ion plating throughout the device. The original, in comparison comes with a bring orange plating, so if you want something fun you might want to go with the older model, but if you are looking for something sombre, the new smartwatch would be a better option.
The Pro Trek Smart WSD-F20S runs Android Wear 2.0 which means that you will be able to use the new features of this version of Android such as standalone apps and the new fitness tracking technology Wear 2.0.
The new watch is a limited edition, so there will be only 500 units of it available in total. The pricing hasn't been disclosed as yet, but we're guessing it could be similarly priced to the WSD-F20.