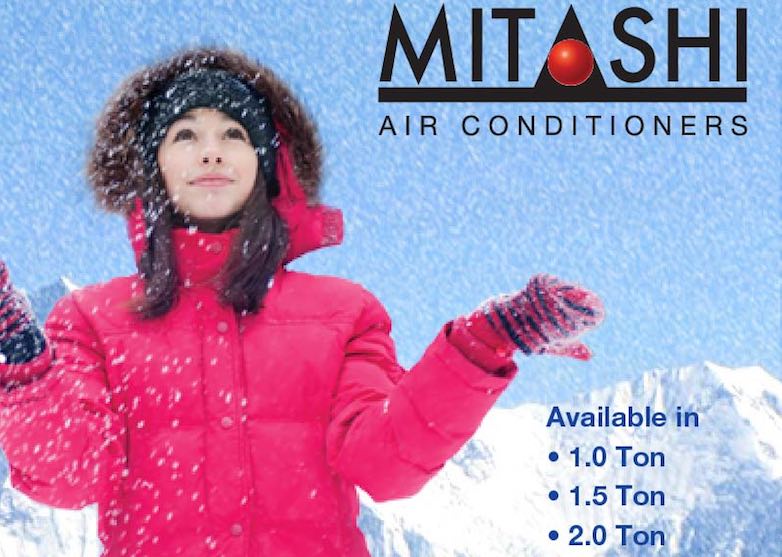 Indian brand Mitashi earlier today announced the launch of an entirely new line-up of air conditioners for the Indian market. The company was already into the business of selling AC's for quite some time now. What better time than the peak of summer to launch their new products?
According to a press release issued by Mitashi, the company has introduced 17 new models of AC's that come in capacities of 1 ton, 1.5 ton and 2 ton. They are also available in 3 star, 5 star and inverter AC categories. Irrespective of the prices, all Mitashi AC's claim to come with 100% copper and R410A eco-friendly cooling refrigerant. Select models also get 4-way swing. Select models from the Mitashi range get 5 years warranty on the AC as well as the compressor. This, according to the company is the best warranty offering currently offered by any company for AC's in India.

Other features on Mitashi AC's include turbo cooling, super silent function, LED display, LCD wireless remote, low power consumption, auto restart, sleep timer and an anti-bacterial filter. All AC's also come with an anti-corrosion coating that prevents damages from harsh elements.
Unveiling the AC range for this summer, Mr. Rakesh Dugar, Managing Director – Mitashi said;
"Mitashi ACs are power packed, come with features for low power consumption, cleanliness, health concerns, eco-friendliness and also accommodate erratic electricity supply. Being an inherently Indian brand, Mitashi knows the country's wide range of climate and environmental factors, which is why Mitashi ACs are truly built for the Indian home and office."
Prices of Mitashi AC's start from Rs.24,000 onwards.