Based on a report by the StatCounter, Android is now the world's most popular operating system when it comes to browsing the internet after Windows. According to the independent web analytics company, the new report was constructed mainly by considering the excess amount of page views per month on Android devices. Although marginal but Android topped the worldwide OS internet usage market share with 37.93%, with Windows just behind at 37.91%.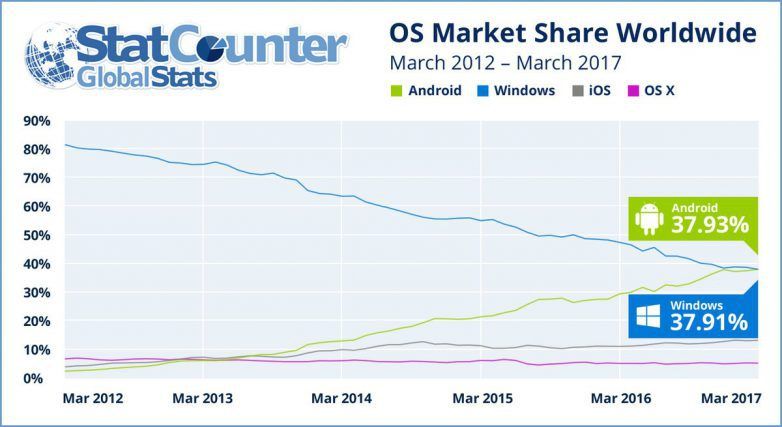 The chart which has been constructed after analyzing the overall usage of the internet over the past five years clearly shows the decline of Windows opposed to Android. According to StatsCounter CEO Aodhan Cullen, "Windows won the desktop war, but the battlefield moved on, it will be difficult for Microsoft to make inroads in mobile, but the next paradigm shift might give it the opportunity to regain dominance. That could be in Augmented Reality, AI, Voice or Continuum (a product that aims to replace a desktop and smartphone with a single Microsoft-powered phone)."
Android's steady rise has been particularly because of the fact that many folks in the developing nations tend to browse the internet on their Android-based smartphones and tablets. While Windows still leads the race to dominate the desktop market, it will be fun to see whether Samsung's new Dex dock will catch on and eat into Microsoft's market share further.
[Via: Android Central]