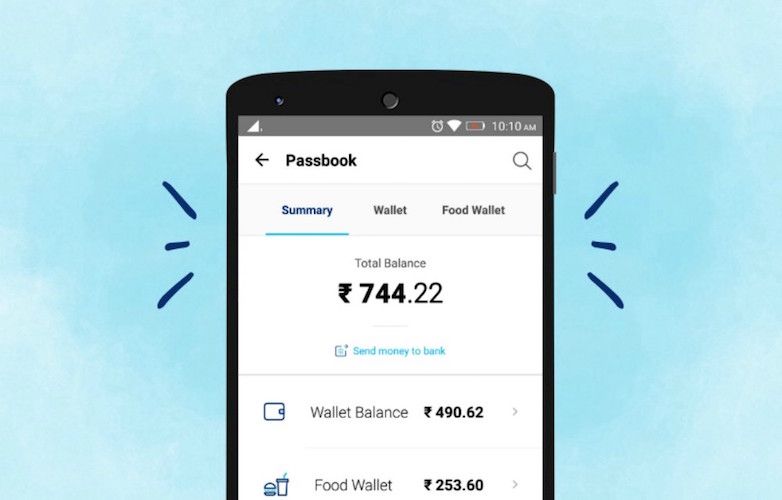 Paytm has rolled out a Food Wallet within the Paytm app aimed at providing corporate employees with tax-saving benefits such as meal coupons and food vouchers. The company will compete with existing players such as Sodexo and Ticket Restaurant, both of whom have issued physical vouchers up until now, and newer entrants like Zeta.
The Food Wallet will enable employers to instantly transfer money to the food wallets of employees based anywhere in the country. Employers have the flexibility to choose from daily, monthly, or quarterly payout options. Paytm says its food wallet can be easily redeemed at office cafeterias and a wide range of online and physical merchants including KFC, Burger King, Tomato, Pizza Hut, Cafe Coffee Day, and Big Bazaar.
The Food Wallet can be seen in the 'Passbook' option on the Paytm app, where you can find your Food Wallet balance. You can also use the app to locate the closest food outlet using the "nearby" feature. The Food Wallet also has in-app security features such as app lock password, two factor authentication, and passcode. The Food Wallet is valid for payments related to food and beverages only. You can use it to pay for your purchases at select grocery stores, supermarkets, and fast food or fine dining restaurants.
The RBI recently issued guidelines requiring all prepaid meal vouchers to go digital by the end of 2017. Both Sodexo and Ticket Restaurant have started the process of digitisation, and are moving from paper-based meal vouchers to plastic cards. Sodexo has traditionally had the largest share of the meal voucher market, and now will be challenged by newer companies like Zeta and Paytm. Zeta presently offers both mobile wallet services and plastic cards.
[Source: Paytm]