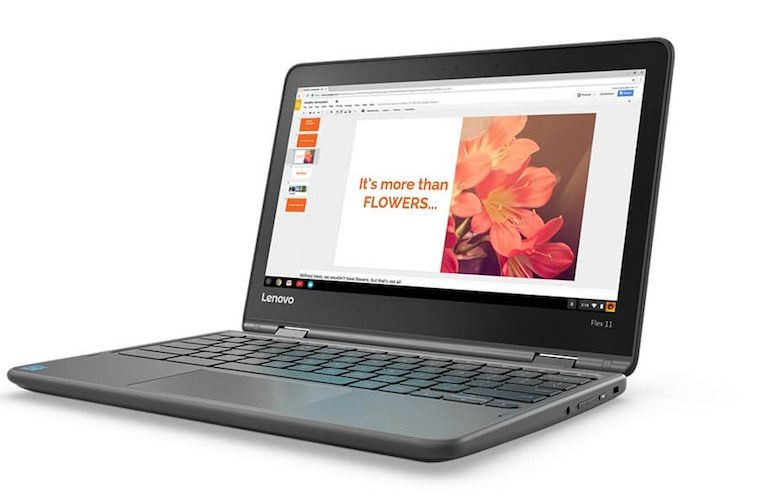 Lenovo recently took covers off its newest Chromebook – a brand new device called the Lenovo Flex Chromebook. The new device which is a hybrid device that packs the power of a PC and the versatility of a tablet is designed to handle common daily tasks and entertainment activities.
The Lenovo Flex Chromebook features a 360-degree hinge and an 11-inch touchscreen display with a resolution of 1366 x 768 pixels. It is powered by a 2.10 GHz quad core ARM processor. There is 4GB of LPDDR4 RAM and 32GB of onboard storage with a microSD card slot as an option for further memory expansion. The Flex Chromebook is also pretty rugged and is claimed to be drop resistant. It can withstand falls of up to 75cm (2.4 feet). The product also comes with reinforced ports and a sealed touchpad that protect it from accidental spills. The keyboard too is water resistant and gets internal channels beneath the keyboard to divert liquid away from sensitive electrical components – a technology taken straight from the ThinkPad line. It can handle up to 330 ml – about 1 cup – of liquid without damage.
The Lenovo Flex 11 Chromebook comes loaded with apps like Skype, Asphalt 8, Evernote and Slack. This is of course apart from Chrome browser that naturally, comes preloaded with the Chromebook.
The Lenovo Flex gets a wide array of connectivity options including HDMI, USB 3.0, a mic/audio jack and an SD card slot. The device uses a USB Type-C port for fast connectivity and charging. It boasts of 10-hours of battery life that should easily last you a days worth of usage
The Flex 11 Chromebook will be sold later this year and sports a starting price tag of $279.