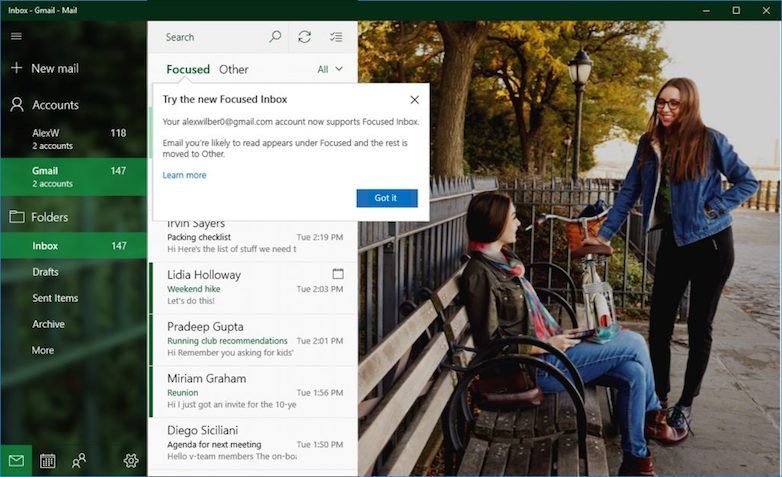 Earlier this year, Microsoft announced new features to its Windows 10 Mail and Calendar apps. The update brought features such as tracking travel and shipping deliveries, making emails more actionable, tracking sports events, faster search, and Focused Inbox. While this update was only rolled out for users with outlook.com or Office 365 accounts, Microsoft has now announced that it will be rolling out this update to Windows Insider program users in the next coming weeks.
Before you are able to use these features, Microsoft will first ask for permission "to sync a copy of your email, calendar and contacts to the Microsoft Cloud. This will allow new features to light up, and changes to update back and forth with Gmail–such as creation, edit or deletion of emails, calendar events and contacts. But your experience in Gmail.com or apps from Google will not change in any way."
Do note that only those who are a part of the Windows Insider program will be able to access these features currently. However, even for those of you who are a part of the Insider program, it will reach you gradually over the next coming weeks. You'll know you have received the update when you are prompted to update your Gmail account settings. In case you miss the first prompt, Microsoft will send you a reminder again in a few weeks' time. To give feedback of your experience with this update to Microsoft, you will need to head to Settings, and then click on Feedback in the app option.
Microsoft has also mentioned on its blog that once it has incorporated the user feedback into the update, it will proceed to roll out to the update to all Windows 10 users.