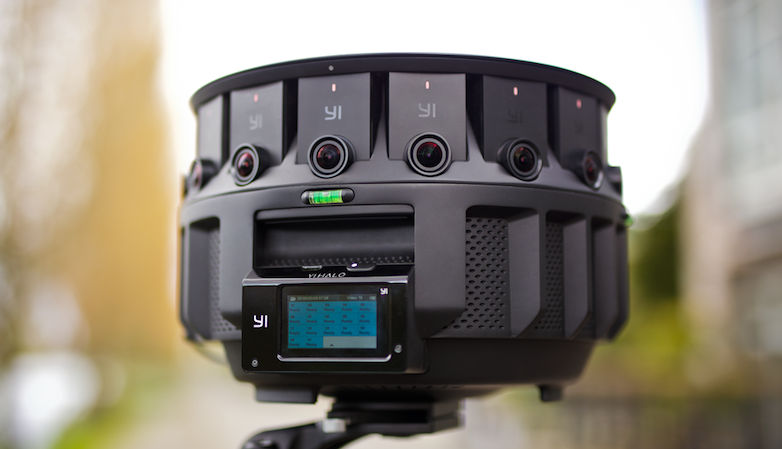 Google has announced a new VR camera – the YI Halo, built in partnership with YI Technology. The newly announced YI Halo features 17 4K unit cameras, including an "optimally-placed" Up camera capable of delivering stereo 360-degree VR footage with a resolution of up to 8K x 8K at 30fps. Google's earlier Jump camera, the GoPro Odyssey packed 16 synchronised GoPro Hero4 Black cameras to deliver 360-degree VR footage.
The YI Halo weighs less than 8 pounds, and houses an internal battery that Google says will last you for 100 minutes of continuous shooting. The camera can be used with the YI HALO Android app which works both as a remote control and a live preview tool.
Google launched Jump back in 2015 to simplify VR video production, partnering with top camera manufacturers to build professional high-quality VR cameras. Footage from those cameras runs through Google's Jump Assembler, which uses computer vision algorithms and the computing power of Google's data centres to create 3D 360-degree video. Google says the Jump Assembler ensures seamless artefact-free stitches.
Expected to go on sale this summer for $16,999, the newly announced Yi Halo is clearly aimed at professional content creators. Do check out the YI Halo website for more information. You can check out a small sample video to see what the camera is capable of here. Google has also announced Jump Start, a program designed to give selected filmmakers free access to a Jump camera and free unlimited use of the Jump assembler for their film. Google intends to give out the cameras to over 100 creators to enable creators to make their VR visions a reality via the program.
[Source: Google]