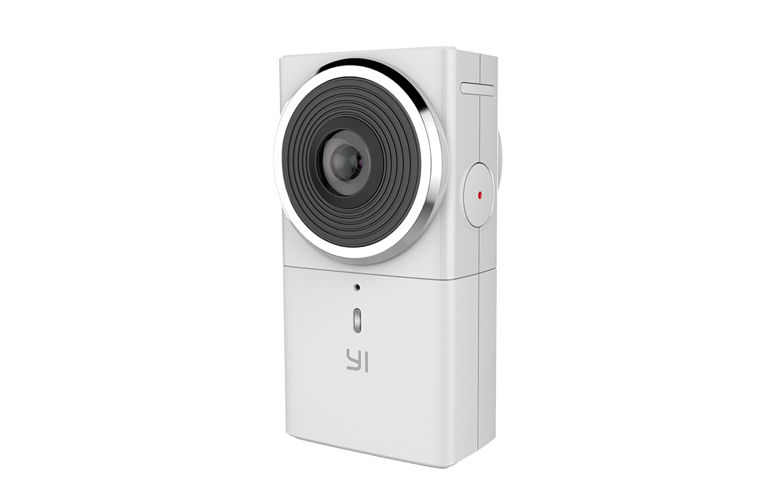 YI Technology has announced a new YI 360 VR camera capable of recording 360-degree spherical video footage at a resolution of up to 5.7K at 30fps in 360-degrees. The YI 360 VR offers in-device stitching without requiring any added software to deliver 4K 360 degree video as well as 2.5K live-streaming. The camera is scheduled to be released in June 2017.
Featuring a handheld and mountable camera design, the camera uses a pair of 220-degree lenses working with 12-megapixel Sony IMX377 CMOS sensors to record both video footage and stills. The YI 360 VR also allows for 5.7K 360-degree still photos. The camera has basic on-device controls, and you can also use the companion YI 360 VR mobile app to get a preview of your videos and playback. The app will let you edit and share 360-degree videos from any smartphone. YI claims you can record for over an hour with a single battery charge (AC power also included).
The camera features Wi-Fi (Dual-band Wi-Fi 2.4GHz and 5GHz) which allows you to live stream 2.5K resolution 360-degree videos at 30fps or download photos and videos from your camera to a smartphone, allowing for speeds of up to 100Mbps.
The camera is up for pre-orders from today for $399 or approximately ₹25,500, with scheduled delivery for limited release in June 2017. While the new YI 360 VR is a consumer-grade camera, the company also announced the YI Halo, a new professional-grade 360-degree stereos coping camera built in partnership with Google for Google's Jump platform.