Lenovo's sub-brand ZUK Mobile is going to be shut down in the next coming days if certain whispers on the Chinese social site, Weibo are to be believed. Popular leak star who goes by the name @Old Cool, gave out this piece information in a conversation on Weibo, suggesting that ZUK Mobile will reportedly be taking an exit and that there will be no ZUK Z3 or any other ZUK smartphone in the future. ZUK Mobile was established by Lenovo two years ago in May 2015 to compete against emerging smartphone manufacturers.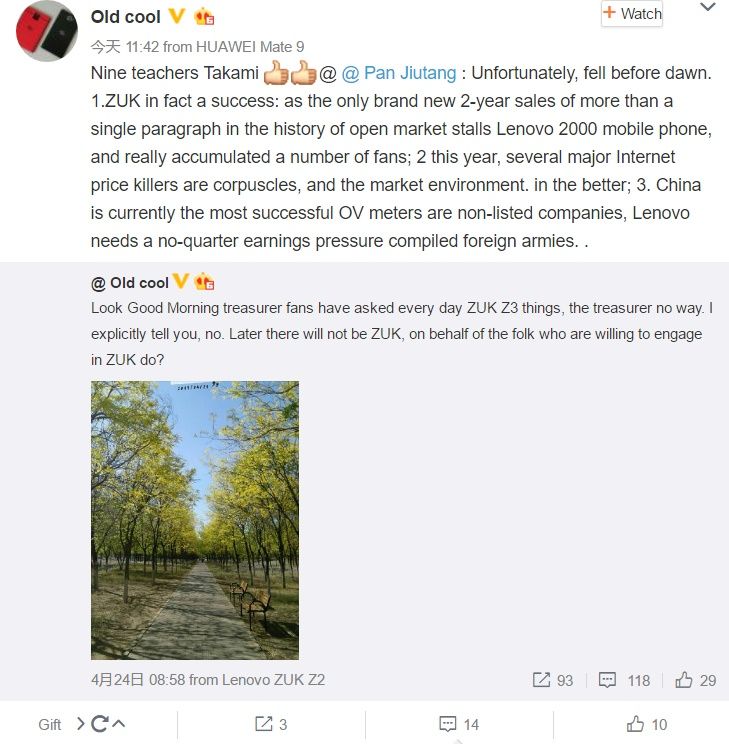 Following the discussion, analyst Pan Jiutang also confirmed that ZUK Mobile will indeed be shut down. He added that the intense competition by multiple smartphone vendors in China could be a reason as to why Lenovo decided to shut down its two year old brand. Another user with the name @Zheng Jun posted on Weibo that ZUK's co-founder, Chen Xudong would return to Lenovo's PC management team, post the exit. There is also a change in the Lenovo management as Vice President of Human Resource, Qiao Jian is now be in charge of Lenovo Mobile China.

ZUK's last phone was the ZUK Edge which was announced by the company just a few months ago. The company had also made an entry in the Indian market with the ZUK Z1 and the ZUK Z2 Plus. However, Lenovo's Vice President stated a few days ago that the ZUK UI will be seen on the upcoming Motorola smartphones instead of stock Android. If things go as expected, the company might stay on course for its software on Motorola handsets. We should also keep in mind that Lenovo has not yet confirmed any news about ZUK's exit officially and ZUK's officials have also not responded to the same.
[Source: Weibo 1, 2 | Via: Gizmochina]