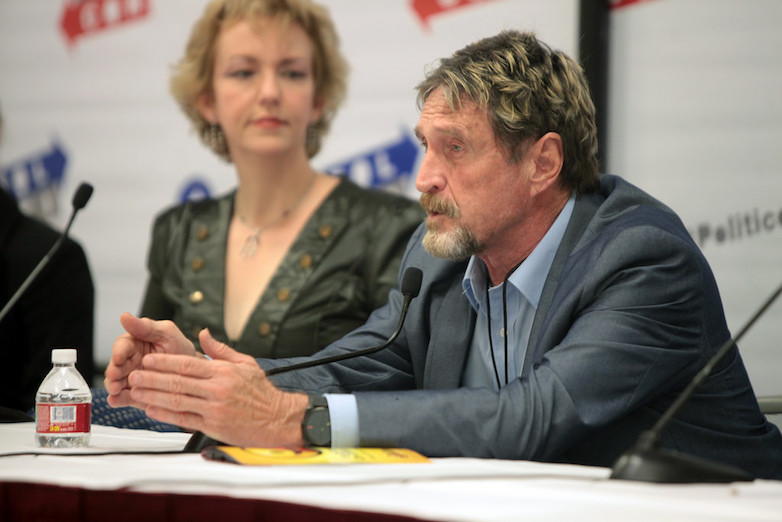 The name McAfee is synonymous with security and anti-virus products. However, after Intel purchased McAfee back in 2010, they decided to gradually phase out the brand in favour of their own security package called Intel Security. McAfee's founder John McAfee however, is back in the news after his recent announcement about a brand new smartphone that he claims will be among the most secure on the planet. We are talking about the rather oddly named "John McAfee Privacy Phone' which is claimed to the world's most 'hack proof' phone. The handset is set to be released by McAfee's new company MGT Capital Investments which was later renamed to John McAfee Global Technologies
As for the John McAfee security phone, the handset will feature hardware switches on its back panel using which users will be able to disconnect the battery, antennas for Wi-Fi, the camera, Bluetooth, and geolocation capabilities. Even the microphone can be individually disconnected. While this might sound preposterous to many of us mere mortals, (especially when you factor in the $1,100 price tag as well), there seem to be lots of paranoid folks around who will end up buying this one.
MGT will source the phone from an OEM manufacturer and plans to modify the operating system on the device with the expertise of MGT's cybersecurity team.
In a recent interview, John talked about the device and said it is still work in progress.
"It is Version 1… It is not hack proof but it does give the user enormous power over his or her privacy, and it is light years ahead of the BlackPhone or any other phone claiming to be secure. Version 2 will be available in the summer of 2018. It will be as hack proof as humanly possible,"
We do not have any spec details right now. However, there is still no timeline as to when the handset will eventually hit the shelves.
[Image: Gage Skidmore/Flickr]