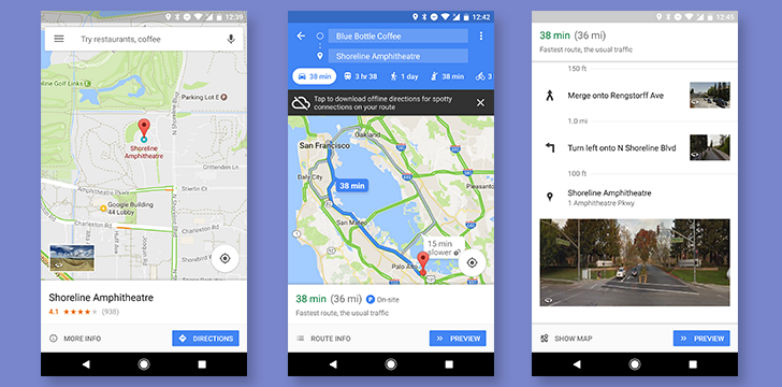 Google has added yet another feature in a new update to make navigation a lot more easier for its users. This update was first spotted by Android Police who reported about a new Street View feature. The new feature gives you step by step navigation through street view images alongside the directions. What's more you can also view the images in 360-degree.
When you type in a destination and click on the 'Route' button for directions, the screen will show you thumbnails from the Street View to help you navigate each turn. The update also allows you to view the street in 360-degree view when you tap on the images. Such a feature sounds definitely helpful, as it prevents users from making wrong turns. Google is said to have introduced this feature on its interface first in 2008. 
The update also brings a bar at the bottom of the screen for easy access to many of the tools within the app. Another recent version also allows you to move widgets around the screen.
It seems like the update is being rolled out in phases, as these features haven't started showing for everybody as yet. However, it is likely to roll out to all smartphones soon. These changes will be visible on Android as well as iOS versions of the app.
[Source: Android Police]