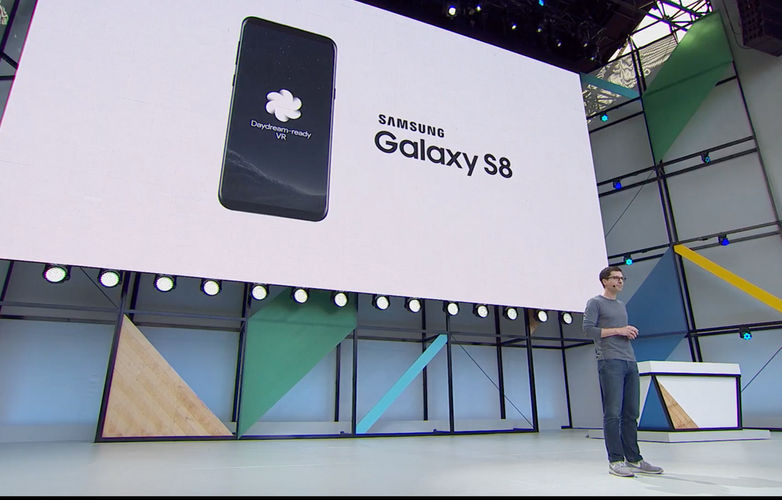 Google's annual developers conference happened last night, and the Internet giant announced a tonne of stuff, including improvement to Android, Android TV, Google Assistant, Google Home, Google Photos, Gmail, YouTube, and Daydream VR. Even seven months after Google launched the first smartphones with Daydream VR (its virtual reality platform), there are only seven devices that are compatible with it. Moreover, high-end smartphones from popular brands like Samsung, LG, HTC, Xiaomi, and OnePlus still don't support the platform, and Google really wants them aboard.
At the Google I/O 2017 conference, Google's executive announced on stage during the keynote that Samsung's new flagship smartphones – Galaxy S8 and Galaxy S8+ – will support Daydream VR platform this summer (before the end of September 2017). This compatibility will added following a software update to these devices. Moreover, LG's upcoming high-end phablet, the LG V30 (still unannounced), will also be a Daydream VR-ready smartphone when it launches sometime later this year. The ZenFone AR will support the VR platform as well. There's no still word on whether the recently launched HTC U 11 and Mi 6 support Daydream VR.
As of now, the list of smartphones that support Google's Daydream VR platform include the Google Pixel, Pixel XL, Moto Z, Moto Z Force, Huawei Mate 9 Pro, Porsche Design Mate 9 Pro, and ZTE Axon 7. Whether or not the upcoming OnePlus 5 supports Daydream VR remains to be seen, and will be uncovered by the end of next month when the phone is expected to be officially announced.
[Source: Google]