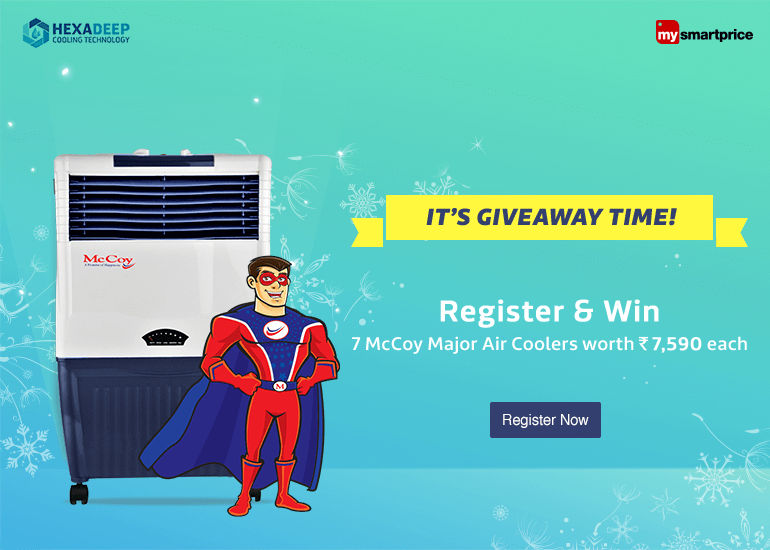 MCCOY 34 LITRES MAJOR AIR COOLER
Get a chance of winning efficient and durable McCoy 34 Litres Major air cooler and enjoy a cool breeze this summer. Powered by 8 inches 3-speed blower system, 165W motor, 25 feet longer air flow and 1250 m3/hr air delivery, you will feel the chill, with ease. The 4-way air deflection and motorized louver movement can cool down a large space quickly and easily. This McCoy air cooler is made of high-quality ABS plastic, comes with a double layer honeycomb pads and can easily cool down a space of up to 250 sq. feet, ideal for small offices, living room, and bedroom. 
For greater convenience and comfort, this cooler comes with water level indicators, as well. Easy to clean and maintain, this best air cooler in India, comes with double layer honey comb pads.
How to enter?
Register with your email ID or Facebook
View and Like McCoy Facebook Page
View a video on McCoy Appliances India's YouTube Channel
Get more points by Commenting on YouTube Video & Subscribe to McCoy YouTube Channel, which increases your chances of winning
Giveaway rules:
The giveaway is open to everyone aged 18 and over within India.
Kindly note that this is an exclusive promotion for MySmartPrice customers by McCoy Air coolers.
MySmartPrice cannot be held responsible for lost shipments, delay or items damaged during shipping.
Only 1 registration per person.
MySmartPrice reserves all rights to make changes to the giveaway in the case of unforeseeable circumstances.
Winners will be announced by McCoy Air Coolers on their Facebook page.
That's it! Good luck, everyone!
The lucky winners of the Giveaway contest in association with Cloudwalker are as below:-
Sagar Siddham

Amrita Vazirani
Congratulations to the winners 🙂