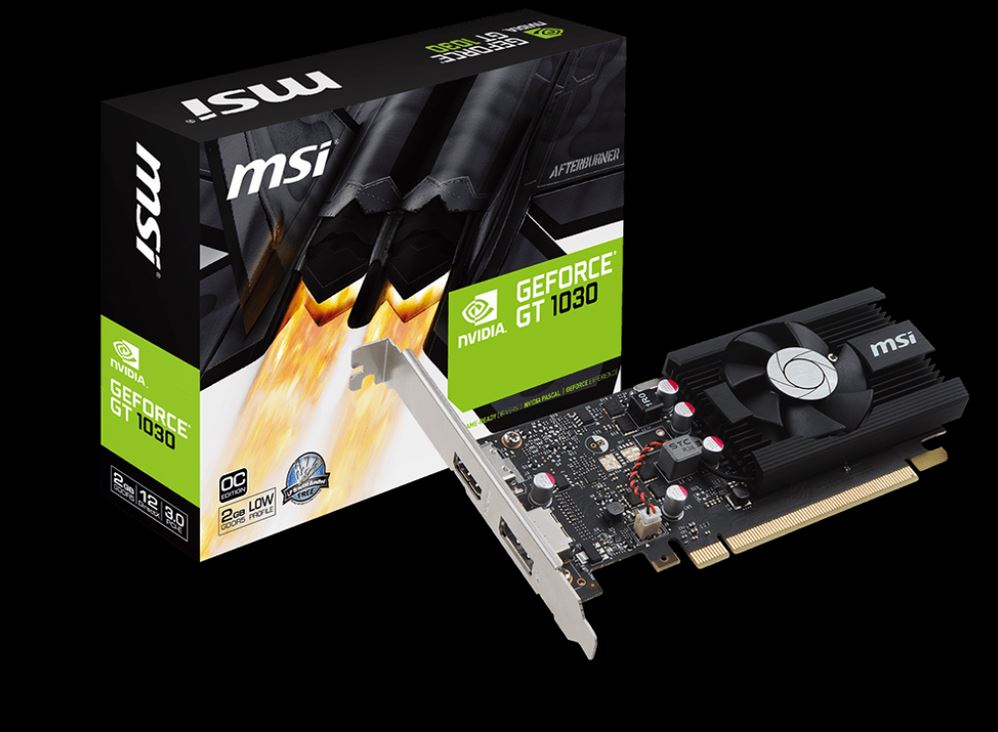 Graphics cards based on NVIDIA's new entry-level GeForce GT 1030 GPU have made their way to India, barely days after NVIDIA made it official. For now, GeForce GT 1030 graphics cards are available from three vendors – ZOTAC, Asus, and MSI. All the three cards are priced around the Rs.6000 mark.
The MSI GeForce GT 1030 2G LP OC features a low profile design, all solid capacitors, Military Class 4 components, and comes with the MSI Afterburner utility for some slight overclocking. It features a 1518 MHz boost clock and a 1265 MHz base clock with 2GB of GDDR5 memory clocked at 6008 MHz. It is now available for Rs.5,999.
ZOTAC's GT 1030 ZT-P10300A- 10L features a similar low profile design as the MSI card, bundled with a low-profile bracket. It comes with a slightly lower 1227 MHz base clock and a 1468 MHz boost clock. The 2GB of GDDR5 memory is clocked at 6.0 GHz. The card has been priced at Rs.5,995.
The Asus GT1030-SL-2G-BRK offers 0dB silent cooling thanks to exclusive Asus-designed heatsinks with large surface areas, ensuring quiet operation when watching HD content. Made using Asus-exclusive Auto-Extreme technology, the card claims to deliver "best reliability" and improved performance. Speaking of performance, the card features a 1228 MHz base clock and 1468 MHz boost clock in Gaming Mode. In OC Mode, the base clock goes up to 1266 MHz while the boost clock is raised to 1506 MHz. The card has been priced slightly higher than the MSI and ZOTAC cards, so be prepared to shell out approximately Rs.700 more for it.
[Via: Gadgets 360]