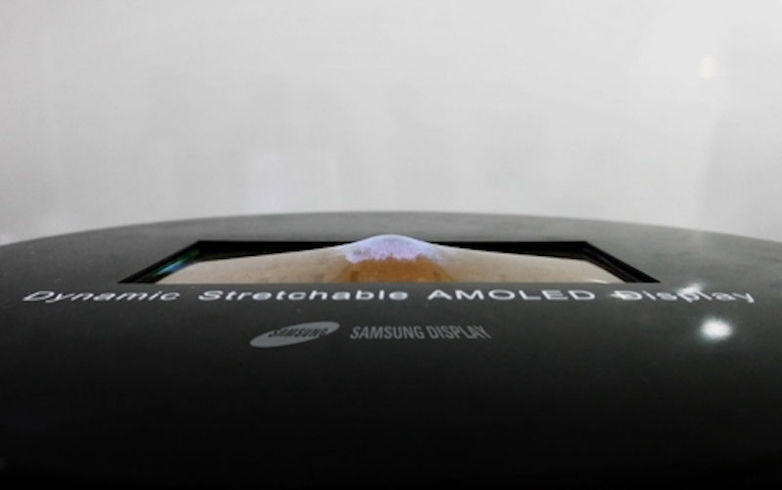 On Monday, Samsung Display announced that it is all set to showcase a stretchable panel at the SID 2017 (Society for Information Display) this week. The company claims this display to be the "world's first stretchable panel." The Society for Information Display is an international event for showcasing electronic displays and is scheduled to take place from May 23 to 25 in Los Angeles this year.
Samsung has reported that it will be showcasing a 9-1-inch version of the stretchable OLED display which can bend in both directions unlike other bendable displays which can bend in only one direction. "While current flexible OLED is able to be transformed in only one side, this stretchable OLED can be transformed — whether curved, bended [sic] or rolled — in both sides, above and below," a Samsung Display spokesperson told the Korea Herald.
Samsung Display also mentioned that its new stretchable display can stretch to as much as 12mm while maintaining a high degree of resolution at the same time. Such technology may pave the way for smartphones screens which are less fragile. This stretchable display is also expected to find use on a variety of devices in technologies ranging from Internet of Things (IoT) technologies to Artificial Intelligence.
Stretchable displays, that also include curved and rollable displays, seem to be the next big thing when it comes to display screens. LG and Samsung are both expected to release their bendable displays next year. However, we'll have to wait until then to be able to say say that with any sureity.
Apart from the stretchable display, Samsung is also expected to release a 1.96-inch UHD (3840×2160) display with a density of 2250PPI at the event, targeted for VR.
[Source: Yonhap, AndroidAuthority]