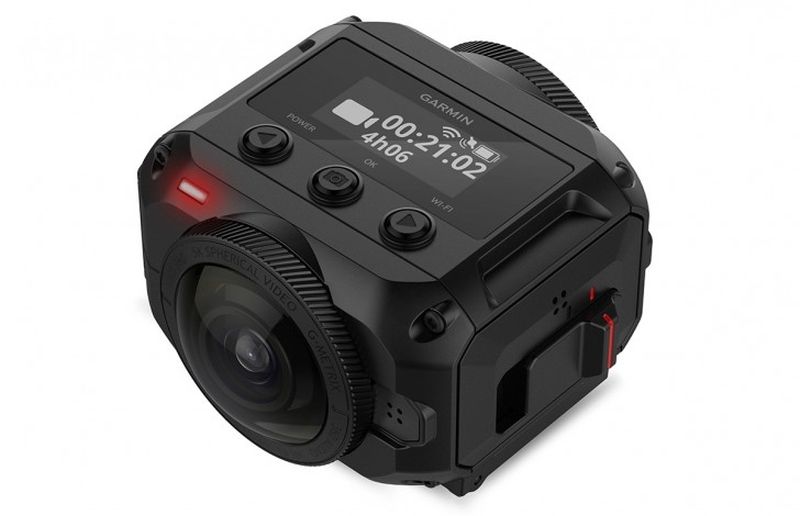 Garmin has announced its very first 360-degree camera, dubbed the VIRB 360. Unlike rivals such as the Samsung Gear 360, the VIRB 360 is a lot more rugged and offers some other advantages as well. The key highlight is its ability to shoot 360-degree videos at up to 5.7K resolution at 30 fps. Its dual cameras can also capture 15MP resolution spherical still images. Another key feature of the Garmin VIRB 360 is that it is completely waterproof, making it one of the few 360-degree cameras out there that can take videos underwater with no issues.
To ensure steady a footage, the camera uses 4K Spherical Stabilization, which is claimed to work quite well even when users are kayaking down river rapids or mountain biking through rough terrain. The action camera comes with built-in GPS and a few other sensors, allowing users to apply customizable G—Metrix data overlays. For easy sharing and editing of video content captured by the camera, Garmin offers the VIRB Mobile app as well as desktop software. In addition to features such as voice control and editing, the VIRB 360 app allows users to livestream videos to YouTube or Facebook Live when paired with a compatible smartphone or tablet. Connectivity wise, the VIRB 360 comes with Wi-Fi, Bluetooth, ANT+, and NFC. It is compatible with all popular VR headsets currently available, supporting live playback through the free VIRB mobile app. In terms of battery life, Garmin claims the VIRB 360 can last up to 1 hour when recording videos.
Priced at $799.99 (Rs.51,500), the 360-degree action camera will begin shipping in the US starting next month.
[Via: DPReview]