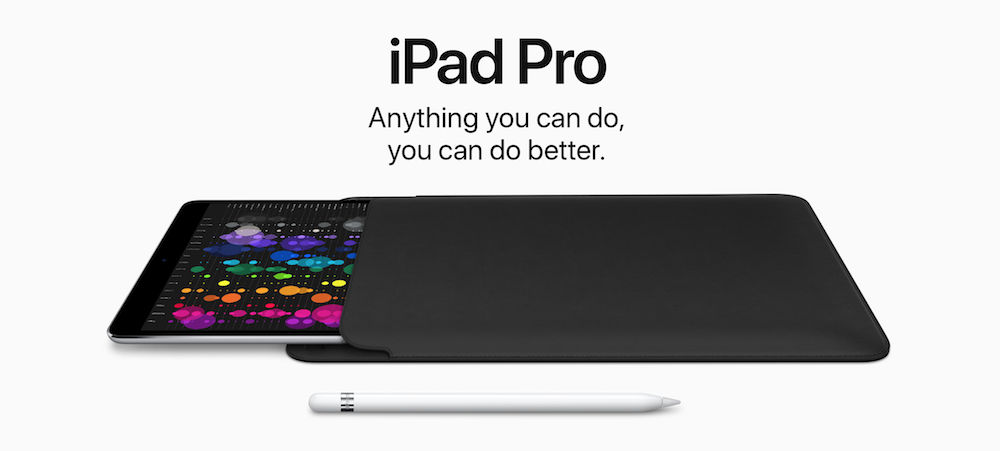 Apple unveiled two new iPads – iPad Pro 10.5 and iPad Pro 12.9 – at the WWDC 2017 developers conference earlier today. Both models are an improvement over the iPad Pro 9.7 and the iPad Pro 12.9 (2016). The iPad Pro 10.5, as the name suggests, comes with a larger 10.5-inch screen, but within the same physical size as that of last year's 9.7-inch variant, thanks to smaller bezels. It also weighs just 1 pound (450 grams).
The 12.9-inch variant of the new iPad Pro retains its design and screen size. The Apple iPad Pro 10.5 and the Apple iPad Pro 12.9 (2017) also comes with a brighter display, faster processor, more storage capacity, and improved front- and rear-facing cameras. Let's get down to the business now and have a look at the features and specifications of the Apple iPad Pro 10.5 and the Apple iPad Pro 12.9 (2017).
Apple iPad Pro 10.5 (2017) & iPad Pro 12.9 (2017): Specifications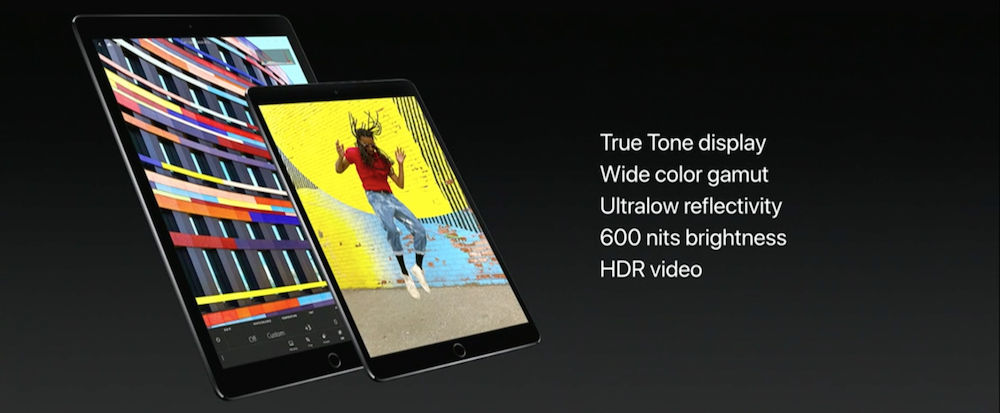 The Apple iPad Pro 10.5 and the iPad Pro 12.9 come with 10.5-inch and 12.9-inch 'True Tone' displays, respectively, that are compatible with Wide Colour Gamut. The newer displays can not only go as bright as 600 nits for HDR video playback, but it also feature ultra-low reflectivity. Apple claimed that the new display panel on the iPad Pro 10.5 and the iPad Pro 12.9 is the best ever to be used on a tablet. However, the 9.7-inch Super AMOLED display used on the Samsung Galaxy Tab S3 can go relatively brighter and dimmer.
The screens also support a higher refresh rate of 120MHz, double than that of previous generation iPad Pros and all other tablets in the world. Not only this, Apple says that the new screen can vary the refresh rate depending on the kind of content that's being displayed. For example: it can be as high as 120MHz for games, 48Hz for video, and as low as 24Hz for apps where motion is of low priority. Apple calls this feature ProMotion. It is also compatible with Apple Pencil with latency as low as 20ms. Needless to say, it supports pressure and tilt sensitivity of the Apple Pencil.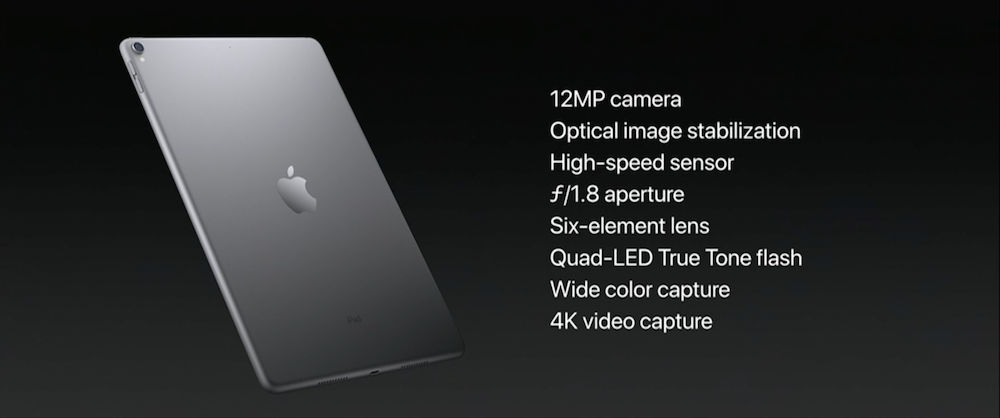 In the imaging department, both new iPad Pros feature the same 12-megapixel rear-facing camera that used in the iPhone 7 and the iPhone 7 Plus. It camera also has OIS, f/1.8 aperture, six-element lens, quad-LED True Tone flash, Wider Colour Gamut capture, and 4K video recording. The front-facing 7-megapixel FaceTime HD camera on the iPad Pro 10.5 and the iPad Pro 12.9 can capture Wide Colour Gamut, Auto HDR, and 1080p videos. It supports auto image stabilisation (EIS) and Retina Flash.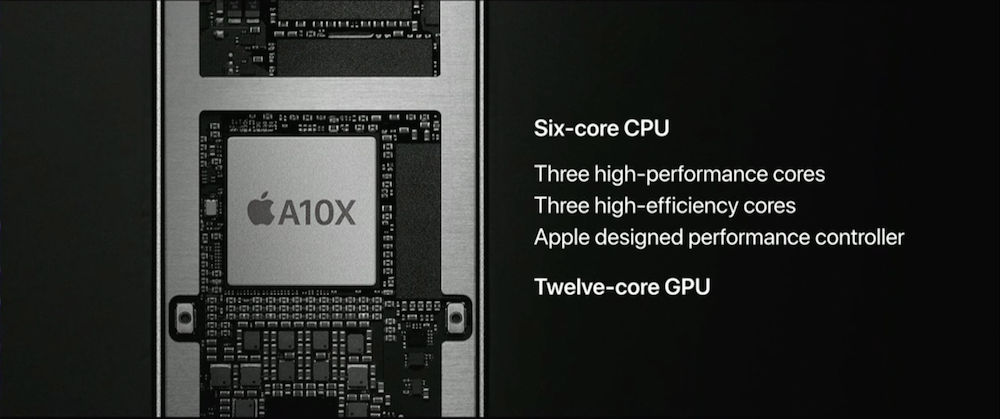 Under the hood, both new iPad Pro (2017) models are equipped with a six-core Apple A10X processing chipset. This new SoC combines three high-performance cores and three power-efficient cores, similar to ARM's big.LITTLE configuration. All these CPU cores are put to work by an Apple-designed performance controller, and any task divided among them based on workload.
There's a twelve-core GPU inside the A10X chipset as well, but the exact GPU model number isn't known yet. Apple claims that the A10X offers 30% more CPU performance and 40% faster graphics compared to last year's A9X chipset. The company also claimed that the new iPad Pro tablets have 500 times more graphical grunt than the first-generation iPad that was released eight years ago.
There's 64GB of storage in the entry-level variant of both the new tablets. There are 256GB and 512GB storage variants of the new iPad Pros. Other important features include a quad-speaker setup, dual microphones, and a front-facing Touch ID fingerprint reader. There's an accelerometer, ambient light sensor, barometer, digital compass, and a three-axis gyro.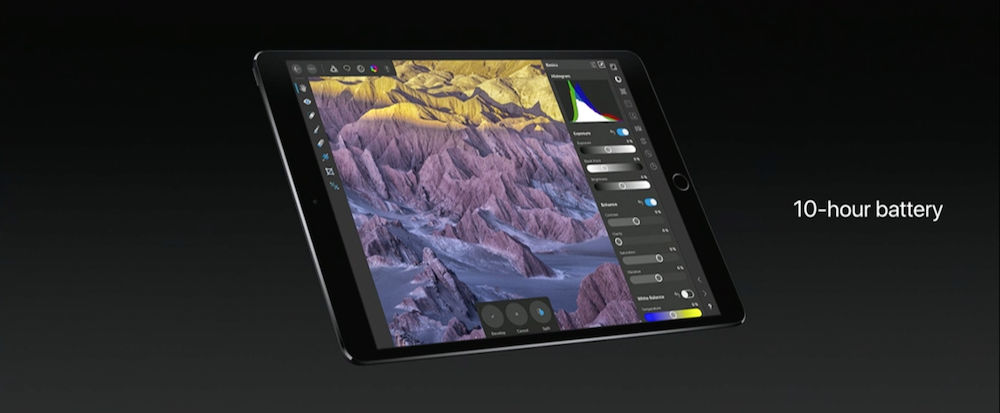 Apple also claims that its new iPads can last up to 10 hours (9 hours in cellular variants) of continuous usage, thanks to its power-efficient A10X processor. The iPad Pro 10.5 comes packed with a 30.4-watt-hour battery, while the iPad Pro 12.9 comes packed with a 41-watt-hour battery. 4G LTE (in cellular variants), dual-band Wi-Fi a/b/g/n/ac, AirPlay, Assisted GPS + GLONASS (in cellular variants), Bluetooth 4.2, Lightning Port, and a 3.5mm headphone jack.
Apple also showcased some new accessories for the new iPad Pros. Starting with the new keyboard cover accessory, it is a full-sized keyboard case that also has a slot to store Apple Pencil. The new USB Camera Adapter and SD Card Reader are based on USB 3.0 protocol for faster data transfer. There's a new Lightning to USB Type-C cable as well. The USB Type-C power adapter that can be used to fast charge both new iPad Pro models in half the time it takes to charge using the supplied wall charger.
Apple iPad Pro 10.5 (2017) and iPad Pro 12.9 (2017): Availability & Pricing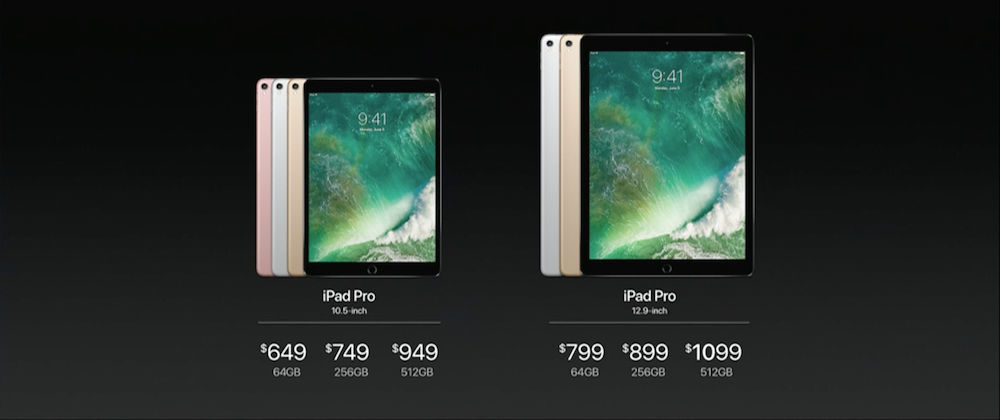 The 64GB variant of the Apple iPad Pro 10.5 costs $649 in the US, while 256GB and 512GB variants cost $749 and $949. The Apple iPad Pro 12.9 (2017)'s 64GB, 256GB, and 512GB storage variants cost $799, $899, and $1,099, respectively, in the US.
There's no word on the pricing of the cellular variants of the iPad Pro 10.5 and the iPad Pro 12.9. It is being reported that some variants of the new iPad Pro tablets might be launched in India by the end of June 2017. Here's the pricing of all the storage variants of the Wi-Fi only iPad Pro tablets.
iPad Pro 10.5 64GB (Wi-Fi only) – $649
iPad Pro 10.5 256GB (Wi-Fi only) – $749
iPad Pro 10.5 512GB (Wi-Fi only) – $949
iPad Pro 12.9 64GB (Wi-Fi only) – $799
iPad Pro 12.9 256GB (Wi-Fi only) – $899
iPad Pro 12.9 512GB (Wi-Fi only) – $1,099