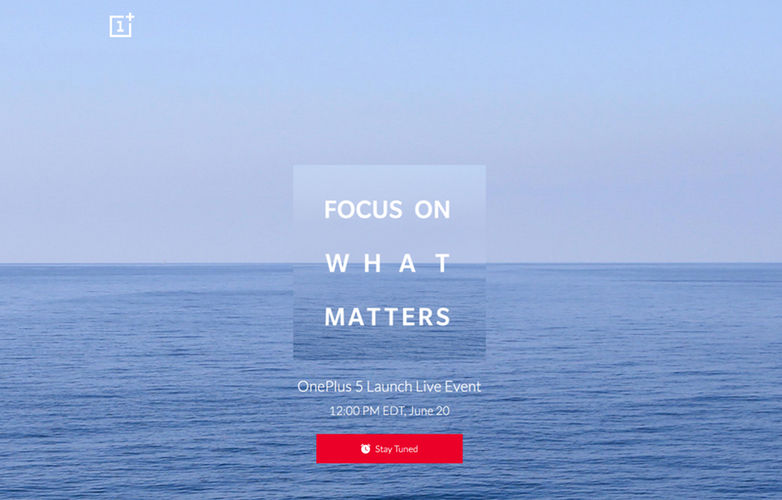 Smartphone enthusiasts were quite hyped for the launch of OnePlus' new device. A few aspects of the OnePlus 5 such as its physical size and camera quality were already teased by the company. We had also reported a few leaks regarding the launch date of the OnePlus 5 as well as its camera and battery capacity a few days ago. Now, the Chinese smartphone brand has confirmed that its next-generation flagship smartphone will be officially unveiled on June 20.
The OnePlus 5 will be unveiled at 12:00 PM EDT at a live event. If you're from India, you can watch the event at 9:30 PM in India on June 20. The company will livestream the launch event to viewers around the world. Additionally, OnePlus is conducting 'pop-up' events in ten cities worldwide, including Amsterdam, Berlin, Helsinki, London, New York, and Paris. People who attend these pop-up events would be able to purchase some of the first OnePlus 5 units on the same day along with some "exclusive swag".
OnePlus CEO Carl Pei will be attending the pop-up event that will be held in New York. Interestingly (or rather surprisingly), OnePlus isn't holding a pop-up event in any of the cities in India. Here is the list of cities where you can go and see the OnePlus 5 in person:
New York (Meatpacking District): 7:00 PM ET, June 20
London: Details coming soon
Copenhagen (3 store): 4:00 PM, June 21
Paris (Colette store): 11:00 AM, June 21
Berlin (LNFA Conceptstore): 6:00 PM, June 21
Amsterdam (Daily Paper): 6:00 PM, June 21
Helsinki (Elisa): 5:00 PM, June 21
Oulu (Elisa): 5:00 PM, June 21
Tampere (Elisa): 5:00 PM, June 21
Turku (Elisa): 5:00 PM, June 21
The OnePlus 5 is expected to feature a 5.5-inch Super AMOLED screen, but it isn't know yet whether the resolution QHD or Full HD. Moreover, the phone is expected to feature a dual-rear-facing-camera setup and 4K video recording. The company is expected to continue with the same 16-megapixel front-facing camera that's being used in the OnePlus 3T. Under the hood, it is expected to come equipped with a Snapdragon 835 processor, 6GB RAM, at least 64GB storage, and a 3,300mAh battery.