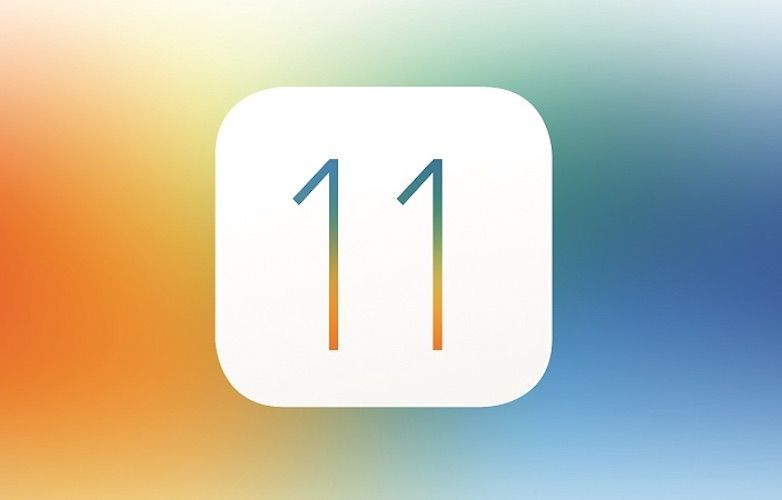 At WWDC 2017, Apple finally took covers off the newest version of its smartphone and tablet operating system: iOS 11. You might have already read about most of the key feature additions that iOS 11 brings to the table in our previous article. However, what you might have missed out on was a number of smaller, but significant feature additions that iOS 11 incorporates. In this article, let us see what those new feature additions are that Apple didn't talk about on stage during the keynote. Anyway, let us start now.
1. NFC support in third-party apps
One of the key things that Apple did not talk about much during the keynote was its new "Core NFC" framework, which when implemented in its entirety, will enable iPhones to do a lot more using NFC than just making mobile payments through Apple Pay. This, for example, can lead to features like connecting to Bluetooth speakers with just a tap – something that Android already does.
In short, we might be looking at NFC playing a much larger role on iOS. One of the reasons Apple did not talk much about it during the keynote was perhaps because they did not have anything significant to showcase in the form of a finished product. However, you can expect a lot of iOS apps that make use of NFC in the future.
2. Support for lossless audio files (FLAC)
iOS 11 will reportedly support FLAC audio files. This has been confirmed by Reddit users who installed the developer beta and managed to playback FLAC audio files. As of now, Apple only supports its own lossless format – ALAC – for anyone who is interested in lossless, uncompressed audio.
With this update, audio enthusiasts will be able to play back FLAC files on their iPads, iPhones, and iPods. A word of caution, though. While FLAC files can be synced using iClould Drive to be played back on the device, as of now, it can be only done via the "Files" application. Perhaps this could change when the final version of the OS is released later this year.
3. Camera app now recognises QR codes
Until now, you had to download a standalone QR code scanning app from the App Store. While not a major annoyance, it could get irritating at times. With iOS 11 however, this annoyance comes to an end. According to some reports, Apple is planning to integrate a QR Code scanner right into the native camera app.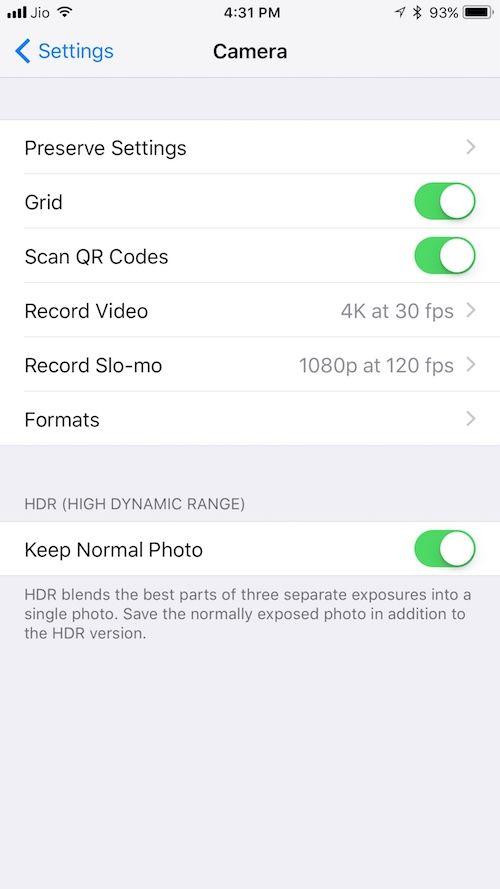 This means that you will now be able to simply take your phone out, open the camera app, and scan the code without having to download an additional app. Folks from MacRumors have confirmed that the QR code option has its dedicated settings option from within the camera app and remains on by default.
4. Dark Mode using the new "Smart Invert" option
Another new feature that will see the light of the day with iOS 11 is a new and improved "dark mode". Apple has redesigned its "invert colors" accessibility feature and will make it available to users later this year.
However, folks who have installed the developer preview of iOS 11 have discovered another way of having a "dark mode" on iOS. The new feature is called 'Smart Invert' and is, effectively, a dark mode for users who prefer to use darker UI on their smartphones.
!!! the new 'invert' feature is quite literally dark mode pic.twitter.com/H7iiFjeWJ6

— Owen Williams ⚡️ (@ow) June 5, 2017
5. Social accounts removed from Settings menu
While this article is about new feature additions to iOS 11, in this particular instance, we are talking about the removal of a certain feature. According to reports, Apple seems to have removed the 'Social Accounts' feature from iOS starting with iOS 11.
This means that social networking platforms – Facebook, Twitter and LinkedIn – will on longer have system-level integration in iOS 11. One of the fallouts of this would be issues people may face while attempting to log in to apps using their social media accounts.
6. iMessage data will be synced among devices using iCloud
This is one feature many iPhone users have been waiting for quite some time now. With iOS 11, Apple has decided to bring its own messaging platform iMessage to iCloud.
What this means is that people with multiple Apple devices would be able to access their iMessage stuff seamlessly across all their devices. All the data will be kept synced, and if you delete a message in one device, it will be deleted in all other devices using the same iCloud account.
7. Apple Music goes social in a right way
Apple Music fans rejoice! With iOS 11, folks using Apple Music will have the option to use multiple social features, including the option to create their own profiles. You can now follow your buddies and share your playlists with them. There would also be a new 'Friends Are Listening To' section, which is pretty self-explanatory if you ask me.
8. Cheaper iCloud storage plans
While this is not exactly connected to iOS 11, we will add this to the list anyway, because iCloud is an integral part of iOS. The news is that Apple has now slashed the price of its 2TB iCloud storage plan. It used to cost $20 per month, but it has been slashed to just $10 per month (₹650 per month). The 1TB plan, which used to cost $10 per month, seems to have been discontinued. For those who were on the $10 plan earlier, they will be automatically upgraded to the new plan.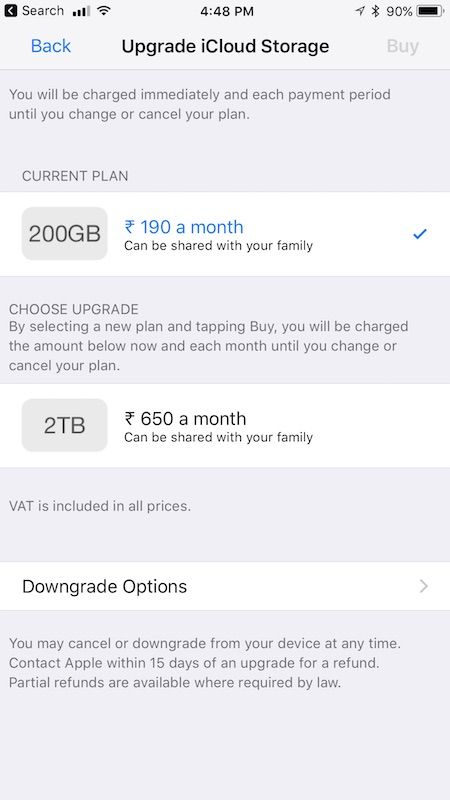 This effectively puts Apple ahead of both Google Drive and Dropbox both of which charge approximately $10 a month for 1TB of cloud storage. We expect Google to respond in kind soon. That said, Google Drive still offers larger storage space (up to 30TB) for users who are willing to pay more. Apple is also coming up with new family plans for iCloud users.
Apart from all these, here are a couple of more features that were not talked about at during the keynote. These include the following.
9. Support for three new Indian languages
Apple has added support for three new Indian languages – Kannada, Malayalam, and Odia – with iOS 11. Needless to say, these are system-wide apps, so all the features can now be accessed in these languages. This will be very useful for the elderly in India who want to use iPhones and iPads in regional languages.
10. New one-handed on-screen keyboard
The new one-hand on-screen keyboard makes it easier for iPhone 7 Plus and iPad users to type on. This feature was first introduced by Google with its Gboard keyboard app. Later, Microsoft and every other third-party keyboard developer introduced this feature.
11. Support for native screen recording
One feature that Android used to offer in an easier way was screen recording. Granted, Android still doesn't natively support screen recording, but there were third-party apps that could be easily used to record the screen. However, Apple seems to have gone one step ahead by offering the feature natively. It can be started from a quick setting toggle in the Control Centre.
12. Autofilling passwords for apps
Similar to Android O, which was showcased at Google I/O 2017, Apple's new iOS 11 operating system now supports autofilling of passwords not only inside Safari web browser but also inside third-party apps. This will make it a whole lot easier for users to log into apps.
13. Screenshot annotation and easier sharing
iPad, iPhone, and iPod owners can now take screenshots and annotate them before sharing them with their friends. The company is now offering Samsung Galaxy Note-style annotating, marking, and editing tools in iOS that can be used after capturing a screenshot.
Apart from these thirteen features, you can read about six additional features that debut in Apple's mobile operating system with iOS 11. We will keep you updated with all the new features that are introduced with newer versions of iOS, macOS, tvOS 11, and watchOS.