Internationally, the wireless speaker market is at an interesting place at the moment, with newer entrants such as Google and Amazon disrupting the existing market with their smart AI-enabled devices capable of a lot more than just playing music. Nevertheless, India is yet to warm up to these new high-tech devices owing to poor internet connectivity and other technological challenges. However, we do have a plethora of options when it comes to Bluetooth-enabled wireless speakers. So many, in fact, that it is quite easy to lose track.
Sony's new SRS-XB40 packs several crowd-pleasing features, and the lights make it easily recognisable. But at ₹16,990, is it really worth your hard earned money? Would you be just as happy to make the purchase if you, for example, knew that a good chunk of its cost goes towards the lighting system alone? I'm not saying that it does, but would you? And just how much would you be willing to spend on that aspect?
Sony SRS-XB40: Design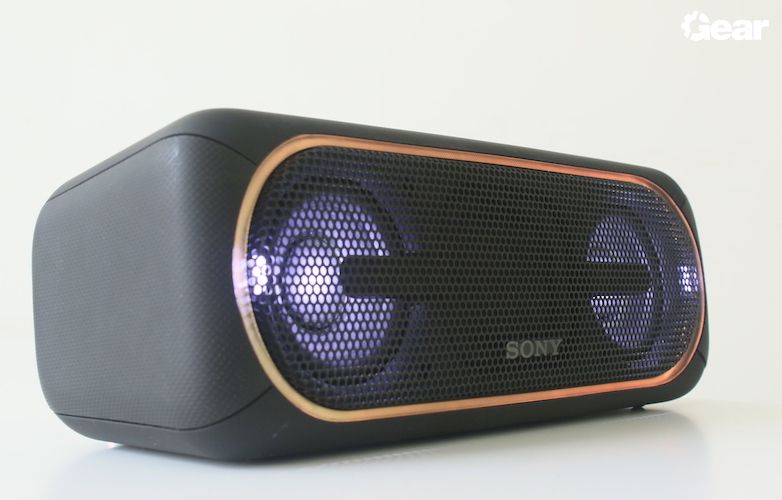 First impressions are often lasting impressions. To be honest, at first glance, I was only very mildly amused by the lighting system Sony has designed around the speakers. It is not that I don't find pretty lights entertaining. Sure, I do. But it isn't uncommon for manufacturers to use such design flourishes to mask poor or average performance. To be fair, the lights are impressive, and it is nice to see them flashing in sync with the music. The lights comprise of an outer ring around the speaker grille (which changes colour), two flashing LEDs on both ends of the speaker, and another two 61mm drivers which light up as well, all in sync with the music. Well, for the most part at least, when the beat is distinct and palpable.
Minus the lights, the speakers are fairly basic to look at. We were sent the matte black unit (apparently the only colour available in India, going by the Sony India website) for review, but the speakers are also available in red and blue internationally. The Sony SRS-XB40 is IPX5 rated and comes with a tough rubberised exterior, which gives it splash-resistance. So while you can take it to the bathroom (as long as you keep it away from the shower), don't go about dropping it in the bath tub. You also needn't worry about damaging the speakers (to a fair extent, of course) even with outdoor use, thanks to its tough build quality.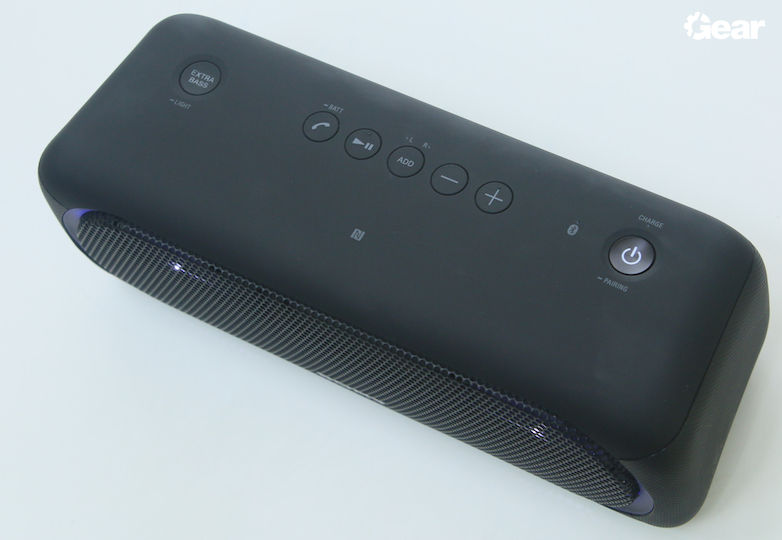 The SRS-XB40 isn't very compact considering its dimensions (279mm x 100mm x 105mm). So apart from the space it'll take in your luggage, the 1.5kg speaker will definitely weigh you down if you intend to travel with it. The relatively large (for a Bluetooth speaker, that is) 61mm drivers make up the primary sound source of the XB40, along with forward and rear-firing passive radiators.
All of the controls, excluding the reset button, sit on the speaker's top panel. You can power the speaker on or off using the buttons on the top panel, which also allow you to increase bass with the Extra Bass button, add an additional speaker for stereo output, pause/play music, take a phone call, and control volume. The Power button doubles up as a button to pair new devices with the speaker. The reset button along with all of the speaker's connectivity ports are housed within a section of the rear panel that's protected by a spill-proof flap. These include a 3.5mm auxiliary input, a USB port to charge your mobile devices, and an AC adapter port for charging the speaker. The controls on the top panel are very basic, and aside from volume adjustment and the ability to add bass to your sound using the Extra Bass button, there aren't any other means available to tweak the speaker output to your taste. The volume control also doubles up as the master volume of your connected device thanks to the wonders of Bluetooth technology.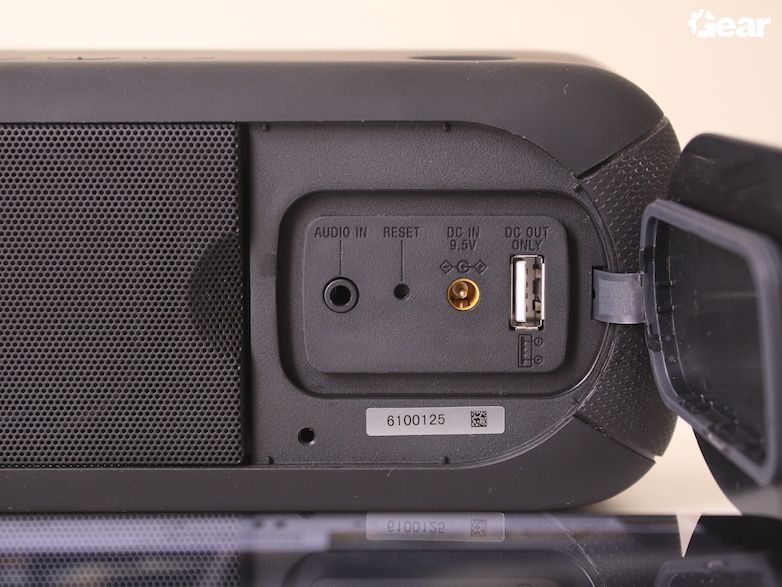 Sony's proprietary free apps, Fiestable and SongPal, available at the Apple Store and the Google Play Store, comprise a more significant aspect of the speaker's control panel. These apps let you control the illumination while allowing you to tweak the speaker's sound to your taste. However, I find it odd that the speakers don't have a dedicated physical button to switch the lights off. You have to do that through the app. The apps are central to controlling the speakers, both lighting and sound, and the experience of using the XB40 is incomplete without the apps.
Pairing with the Sony SRS-XB40 is smooth and effortless, especially if you have an NFC-enabled smartphone/tablet. A simple tap on the top panel, which houses the speaker's NFC sensor, lets you pair it with your device. You can pretty much play a song right away, using YouTube or Google Play Music or any other streaming service of your choice. Alternatively, you can play files from your device itself, or connect an external audio source to the speaker using the 3.5mm audio jack.
Sony SRS-XB40: Performance
I used the XB40 for a little over a week, and my experience hasn't been entirely positive. I must say, I have somewhat mixed feelings about the speaker. After unboxing the unit, the very first thing I tried was some track straight off YouTube, and I wasn't left feeling impressed at all. The standard sound signature, without any tweaking using your paired device, is bass heavy, even without Extra Bass switched on. With Extra Bass switched on, while there is sufficient depth to the bass at low to medium volume, both the mids and the high frequency sounds get drowned out a bit and lack any degree of authority. This is unsuitable for a whole lot of recorded music that isn't particularly bass-heavy. Songs with vocals don't sound particularly appealing unless you've tweaked the sound a bit. And this is possible only if you install Sony's SongPal app (Sony Music Center). Without the SongPal app, you're doomed with a very bass-heavy sound. That's something I personally find unappealing.
After having installed the app, however, things changed for the best. I was able to get an acceptable, well EQ-ed sound out of it. While the speaker packs enough power for a small to medium sized room, it may not make as much of an impression when you play it outdoors. At high or close to full volume, the bass thins out, and you can tell a powered woofer would do a much better job of it. That said, even at full volume, there was no noticeable distortion in the sound.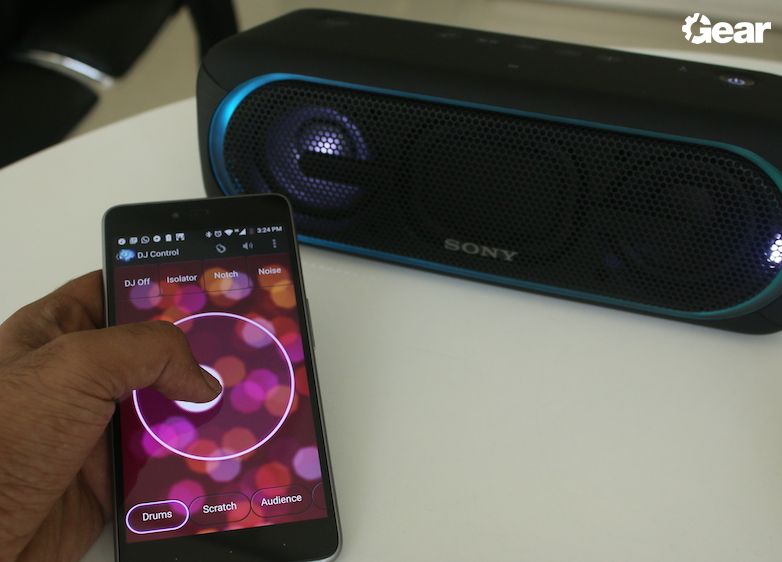 Nevertheless, bear in mind that a crowded house-party may still be a bit much to fill up with sound using one unit of the SRS-XB40 alone. Furthermore, if you're used to a standard stereo setup, the device's monoaural sound can also be quite disappointing. There is the ability to pair the XB40 with other speakers from the same series for stereo sound, but this isn't exactly a viable option. Unless, of course, you happen to have more money than good sense.
During my listening sessions, I found the Extra Bass feature a bit off-putting at times for muddying up the overall sound, especially the twangy lows from bass guitars. I went through a good chunk of Victor Wooten's repertoire and found the sound underwhelming. I could get much better sound without resorting to invoking the Extra Bass feature, simply by adding a little bass using my phone's equaliser settings. Extra Bass is best suited only for a very tiny chunk of electronic music out there. I did manage to get some good sound out of the speaker, even with Extra Bass switched on, although it frequently required adjusting the equaliser to bring out the mids and the highs. With some tweaking, you can get vocals to sound crisp, and shine. I ended up listening to quite a bit of Soundgarden as well, but I must say that getting a balanced sound wasn't easy.
The speaker has a built-in microphone that can be used during phone calls. While I don't think of this as an especially useful feature to have, I can't find anything to complain about either. The mic worked just fine.
Sony Music Center | SongPal app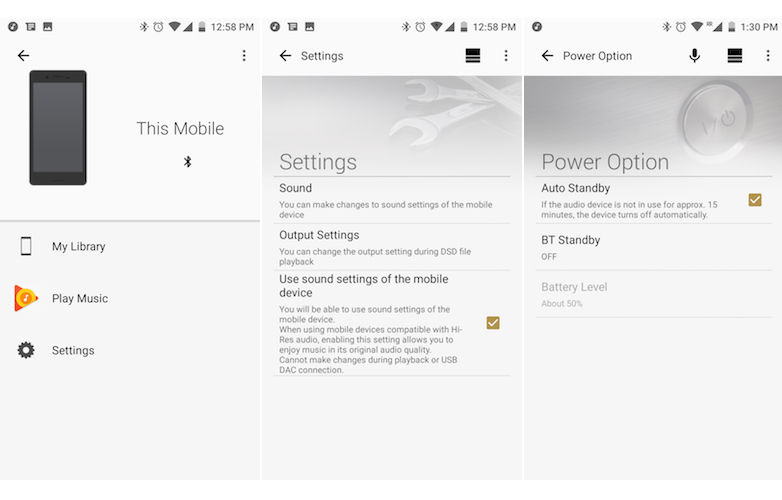 Without this app, you're likely to feel a little paralysed using the SRS-XB40. You can use it to set up multiple speakers to work together, adjust the sound settings of your phone and get it to override speaker settings, or vice versa. With it, you can use graphic equalisers to tailor the sound to your taste, and even control illumination. It also gives you access to a library comprising of tracks on your phone/tablet/laptop. You can add music streaming/playback apps to it, and even the Fiestable app can be opened from within the Sony Music Center app.
Fiestable app
The Fiestable app lets you customise the speaker illumination to your taste, in addition to adding DJ effects to the music. Most of the effects are very basic, and it takes some getting used to before you can add any of the DJ effects to music you're playing, in a sensible manner. The app, for example, lets you use the built-in motion sensors within your phone/tablet to activate the DJ effects, which include scratching, phaser, flanger, noise, drum beats, and more. The Fiestable app also has customisation options for the speaker's lighting setup, letting you set colours of your choice. You can use the phone's motion sensors to adjust and play around with the speaker's illumination settings as well. Oddly, the app won't let you switch the lights on or off, and to do this you have to use the SongPal app.
Sony SRS-XB40: Battery
The speaker's battery lasted almost four days of moderate use without having to plug it in for charging. Sony's claimed 24 hour battery life is just about the maximum of what you can expect from portable wireless Bluetooth speakers. It doesn't really get much better. You can't charge the device with your laptop/PC/phone/tablet, but you can charge your phone or tablet off the speaker's battery using the USB port!
Sony SRS-XB40:

Verdict
The XB40's ₹16,990 sticker price is what works as the ultimate deterrent. If I was spending that kind of money on a speaker, I would want most of it to go towards good sound rather than features I'm unlikely to use. While the quality of the output from the SRS-XB40 is not disappointing, there are plenty of options out there under ₹20,000 that are likely to appeal to you just as much, if not more. The Bose SoundLink III retails for ₹17,910, for example. Even Sony's own SRS-X55, which retails for exactly the same price as the XB40 might just be a better option, considering it has a powered woofer. However, if funky lights are what you're looking for, you won't be disappointed with the SRS-XB40.
Update: The ExtraBass button doubles up as a button that lets you switch the speaker's lights on and off.