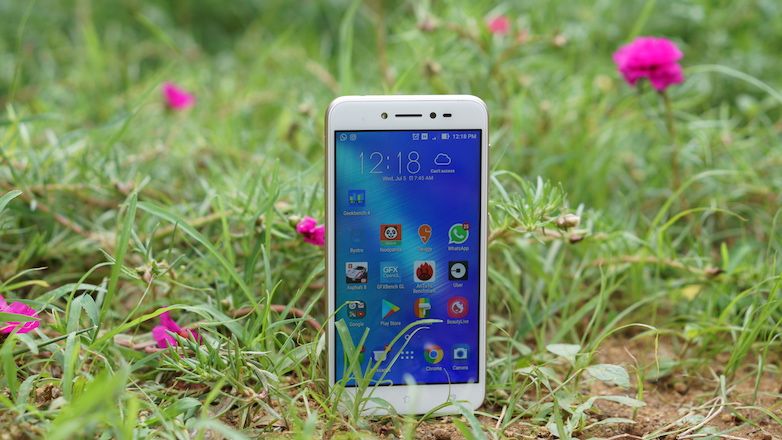 Live broadcasts have become commonplace on social media and other channels, and while the pros typically use DSLRs or even better cameras paired with their laptops/computers for the same, Asus seems to have sniffed out an opportunity to cater to this very demographic, although to a smaller niche. The Asus Zenfone Live is specifically looking to please folks with an active interest in broadcasting videos live on the internet, and its biggest highlight is being touted to be its ability to make you look good when going live. Lik the Beauty mode that is seen in smartphone camera apps traditionally, which allows you to hide blemishes and adjust skin tone in still photos, the BeautyLive app in the Asus Zenfone Live works with videos as well, and even lets you make these adjustments when broadcasting live.
Some prerequisites for a decent live broadcasting experience include good front and back cameras, a decent microphone to record sound, and in the Zenfone Live's case, a lot of processing power to enable the real-time beautification adjustments the company claims is possible when streaming live. The quad-core 64-bit Snapdragon 400 processor that the Asus Zenfone Live comes with, then, seems like a strange choice for a smartphone launched in 2017, given that the Snapdragon 400 came out way back in 2013. Inspecting the phone's specifications in detail is likely to dishearten you a bit.
Operating system: Android 6.0 with ASUS ZenUI 3.0

Processor: 64-bit quad-core Qualcomm Snapdragon 400

Storage: 16GB (expandable up to 128GB with micro-SD card + 100GB free Google Drive space for 2 years

RAM: 2GB LPDDR3
Display: 5-inch HD (1280×720) IPS display

Rear camera: 13-megapixel sensor; F2.0 aperture; LED flash

Front camera: 5-megapixel sensor with 1.4um pixels; 82˚ wide view angle lens; Soft LED flash

Battery: 2650mAh

Connectivity: Micro USB, 3.5mm jack, dual SIM: nano SIM + Nano SIM / SD card, dual standby, 2.4/5GHz

 

802.11b/g/n, Bluetooth 4.0, GPS/A-GPS/Glonass

Weight: 120g
Asus Zenfone Live: Design
At first glance, the Zenfone Live looks quite like Asus' earlier Zenfone 3 Zoom, which in turn with its dual-camera setup at the back looks a lot like the iPhone 7 Plus. The Zenfone Live, however, doesn't have dual-cameras at the back. The phone is available in pink, gold, and black. Its curved edges and rounded corners make for a nice grip. The phone is amazingly light as well thanks to its largely plastic build. Despite the plastic build though, the phone seems capable of weathering some moderate rough use. 
The 5-inch HD display takes up most of the space at the front. The capacitive touch buttons for navigation that sit below the display aren't backlit, but they're conveniently positioned nonetheless. The phone is a nice size, and convenient to operate with one hand. I like how the volume and power buttons are all located to the right of the display, and closer to the edge of the frame rather than the centre. I tend to use the volume button as the camera's shutter release often, and the positioning of the volume button works out just fine. What doesn't work out however is that the rear camera is positioned a little too close to the same corner of the phone, and in my use, I found my fingers obscuring the camera on more than one occasion.
The SIM card tray sits on the left side of the phone's frame and can hold either two Nano SIM cards or one Nano SIM card and a microSD card. There is a 3.5mm audio jack at the top, while the phone's speaker, microUSB port for charging and data transfer, and microphone sit at the bottom. There is a single grille covering the speaker.
Asus Zenfone Live: 
Display
The Asus Zenfone Live features a 5-inch 2.5D curved HD display that is clear and amply legible even in bright outdoor conditions. A blue-light filter can be enabled that makes reading less strenuous on your eyes. Additionally, Asus makes available options to balance screen colour and customise it to suit your taste. The HD resolution, however, is likely to leave you wishing for more. Full HD displays are becoming increasingly commonplace, even in the under-Rs.15000 budget segment, and I can't help but be a little disappointed about its omission, especially in a phone targeted at content creators and video-bloggers. 
Asus Zenfone Live:
 Hardware
As mentioned earlier, the phone is powered by a 64-bit Qualcomm Snapdragon 400 processor, and packs 2GB of LPDDR3 RAM and 16GB of built-in storage space (expandable up to 128GB with a microSD card). Running Asphalt 8 on the Zenfone Live wasn't the smoothest experience, and I experienced some minor stutter in parts of the gameplay. I imagine the phone will work fine with other less resource-intensive games.  Here's a look at how the phone fared at the usual benchmark tests we run.
Another area where the phone's performance was questionable was shooting photos in the Super Resolution mode. While the pictures are visibly better in quality, the phone takes over 10 seconds to save a photo shot in this mode while being unavailable for taking any more photos.
I didn't have any issues with call quality, and was both perfectly audible (according to feedback I received) and could hear the person at the other end of the line with sufficient clarity even in noisy surroundings. The built-in microphone reduces noise, and works rather well.
Asus Zenfone Live: 
Camera
The rear camera was slow to focus at subjects close to the lens, and while it managed fine when shooting outdoors in broad daylight, focusing was slow in low-light. To remind you, the Zenfone Live packs a 13-megapixel sensor in its rear camera with an F2.0 aperture and an LED light for flash. In Iow-light, I thought the picture quality when shooting in the Auto mode was average at best. The camera app has a low-light mode as well which boosts ISO and yields a noisier low-resolution output. I wouldn't really recommend using this mode because of the loss in resolution. You're better off using the LED flash in Auto mode. The default camera app doesn't have a manual mode, so there isn't much you can do to control the camera's output.
The Beautification mode in the default camera app lets you add blush, soften skin, brighten skin, enhance eyes, and thin cheeks when shooting stills but has fewer options when it comes to video, only allowing you to soften and brighten skin. You're also limited to 720p resolution when recording video in this mode.
The BeautyLive app that lets you go live, allowing for real time adjustments, doesn't have as many beautification options. The only control available is a single dial to set the amount of beautification you'll need. Once you've signed in to the live streaming app of your choice (Facebook, YouTube, and Instagram are the available choices), you're given the option of switching between front and rear cameras and adjusting beautification using the dial. You can enable a BeautyLive floating button to adjust the beautification effect during live streams. In my use of the phone, I thought this feature worked quite well. Streaming live, with the effect switched on, was quite easy. I tested the feature on Instagram, and everything worked just fine.
The rear camera records video at a maximum resolution of 1080p. Autofocus isn't available when recording video and you have to tap to focus on your subject. Image stabilisation is available only at the 720p resolution.
The Beautification mode is enabled by default on the front camera. Sadly, the 5-megapixel camera won't allow you to record video in Full HD, and the feature doesn't work very smoothly with video. There was a noticeable lag with beautification effects switched on while recording video.
Asus Zenfone Live: 
Software
The Zenfone Live runs Android 6.0 with ZenUI 3.0 on top. There's quite a lot of bloatware that the phone comes pre-loaded with, most of which can only be disabled and not uninstalled. A good portion of the 16GB of storage that Zenfone Live comes with is taken up by the system.
span class="s1″>Facebook and Instagram are pre-installed, aside from a host of apps from Asus, many of which I could find no use for. The home screen gets quite cluttered if you have a lot of apps installed, and the default large icons doesn't help matters. 
Asus Zenfone Live: 
Battery
Battery life, quite frankly, is a bit of a disappointment. The 2650mAh battery just about manages to last the course of a day's use, but if you use the camera or other resource-intensive tasks and features extensively, it is quite likely to let you down. Even broadcasting live can be fairly resource intensive, and the Zenfone Live's 2650mAh battery is unlikely to hold up through the course of a day's use if your broadcasts run long.
Should you buy it?
I think the beautification feature alone is only likely to appeal to a very small section of the market that is interested in broadcasting live videos. While the feature worked well with live-streaming content, using it to record videos with the front-camera wasn't the smoothest experience. At ₹9,999, the Zenfone Live doesn't exactly have a top-of-the-line spec sheet to boast off, and a better SoC along with some more RAM and storage space would definitely have helped its case. There are quite a few interesting options in the same price range like the Xiaomi Redmi 3S, the Redmi 4, or the Lenovo K6 Power, which make greater sense if you're not especially keen on beautifying your face in live-broadcasts.
Asus Zenfone Live
Rs.9,999
Design and Build Quality
6.5/10
What Is Good?
Lightweight
Live beautification works well
Good screen to body ratio
What Is Bad?
Very average front and back camera output
Outdated SoC with Android 6.0
Lots of bloatware
Thanks for reading till the end of this article. For more such informative and exclusive tech content, like our Facebook page