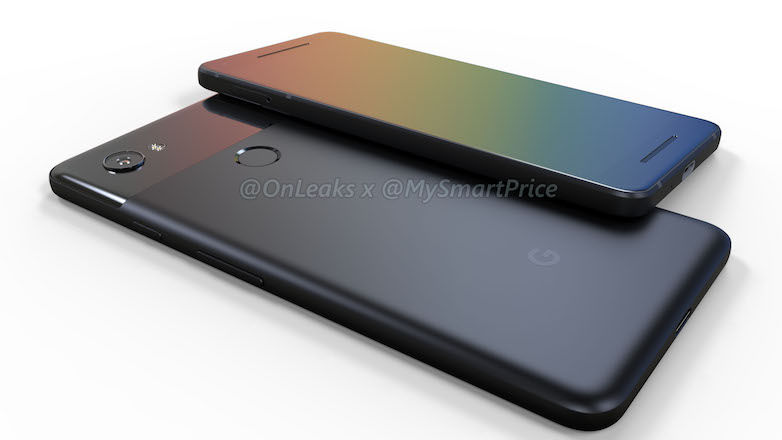 Come October 2017, and it will be one year since the announcement of the Google Pixel and Pixel XL. Both these devices were first introduced to the world during Google's #MadeByGoogle event last year. Over the course of the past few months, we have been hearing several reports about Google working on bringing two new worthy successors to these devices. These upcoming phones are being referred to as the Google Pixel 2 and the Pixel 2 XL (or will it be the Pixel XL 2?). We have seen several leaked images and renders of both these devices as well.
To add to these reports, today, we present to you a series of CAD renders that we believe is how the Google Pixel 2 and the Pixel XL 2 smartphones will look like. These renders come from our trusted source @Onleaks who has had a long history of being pretty accurate when it comes to predicting how highly anticipated smartphones would look like. In fact, he was the same guy who also collaborated with us to leak the renders of the LG V30 a few weeks ago.
Anyway, let us now check out the Google Pixel 2 and the Pixel XL 2 in detail.
Google Pixel 2: Image Gallery
Google Pixel XL 2: Image Gallery
Google Pixel 2 and Pixel XL 2: 360-Degree Render Video
The dimensions are roughly 145.3 x 69.3 x 7.8 mm (8.2 with camera bump) for 'Pixel 2' and 157.6 x 76.3 x 7.9 mm (8.6 with camera bump) for the Pixel XL 2.
Key observations: The phones feature considerably less bezel compared to the Pixel and the Pixel XL. There is no dual camera setup, and the fingerprint scanner continues to be on the rear panel. While these renders are in black, Google is reportedly considering several colour options for both the devices. And lastly, there is no headphone port!
The phones are also said to be one of the first devices to use Qualcomm's upcoming chipset, the Snapdragon 836, which would be a slight improvement over the current Snapdragon 835 chipset. The Google Pixel 2 and the Pixel XL 2 could go official later this year with Android 8.0.
So, what do you think about these renders? Do let us know in the comments section below!
SaveSave
SaveSaveSaveSave