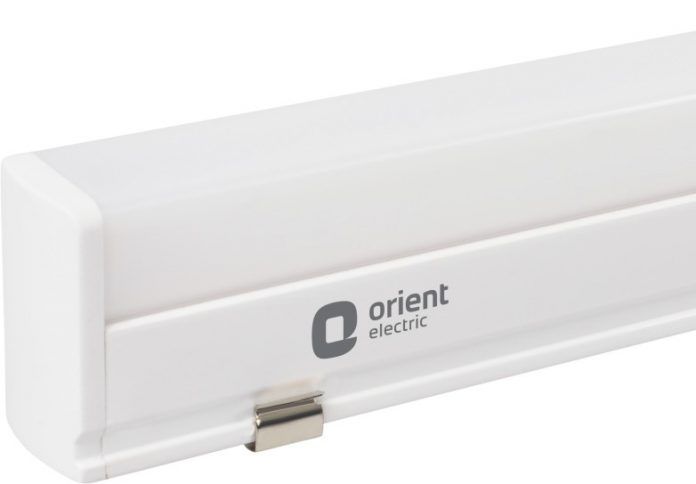 On the first day of creation, God said, "Let there be light". But that in turn created a problem because, you see, he didn't specify what kind of light there was supposed to be. Did he mean your regular incandescent bulbs? He couldn't have, because those guzzle an alarming amount of electricity and lead to horrible side effects such as the slaughter of baby seals and deforestation of rainforests. Did he mean the relatively more benign fluorescent lights then? I don't think so, because these lights emit ultraviolet radiation. I believe we can all agree that the benevolent god above sure as hell wouldn't want you to contract skin ailments or, worse yet, cancer.
No sir, God specifically alluded to LED lights, for the simple reason that they are good for the nature as well as your well-being; not to mention the fact that they're pretty bright and economical to boot. That's why we have the 18-watt Orient LED Batten here with us for review. These next-generation line of home lighting solutions are LED-powered replacements for your antiquated fluorescent light fixtures from the house of Orient Electric.
Built to Last
What's worth mentioning is how the Orient LED Batten wasn't exactly ensconced in two tonnes of thermocol and corrugated boards, which is how you find regular fluorescent lights packaged. That's because modern LED lights are tougher and made from strong yet lightweight materials. The Orient LED Batten is no different. Constructed from durable and featherweight polycarbonate material, there's no danger of breaking any glass and releasing toxic gases in the process with this LED light. It enjoys a lifespan of 10+ years. This makes it safe even for homes where kids have a penchant for destruction.
What's more, installing the Orient LED Batten is as easy as screwing in a pair of invisible clamps that safely and securely hold the lightweight fixture. The LED lighting fixture is available at an MRP of ₹539, but it pays for itself thanks to significantly lower running costs and a long life running into several thousand hours. So far, we have established that Orient LED Batten saves money as well as baby seals and tropical rainforests. We know that it's safe, durable, and economical over its ample lifespan. But what exactly separates Orient LED Batten from the rest?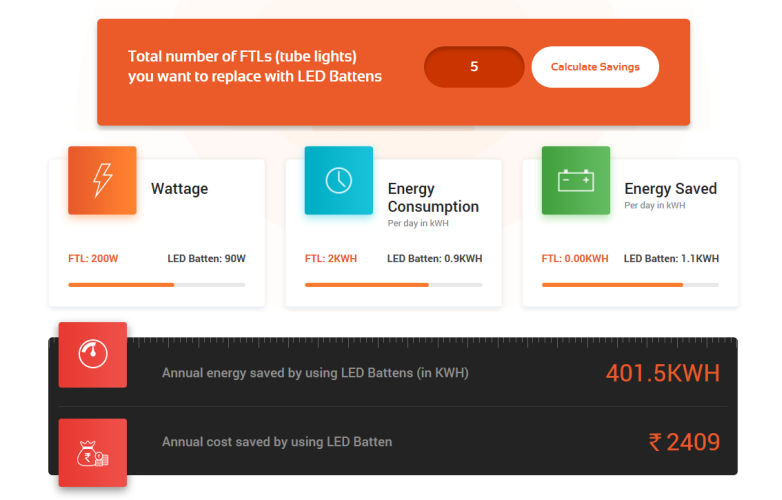 Easy On Your Wallet and Environment As Well
Well, because the Orient LED Batten employs sophisticated LEDs that deliver high-brightness at low power consumption, replacing your regular fluorescent lights will reduce power bills. In fact, these light fixtures are so efficient that they pay for themselves through reduced power bills in just a year. Click here to find out exactly how much cash you'll save by replacing the antiquated fluorescent light fixtures in your house. What's more, light blowouts due to poor power quality are a thing of the past because the LEDs on the Orient LED Batten are resistant to power fluctuations and can work under wide voltages ranging from 140V to 270V.
Apart from its lower power consumption, Orient LED Batten also runs cooler compared to incandescent bulbs and fluorescent tube lights, thereby increasing the efficiency of your air conditioning system and saving further on electricity bills. The Orient LED Batten is also free of toxic chemicals such as mercury, which makes disposal and recycling environmentally friendly. Unlike fluorescent tube lights and incandescent bulbs, the LED Batten doesn't produce any harmful ultraviolet radiation, which is known to cause skin ailments.
Although you can't put a price on safety, ₹539 isn't a lot of money for a light that will continue paying for itself each month through reduced electricity bills. The Orient LED Batten is virtually maintenance free, shatterproof unlike regular fluorescent tube lights, and safe for both you as well as the nature. Its significantly reduced impact on the environment, on the other hand, is an icing on an already appetising cake.
Thanks for reading till the end of this article. For more such informative and exclusive tech content, like our Facebook page