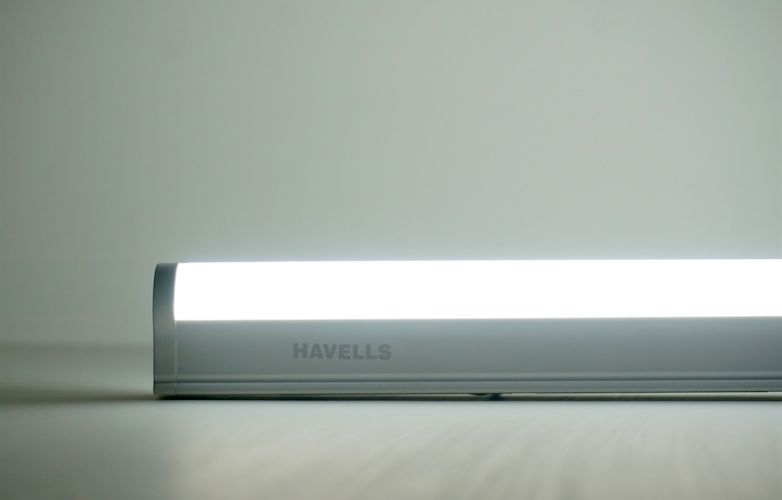 Havells' Triyca range of 3-in-1 LED lighting solutions is a perfect example of some of the possibilities of LED lighting, both for homes and offices. The ability to operate at three different colour temperatures is undoubtedly one of its key features, and that's where the LED light gets the 3-in-1 in its name. Not only do they lend themselves to an improved aesthetic with regards to interior design, they also promise significant energy savings if you make the switch from incandescent and CFL lighting for all of your lighting requirements. The Havells 20W E-Lite LED Triyca, among the most popular in its range, is suitable for residences, hotels and small offices. Unlike traditional tube-lights with their unsightly choke assemblies, the Triyca E-Lite LED light looks sleek and classy in its matte white housing, and its dimensions puts traditional tube-light assemblies to shame. 
Three colour temperatures to suit your mood
Measured in Kelvin and denoted by the symbol K, colour temperature is a characteristic of visible light. A unit of measure for absolute temperature, colour temperatures over 5000K are in general called cool colours (bluish white), while lower colour temperatures (2700 – 3000K) are called warm colours (yellowish white to red).
The Havells 20W Triyca E-lite LED can operate at three different colour temperatures – 6500K, 4000K, and 3000K – that can be termed as Cool Daylight, Natural Daylight, and Warm Daylight respectively. You can switch between these three colours to suit your mood simply by switching the light off and on again.
While some of you may find Warm Daylight most suitable to reading, others may prefer the neutral nature of the Triyca's Natural Daylight effect for the same. I personally favour the Warm Daylight mode, quite like old-fashioned tungsten bulbs, for most general purpose use. Natural Daylight lends itself perfectly to a work environment. Each of the three colour temperatures have their own allure,  and fit in perfectly well with most common aesthetic sensibilities. 
Modern design
The light fixture doesn't have the choke circuit taking up space between the frame and the tube, and the light sits snug in the polycarbonate housing. The housing is made of an ultra-slim co-extruded polycarbonate channel, and while the housing has a matte white finish, the rectangular diffuser has a reeded opal finish for soft diffused light. The white finish polycarbonate end caps further enhances the aesthetic of the fixture.
Easy installation and mounting
The whole assembly can be directly fixed on to a wall or a ceiling with ease using mounting stainless steel clips that are provided in the box. Fitting it on to a wall in our office was a smooth and effortless affair. It shouldn't be any different in your home or office. You just need to drill in two holes into the wall, attach the two clips supplied inside the box using screws, and then fix the light into those mounted clips.
Performance
LED lighting is typically unidirectional, unlike traditional CFL tube-lights, which makes them better for spot lighting purposes. However, they typically aren't the most suited for general purpose lighting. The Triyca manages to work around this limitation thanks to its reeded opal finish diffuser which does a good job of both diffusing the light as well as spreading it uniformly across the room. At the office space where we had it installed (a 12ft x 12ft room), the 20W E-Lite LED Triyca's soft light was amply bright, and even good enough to be used as the only source of lighting.
Colour rendering index
Fluorescent lights are notorious for being inaccurate at rendering colours, and any subtle variations in colour shades within your room are often lost owing to the source of light used. Colour Rendering Index or CRI is a numerical scale (0 to 100) used to indicate how a light source will make the colour of an object appear to human eyes, and the greater the number, the better the colour rendering ability of the light source. Good quality consumer CFLs manage to achieve "white light" with a CRI of below 75. The Havells 20W Triyca E-Lite LED has a CRI rating of 80, and does a significantly better job of rendering colours accurately when compared to the average CFL.
Lower power consumption, greater efficiency, and a longer lifespan
While CFLs typically have a rated service life of 6,000 – 15,000 hours and standard incandescent lamps have 750 – 1000 hours, LED lights fare much better. Havells claims a lamp life of 30,000 hours, more than double the average lifespan of a CFL or incandescent lamp, for its Triyca E-Lite LED lights. The life of a CFL is also reduced by frequent switching on and off, something LEDs are unaffected by. By the end of the lifetime of a CFL, it can be expected to produce only 70-80% of its original light output. In comparison, LED lights maintain a relatively constant output over time, only decreasing towards the end of their rated lifetimes while maintaining excellent colour quality. The shade of white light that the Havells 20W E-Lite Triyca LED emits appears clear and consistent over time.
Aside from being more power efficient, Havells E-Lite Triyca LEDs are environment-friendly. Unlike CFLs which can be hazardous owing to their mercury content, LEDs do not have any mercury content, making them both safer to dispose off and for general use. You do not have to worry about a broken tube as much, with Havells E-Lite Triyca LED.
Conclusion
At a maximum retail price of ₹1190, the 20W Havells E-Lite Triyca LEDs may be more expensive than similarly powerful CFLs and incandescent lighting solutions. But then the advantages in the long run are manifold. Their longer lifespan ensures you'll be spending less money on lights as time goes by.
The cost of keeping a single CFL running may not be very different from keeping a single LED light running, but the advantages coming from reduced energy costs and reduced maintenance costs add up. The savings become more evident when you take into account lighting for an entire home or office. That, and the Havells 20W Triyca E-Lite LED's ability to switch between Natural Daylight, Warm Daylight, and Cool Daylight lighting effects are what make Havells' lighting solutions worth your while.
Havells Triyca Lineup
The Havells Triyca lineup of products includes 3-in-1 square and round panels as well, in 12W and 16W variants, in addition to their E-Lite range. Here's a quick look at the 12W 3-in-1 Triyca square panel, better suited to office spaces, restaurants, lobbies/waiting areas and even residences.
Easily mountable onto a false ceiling using the two SS springs that are bundled in the box, the 3-in-1 square colour panel boasts of a 3 colour temperature output as well. The compact and smaller 10W E-Lite LED Triyca is better suited for smaller spaces. Its diffused lighting makes it especially suitable as a mirror light. You can check out Havells' entire range of LED lighting products here.