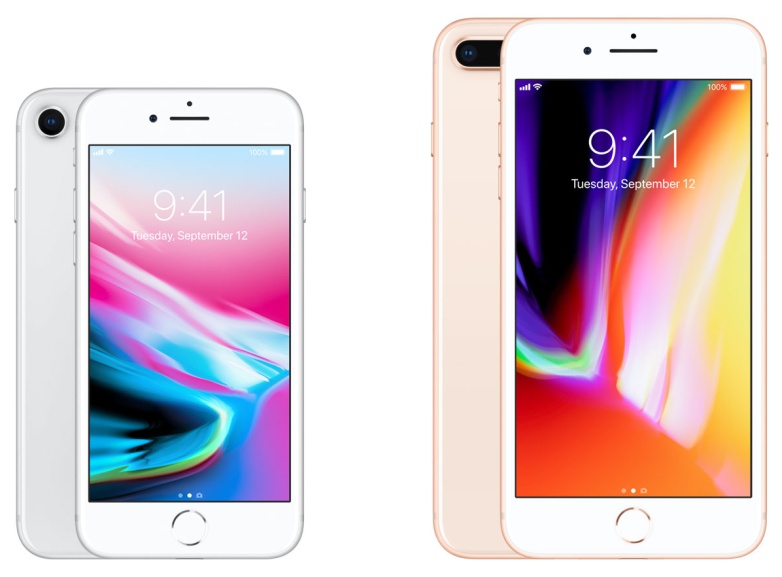 Unlike other smartphone makers, Apple never reveals the battery capacity of its iPhones. There was no mention of it during the keynote event earlier this week, nor do we find the battery capacity listed on the Apple website. However, thanks to the new iPhone 8 and iPhone 8 Plus receiving certification from TENAA in China, we now know the exact battery size inside the two new iPhones.
The iPhone 8 (A1863) features an 1821mAh capacity battery inside, which is smaller than the 1960mAh capacity battery found inside the iPhone 7. Similarly, Apple is using a smaller capacity battery inside the bigger iPhone 8 Plus (A1864) as well. Instead of a 2900mAh battery on the iPhone 7 Plus, the new model packs a 2675mAh battery. The numbers on the Apple website suggest the iPhone 8 offers identical talk time, browsing time, video playback time, and audio playback time as the iPhone 7. It is the same story in the iPhone 8 Plus' case as well. Quite clearly, the new A11 Bionic chip and the other more efficient components inside the newer iPhones have allowed Apple to maintain the same battery stamina while using slightly smaller batteries. What seems a little odd is the fact that the new iPhones are in fact slightly thicker than their predecessors.
While it is certainly disappointing that the new iPhones do not offer better battery life than last year's models, Apple has fortunately added fast charging support this time, along with the convenience of wireless charging. However, there is a catch there as well. Most of you will be aware that for wireless charging to work, you need to invest on getting a compatible wireless charging pad. With the new iPhones, however, you will need to invest in getting the fast charging to work as well. That's because the fast charging on the three new iPhones only works over USB-C. You will need to buy both a Lightning-to-USB-C cable as well as a USB-C Power Delivery-compatible charger to enjoy fast charging. Apple claims it only takes 30 minutes for the batteries inside its new iPhones to charge up to the 50 percent mark.
[Via: FoneArena]