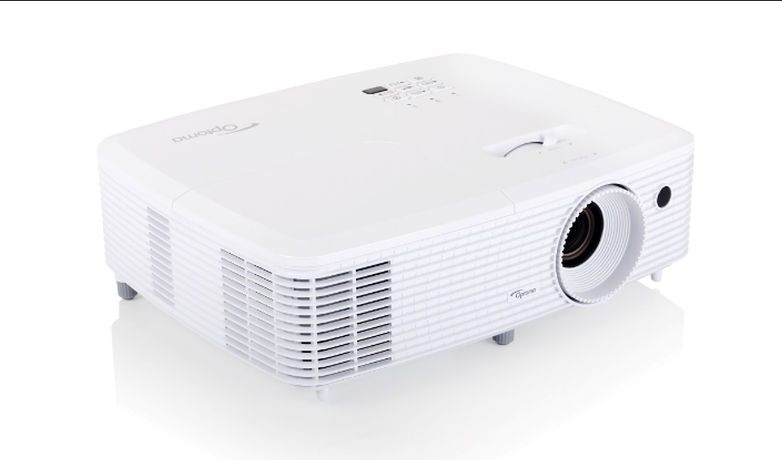 Important Update
The content of this review is applicable only if you plan to purchase the projector off Amazon.in for Rs 74,000. However, the Optoma rep has informed us that the company will not honour warranty and service for any Optoma projector bought online. Optoma has specifically told us that the HD27 is priced at ₹99,750 (even though it's available for ₹74,000 on Amazon.in) and they don't sell through any online channels officially.
The company's asking price for the genuine warranty supported version is ridiculous since it's more than three times as expensive as the same projector in the US, which comes down to around ₹30,000. Therefore, we absolutely DO NOT recommend purchasing the Optoma HD27 projector from the official channel. The text of the following review is only applicable for the Amazon.in version sold at ₹74,000, for which Optoma refuses to honour the warranty. The ratings, however, have been updated according to the newly notified official price.
This information was conveyed to us after the review was published considering the ₹74,000 price tag in mind. In light of the development, we had the update the scores accordingly. If you wish to purchase the Optoma HD27, you can call 040 40164442 and the Optoma reps will assist you with finding the nearest dealer/retailer.
Review Continues
On paper, projectors make perfect sense. For anywhere between ₹70,000 to ₹1,00,000 you get screen sizes in excess of 100 inches. With that sort of money, a conventional flat-screen TV can barely manage half the screen size. What's the catch, then? The problem, or rather the unique use case, associated with a home theatre projector can be best understood with the pocket knife/multi-tool analogy.
A pocket knife, you see, can be used for a variety of purposes ranging from opening camping rations and cardboard packages to unscrewing appliances and filing down fingernails. A hunting knife, on the other hand, is a tool that's more specialised in nature. It does little more than cutting ropes, gutting fish, or building shelter, but it does that a whole lot better than a pocket knife ever could. In case you haven't clued in on the analogy yet, the ubiquitous flat-screen TV is the pocket knife/multi-tool here, whereas the home theatre projector is the veritable hunting knife.
Optoma HD27 projector review: The Jack of All Trades vs Master of One
As the name suggests, a home theatre projector is designed for one (and absolutely only one) job – that is, to deliver the best home cinema experience. It does that by rendering a ridiculously large screen that is, for all practical purposes, really only restricted by the size of your living room. Like the hunting knife, it's designed for one specific job and therefore cannot be used for other tasks.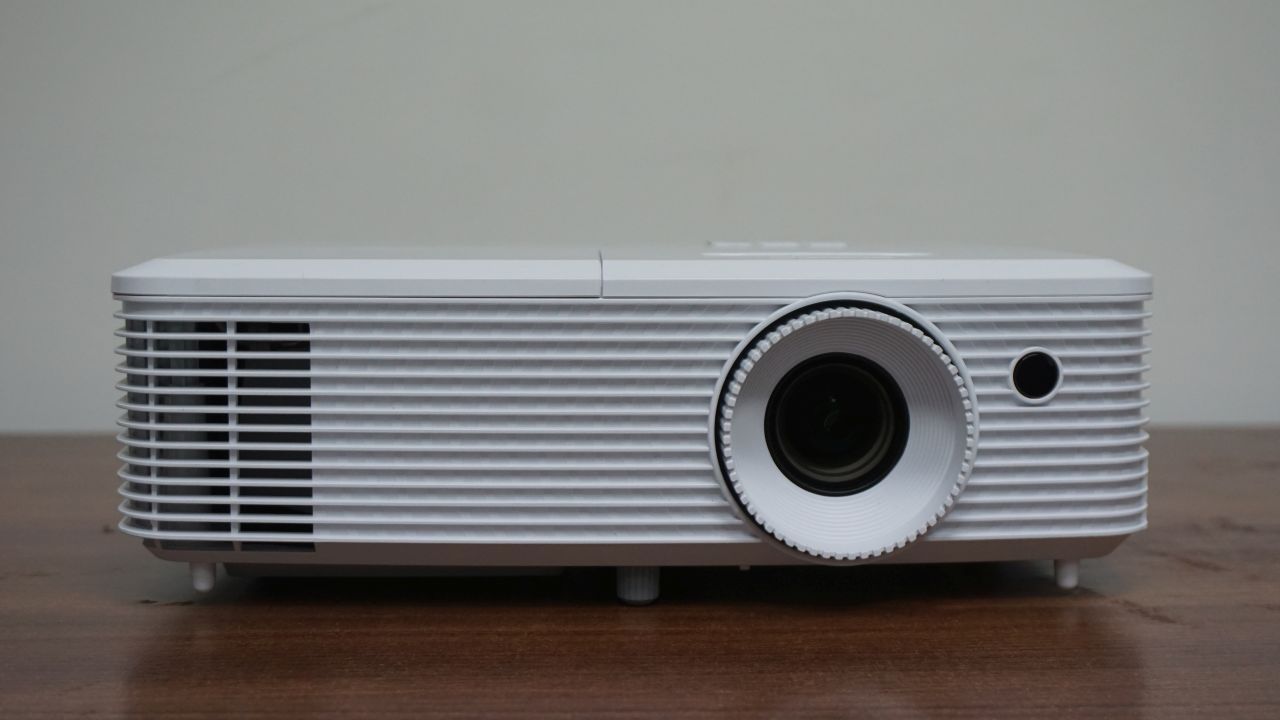 Tasks such as watching saas bahu serials, because each relatively expensive lamp lasts only for anywhere between 3000 to 6000 hours. And then again, most normal people have sun-facing windows and ambient lighting, which is at odds with the darker room conditions required for a projector. Cinemas are supposed to be darkened, but your average living room is brightly lit. So even if you have a projector in your cinema room, you still need a TV for casual viewing of programming that isn't cinema.
So far, we established that if (a) you have a large enough room to hang a 100-inch projector screen, which is (b) equipped with thick, dark curtains to simulate a dimly lit cinema hall, there's nothing this side of a home theatre projector that can deliver the best possible home cinema experience. With that in mind, let's take a look at the Optoma HD27 and evaluate whether it is good enough to grace your cinema room.
Optoma HD27 projector review: Cost Effective without Skimping on Quality
Optoma has made it clear in the model name itself that this is a Full HD (1080p) projector at the outset. With a street price of ₹74,000 (but with an official price of ₹99,750), the Optoma HD27 is positioned as a relatively affordable home theatre experience, so it's built on the simple and cost effective single-chip DLP platform. To that effect, it does away with complicated and expensive three-chip DLP configuration in order to keep costs down.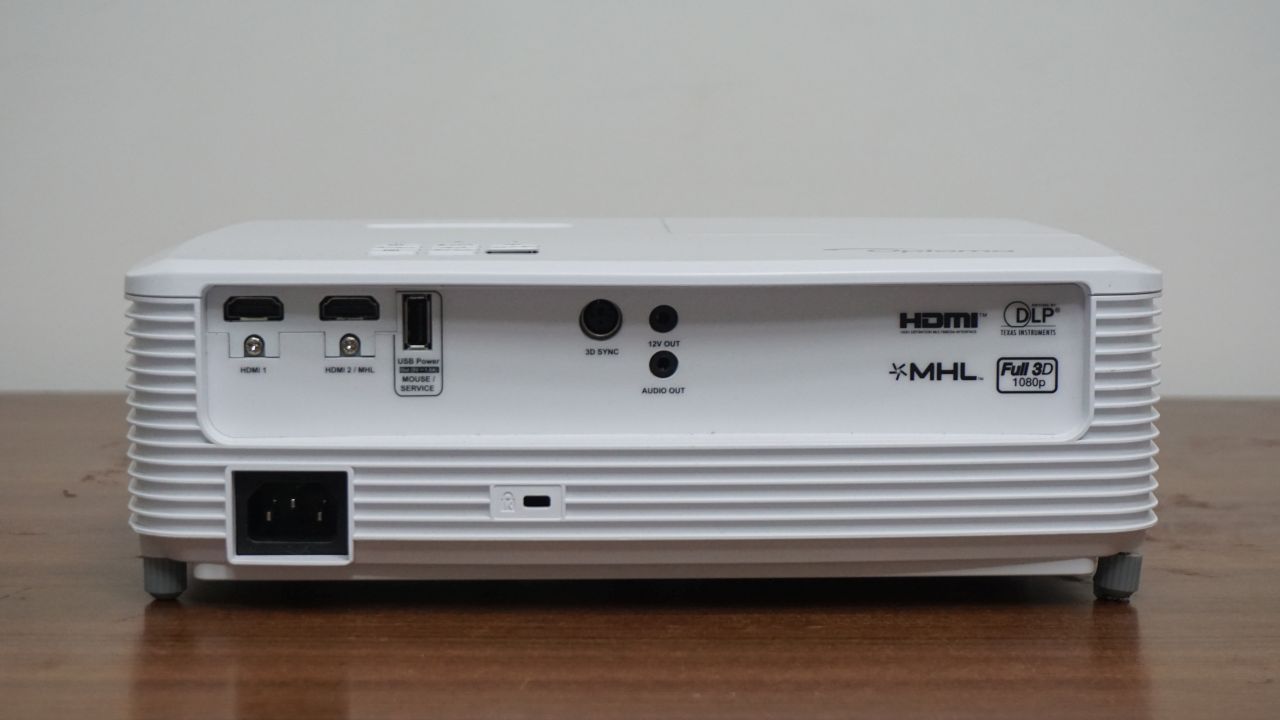 Even while doing so, it still doesn't miss out on the most significant benefit of using a three-chip DLP setup – excellent brightness. At 3200 ANSI lumens, the HD27 is sufficiently bright to be used with some ambient light, and even some more if you have a high gain projection screen. What's more, it even ticks the box on the second most important perk of using a three-chip DLP system – that is, accurate colour reproduction. The Optoma HD27 home theatre projector is certified to reproduce 98 percent of all colours in the Rec. 709 colour space.
The lack of 4K capability might seem a downer, but let's not forget that the majority of home cinema media is available in Full HD resolution, with actual 4K content being extremely hard to get, to this date. Since the HD27 is also positioned as a gaming solution, its Full HD underpinnings save you from coughing up another lakh or two for the dual GTX 1080 Ti setup that you'd require for unfettered 4K gaming. That's Optoma ticking all the boxes for the ideal home theatre projector that can also be used for some quality gaming.
Optoma HD27 projector review: Design, Connectivity, and Features
With a weight of 2.38kg, a thickness of 3.7-inches, and the longest side measuring in at less than a foot, the Optoma HD27 is small and light enough to be stuffed into a backpack and carried to a friend's house. In fact, that's how I lugged it home for the Diwali holidays. However, that doesn't mean that it skimps on connectivity either. With two HDMI 1.4a ports, one of which is compatible with MHL-compliant phones, you won't be facing any connectivity issues. Even if you face such issues, Optoma offers the option of the WHD200 wireless HDMI streamer, provided you're willing to pay extra for the wireless experience.
The presence of HDMI 1.4a ports means that the projector supports 3D, along with optional (read: paid) 3D-Sync emitter and separate 3D glasses. Our review unit, and the retail one as well, didn't ship with these optional components, so your guess about its 3D performance is as good as mine. Among other superfluous connectivity options, you have a USB port that's only good for charging devices or to service the projector. Then there's a 12v trigger to automatically open and close motorised projector screens and 3.5mm TRS port for audio output.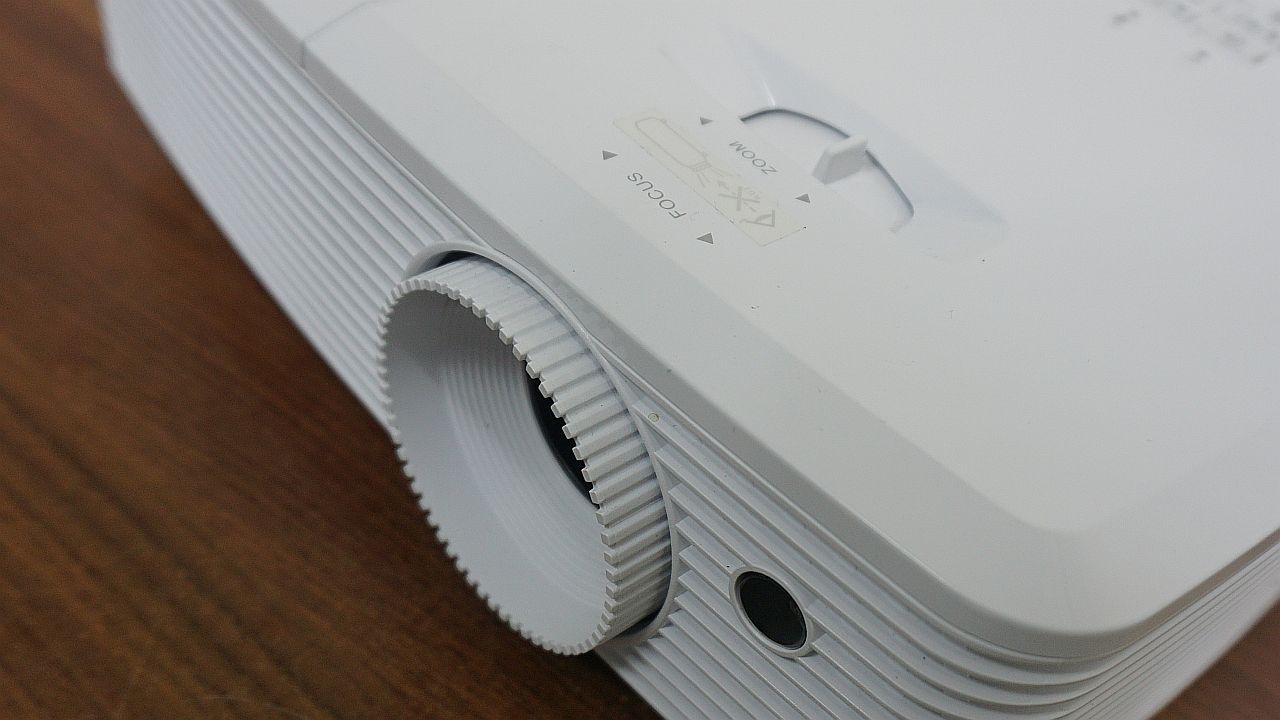 As explained earlier, this is a no-nonsense, no-frills projector, so it doesn't have fancy short-throw optics. In other words, you'll need a sufficiently large room to get a large enough projected image. As I found out, the projector lens has to be approximately 3 metres away from the wall to fill up a 100-inch screen. The zoom and focusing system is an elementary affair, with manual controls to keep the design simple and costs down. The zoom mechanism isn't aggressive enough to compensate for small rooms, but the serrated focus ring does a great job of keeping things sharp – something, that is made a lot easier and quicker with inbuilt test patterns.
The simple screw-adjustable feet work well to dial in the image and compensate for table wonkiness. Projector alignment issues brought upon by deviation along the height can be easily corrected by on-device physical buttons for trapezoidal adjustment. In addition to the basic controls for power, menu, navigation, enter, and source toggling, you also get a small backlit remote control that's designed intuitively enough to make life easier while operating the projector in the dark.
Optoma HD27 projector review: Performance
We have covered in detail how the compact and lightweight nature of the Optoma HD27 home theatre projector is quite convenient. However, it also makes life difficult while actually using the projector. A smaller chassis means a tinier fan that has to spool faster to move the same volume of air. This lack of breathing room for hot internal components also means that the small and noisy fan has to work especially hard, which in turn makes it louder. This is not only audible, but also irritating during the quieter movie scenes. If the fan noise bothers you that much, you can choose to run the projector in the eco mode, which not only significantly increases the lamp life, but it also dramatically reduces the drone of the internal cooling fan. But, that also means you'll have to make your room darker to reduce the impact on the image quality.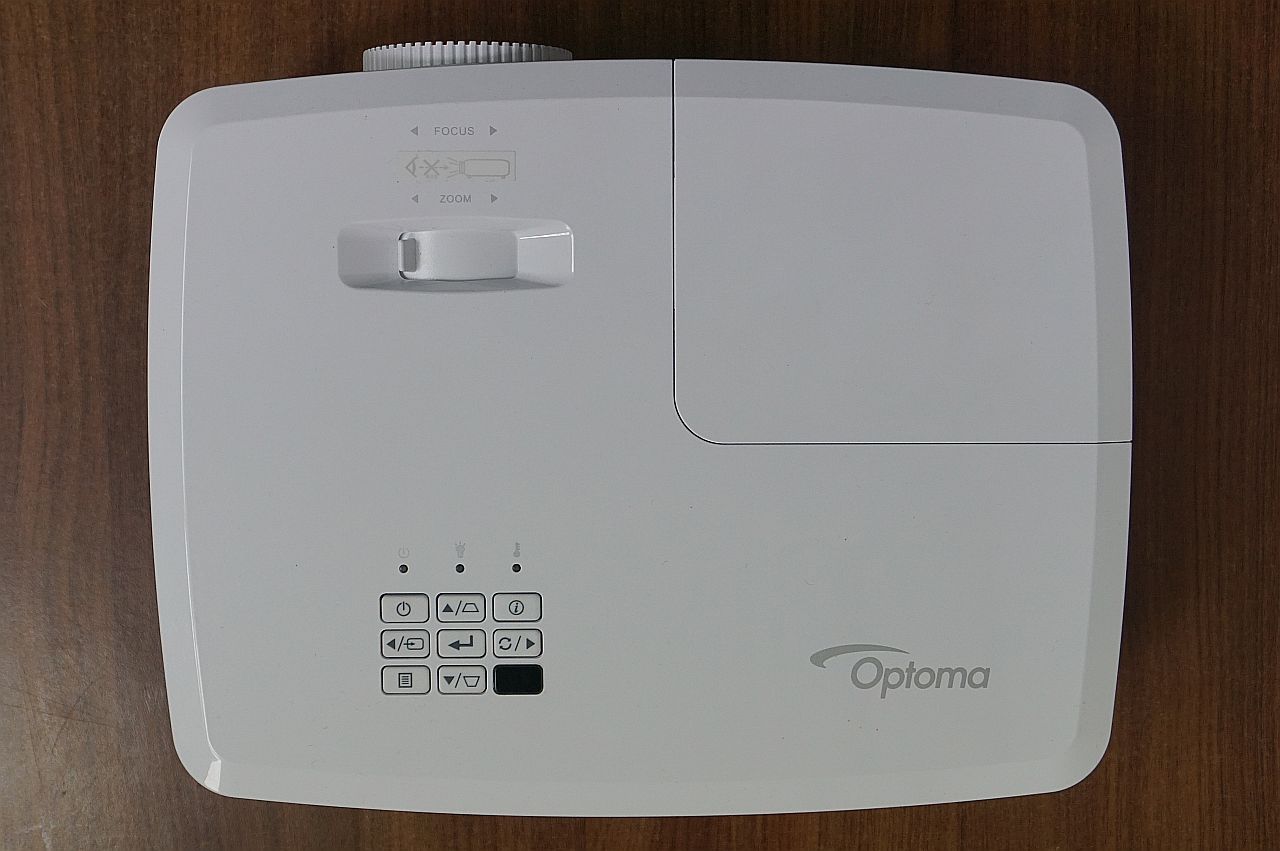 Despite its price, I was pleased with the array of picture adjustment options. You get six picture modes, with Cinema and Reference modes for ideal viewing, followed by the Game mode that has been designed for minimal input lag, and a Bright mode for viewing conditions with some ambient light. The HD27 is an ISF-certified projector, so you can have a professional calibrate it for separate day and night picture modes. Therein you'll find elaborate colour management options for hue and saturation along with separate gain adjustments for individual colours. You also have dynamic black adjustment option to improve contrast, but the projector misses out on some options for motion interpolation and noise reduction, which frankly are best not enabled, so you aren't really missing out on anything important.
Since my projector screen was some 700-odd kilometres away and review unit wasn't sent with an appropriate screen, I had to make do by projecting the image on a white wall. Despite that limitation, the Optoma HD27 managed to render a punchy image with vibrant colours that appeared too saturated prior to calibration. The HD27 is bright enough to tolerate some ambient light; but, as is the case with all projectors, it does tend to dull the image, so you're better off in a sufficiently darkened room.
After some minor calibration, the HD27 managed to deliver accurate colour reproduction, which was evident in the Mad Max, Pacific Rim, and Zombieland Blu-rays. The skin tones were on point in the Shaun of the Dead Blu-ray with high contrast chops of the projector evident in the demanding scenes of the Suck and Kick-Ass Blu-rays. All of this definitely helped during gaming, where the projector was able to keep up with the fast action without adding any perceived input lag in the Game mode.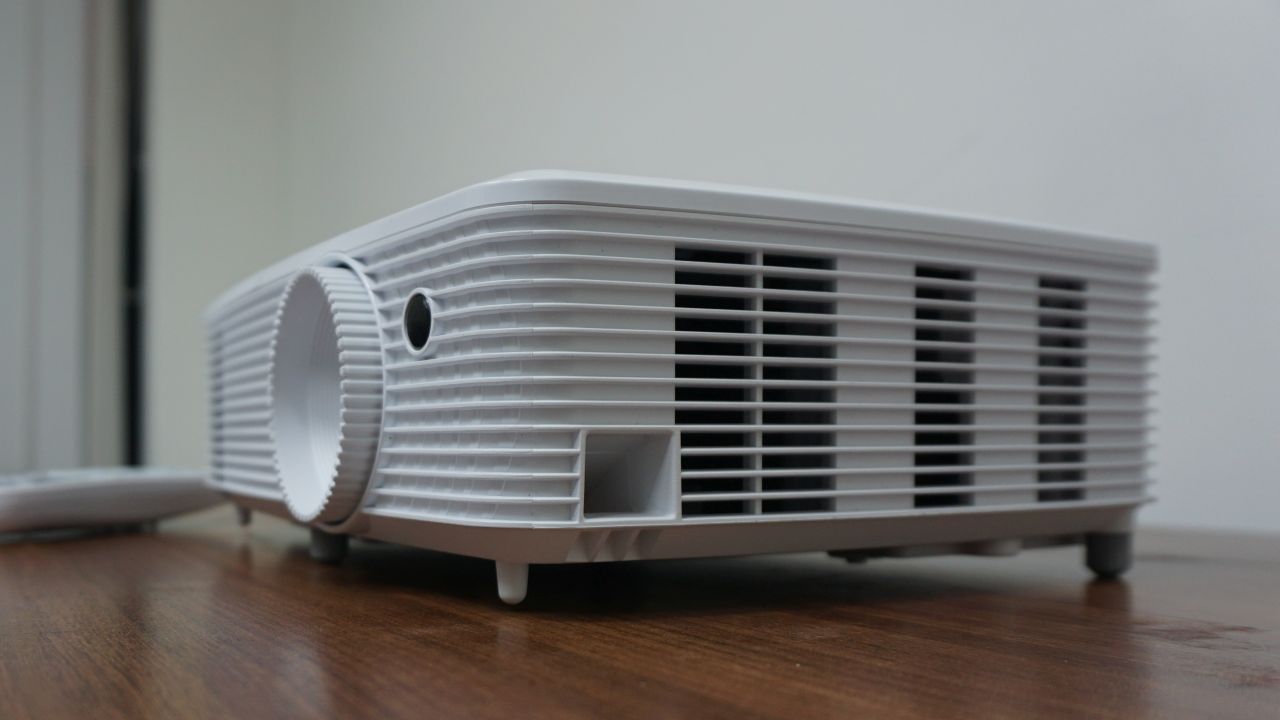 What's more, even after trying really hard to spot the 'colour wheel' effect, or the tell-tale rainbow fringe associated with single-chip DLP projection systems, I couldn't really notice it even in the high contrast areas of the image. It only leads me to conclude that Optoma has done a mighty fine job with the colour wheel on the HD27 projector. The only chink in its armour is the somewhat lacking black performance. Despite a healthy contrast ratio of 25,000:1, the Optoma HD27 can't render perfect blacks. As a consequence, there's some black crush evident in the darker scenes of Pandorum, Descent, and The Babadook blu-rays that I had auditioned.
Optoma HD27 projector review: Verdict
As a budget home theatre projector, the Optoma HD27 does a mighty fine job with deep punchy colours and a surprisingly bright and vivid image. In fact, there were times when I was almost fooled into believing that I was auditioning a more expensive home cinema projector. At ₹74,000, the HD27 isn't expensive by a long shot and Optoma has been clever at cutting costs through efficient design, while taking care not to impact picture quality and ease of use. Even though you can buy the projector at ₹74,000 from Amazon, Optoma has told us that the price of the HD27 is ₹99,750, and at this price we think that the projector isn't a value-for-money product.
The HD27's inability to render perfect blacks is an issue, but that can be fixed by pairing the projector with a good quality grey projector screen. The generous brightness levels of the HD27, in fact, make this an ideal pairing that can fix most of its deep black rendering issues. Do that, and you have a perfect budget home theatre projector setup that punches well above its price category can satisfy your movie watching needs even with some amount of ambient light in your living room.