Amazon has updated its music streaming app Prime Music to add a feature that was long been requested by us and most other users: Chromecast support. Along with an ability to cast music to Chromecast, Chromecast Audio, or Google Cast-compatible speakers and TVs, Amazon has also added its artificial intelligence-powered assistant Alexa into the Prime Music app.
With the updated app, you can streaming music from your Android smartphone or tablet to a Google Cast device nearby, be it a TV or a speaker. It is compatible with Chromecast, Chromecast Ultra, and Chromecast Audio. Amazon has also added Alexa right within the app, so you can now tap the Alexa button and ask the AI assistant to find music by a particular artist, music in an album or a playlist, or play music by lyrics. However, the feature is only available for customers who have devices running Android 5.0 or above.
There's a cold war happening between Amazon and Google. The US-based e-commerce giant stopped listing and selling Chromecast devices through its website and wasn't integrating Chromecast support in its music and video streaming apps. Recently, Google recently yanked the YouTube app from Amazon's Echo Show device. However, Amazon seems to be raising the white flag by adding the Chromecast support into its Prime Music app. Will Google release the YouTube app for the Echo Show now? Only time will tell.
Amazon Music App Update: What's New?
Chromecast Support: You can now select music on your Android device, and have the music play on your Chromecast enabled devices.
Ask Alexa: The Amazon Music app now features Alexa. Tap the new "Alexa" button and ask Alexa to play new music, play a song by its lyrics, play work-out music, or many other Alexa supported commands or questions, all from within the app.
Compatibility: Alexa is available for customers on Android Lollipop (5.0) and higher.
Amazon Music App Update: Screenshots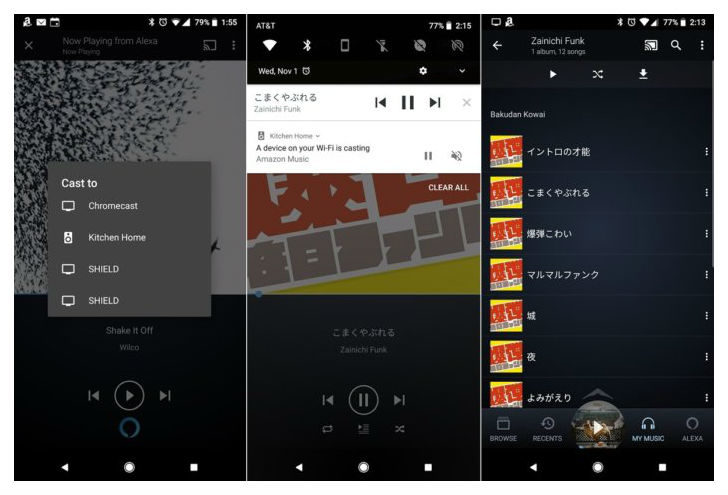 When Is Amazon Prime Music Coming to India?
Amazon launched its video streaming service Prime Video in India earlier this year, and then the Fire TV Stick. A few weeks ago, the company launched its Echo speakers – Echo, Echo Plus, and Echo Dot – along with its AI assistant Alexa in the country, and mentioned that it is planning to launch its music streaming service in India very soon. We expect the service to go live in India in the next couple of months. Amazon aims to double its investment in India to focus on Echo and Prime Video.