iOS 11 comes with a slew of new features and enhancements that help in further delivering a pleasant user experience and making certain day-to-day tasks easier. On the iPad specifically, iOS 11 brings about a completely overhauled dock and multitasking experience that make it act less like a tablet and more like a PC.
Most users, however, have usually little to no idea about the minor new features that Apple introduces with every major new release of iOS. These small features, tips and tricks help one in getting the most out of their iPhone or iPad. One usually comes across these features if they have had the time to dig through every nook and cranny of the OS which is a time-consuming process. To help save you time and make the most out of your iPhone or iPad running iOS 11, check out our list of the top tips and tricks for the OS.
1. Save storage space by offloading unused
Apple has introduced a new Offload Apps feature in iOS 11 to address the issue of 16GB iPhone and iPad owners constantly running out of space on their device. As the name suggests, enabling the feature will lead to iOS automatically 'offloading' some of your less regularly used apps and games to free up storage space on the device. The process automatically happens when your device is low on storage space. All your associated documents and data with the app will be preserved.
Offloaded apps are highlighted by having a greyed out icon. Tapping on an offloaded app would lead to it being downloaded again from the App Store so that it can be used again.
You can enable the Offload Unused Apps feature from Settings -> iTunes & App Stores.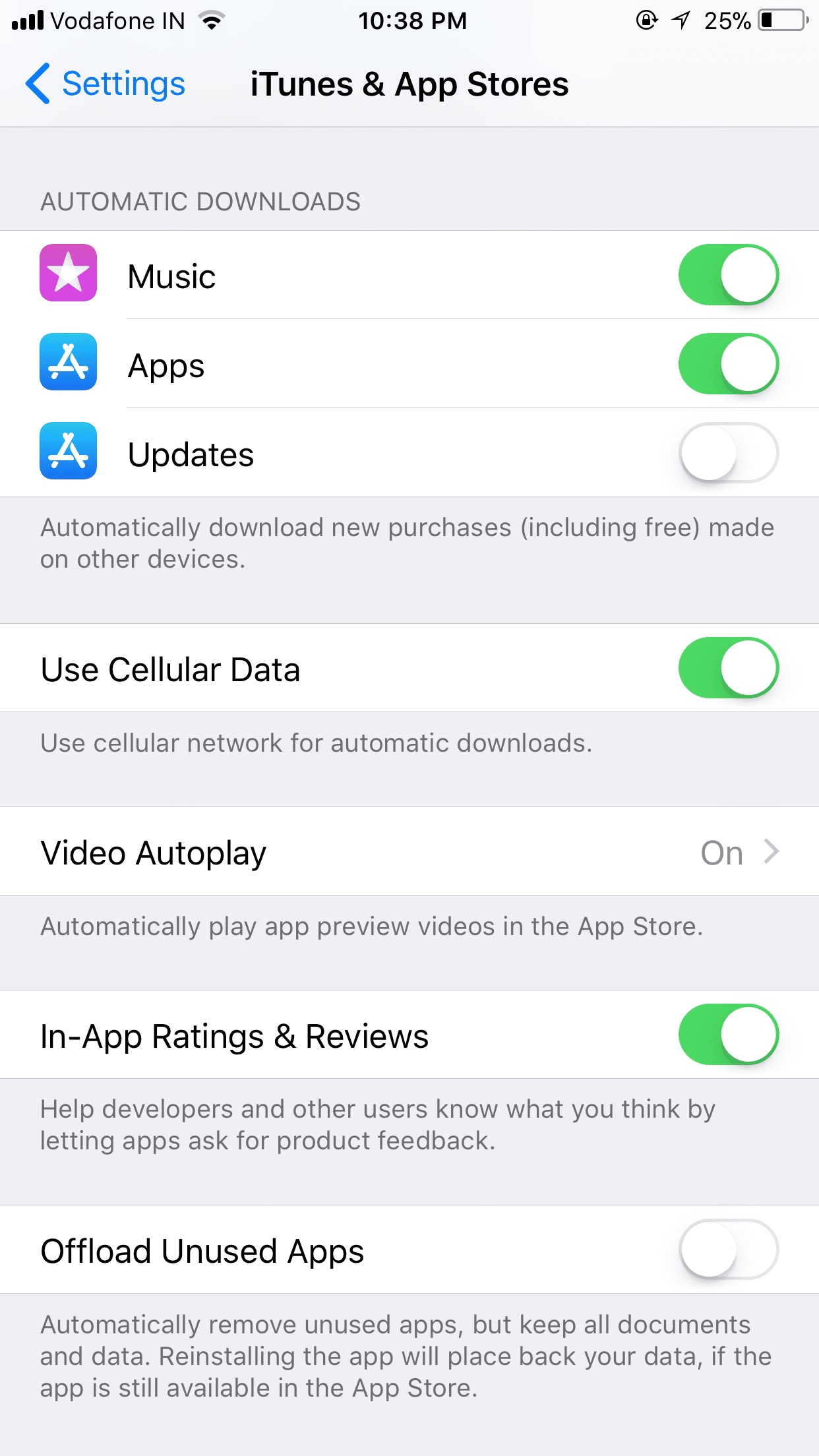 2. Mark up screenshots
iOS has had the ability to natively take screenshots since long. With iOS 11, Apple has supercharged this simple feature. Taking a screenshot in iOS 11 would lead to a its small thumbnail being shown at the bottom of the screen. Tapping on it will open the screenshot where you can annotate it easily or share it directly with your friends.
This way, you don't have to go to the Photos app to share a screenshot you have just taken or open it in other apps for mark up purposes.
3. Screen recording
Apart from enhancing the screenshot feature, Apple has also included a Screen Record option in iOS 11. As the name suggests, you will be able to record the screen of your iPhone or iPad using this feature.
You can find the steps to record the screen on your iPhone or iPad running iOS 11 here.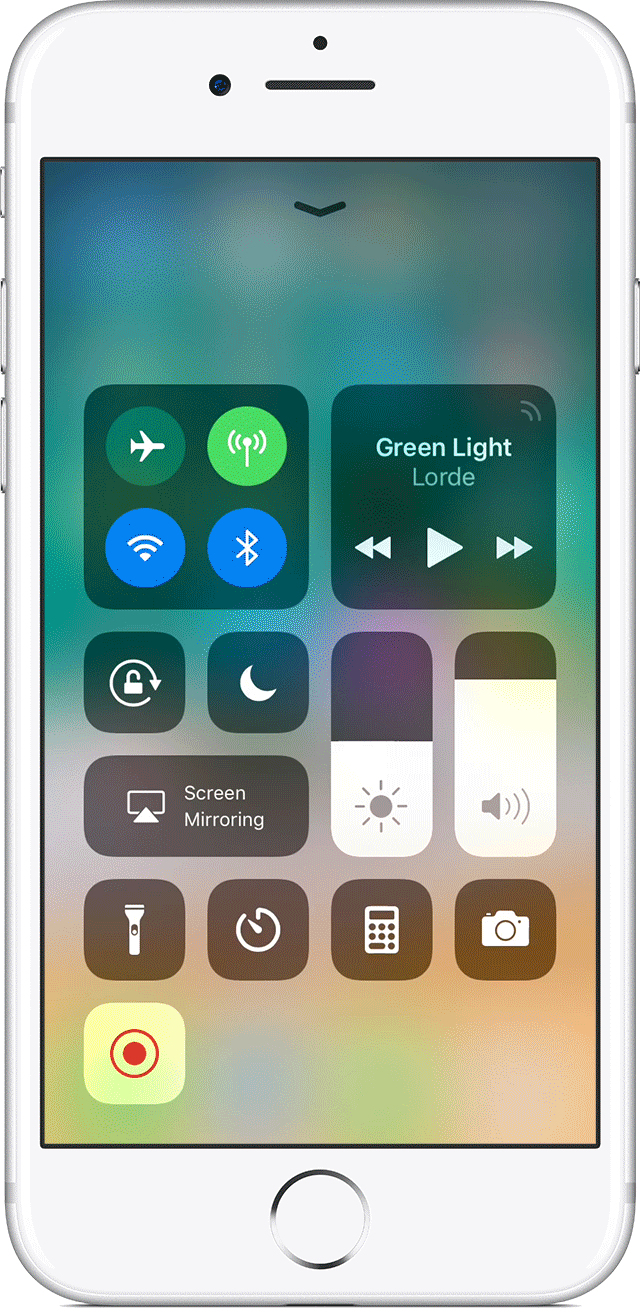 4. Dark theme
While iPhone users have long wished for a dark theme in iOS, Apple has never really paid heed to their demands. iOS 11 is no different in this regard and does not come with a black theme…officially. Unofficially, there is a dark theme in iOS 11 which is good enough for most purposes, though its a bit rough around the edges and might not play well with third-party apps.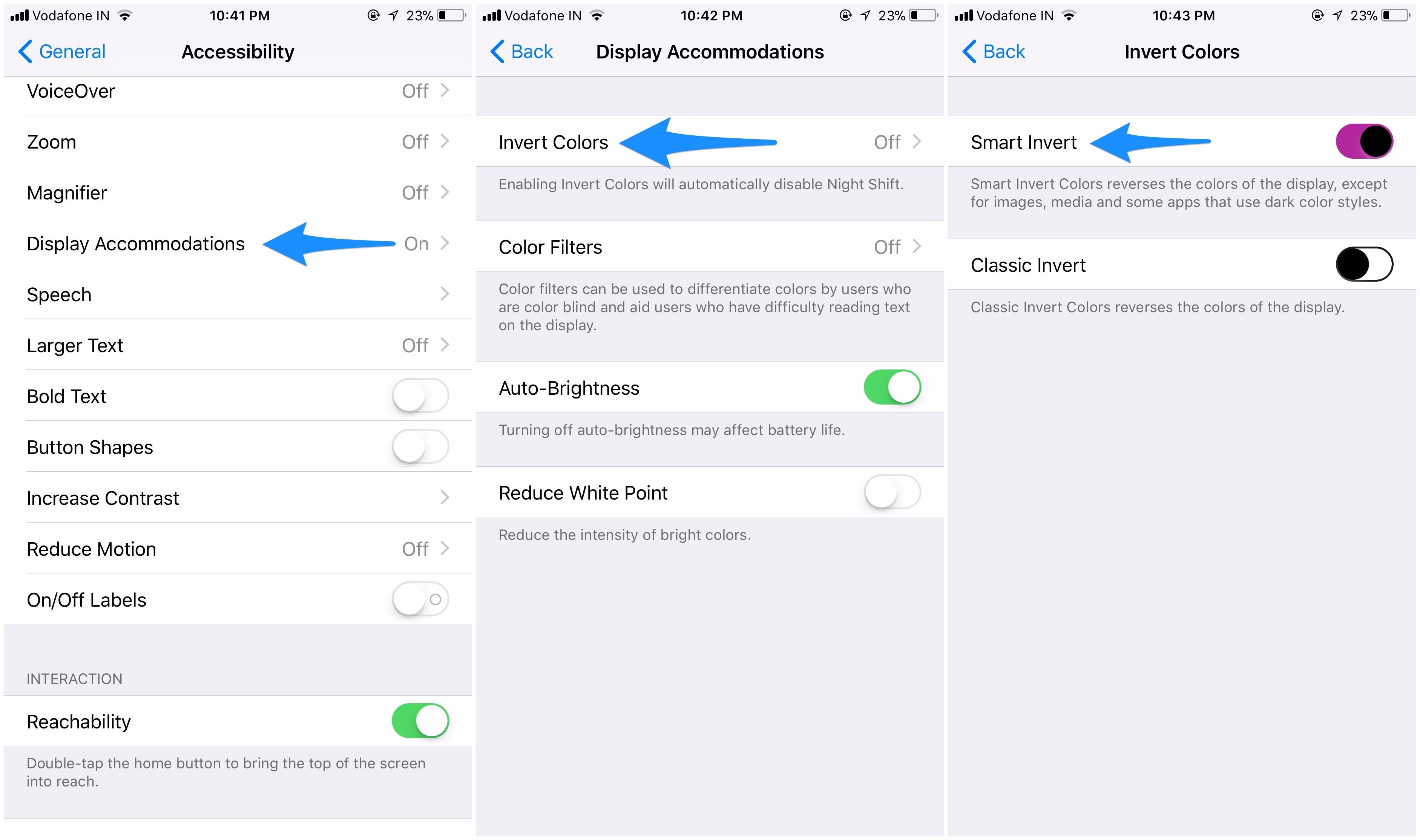 Essentially an accessibility feature, you will have to enable the Smart Invert option on your iPhone to enjoy this dark theme. Head over to General > Accessibility > Display Accommodations > Invert Colors and enable the Smart Invert option.
While you might run into some weird graphical issues with the Smart Invert option enabled in third-party apps, the dark theme looks absolutely stunning on stock iOS apps.
5. Save space using HEIF and HEVC
With iOS 11, Apple has added support for two new image formats: HEIF and HEVC. The former is for taking photos, while the latter uses the H.265 codec while shooting videos to reduce their size. The switch to these new format leads to significant space savings, with the captured video size being almost 50 percent smaller in most cases.
The ability to capture photos in HEIF and record videos in HEVC format is only available on the iPhone 7, iPhone 8, iPhone X, and the iPad Pro. You can enable recording in the new format from Settings -> Camera -> Formats and selecting the High Efficiency option.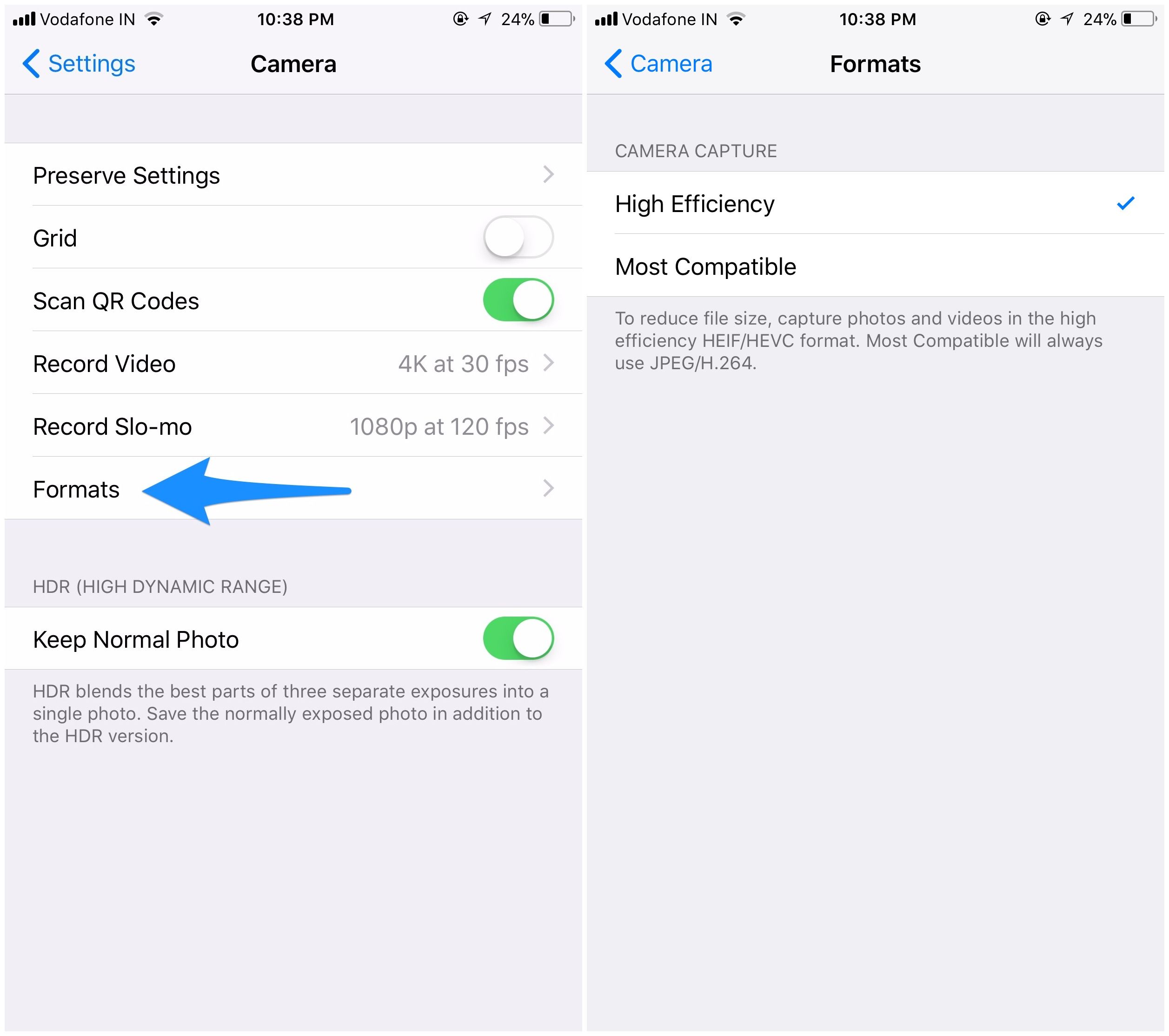 6. Scan documents using the Notes app
Apple has supercharged the Notes app in iOS 11 by adding the ability to scan documents through it. While you will find plenty of document scanning apps on the App Store, Apple's implementation is far superior to others and offers a better user experience.
To scan a document using the Notes app on your iPhone or iPad, open the Notes app, tap the '+' button at the bottom and select the Scan Documents option.
7. Customise Control Center
This is one of those smaller yet significant changes introduced by Apple in iOS 11. Starting with the latest version of the iOS, you can customise the toggles in the Control Center according to your liking. To change the toggles being displayed in Control Center, head over to Settings -> Control Center -> Customise Controls.
You can drag and drop the list of toggles around and add new ones to the list by tapping the '+' symbol shown beside their name.
8. One-handed keyboard
Apple has finally added a one-handed keyboard in iOS 11 to make it easier to type with one-hand on large devices like the iPhone 6s/7/8 Plus. As seen on Android devices, the stock iOS keyboard will switch to a particular side of the screen when the one-handed mode is enabled. This can be done by long pressing the emoji key and then sliding between the left and right icon. And if you want, you can permanently use the one-handed keyboard by enabling it from Settings -> General > Keyboards > One handed keyboard.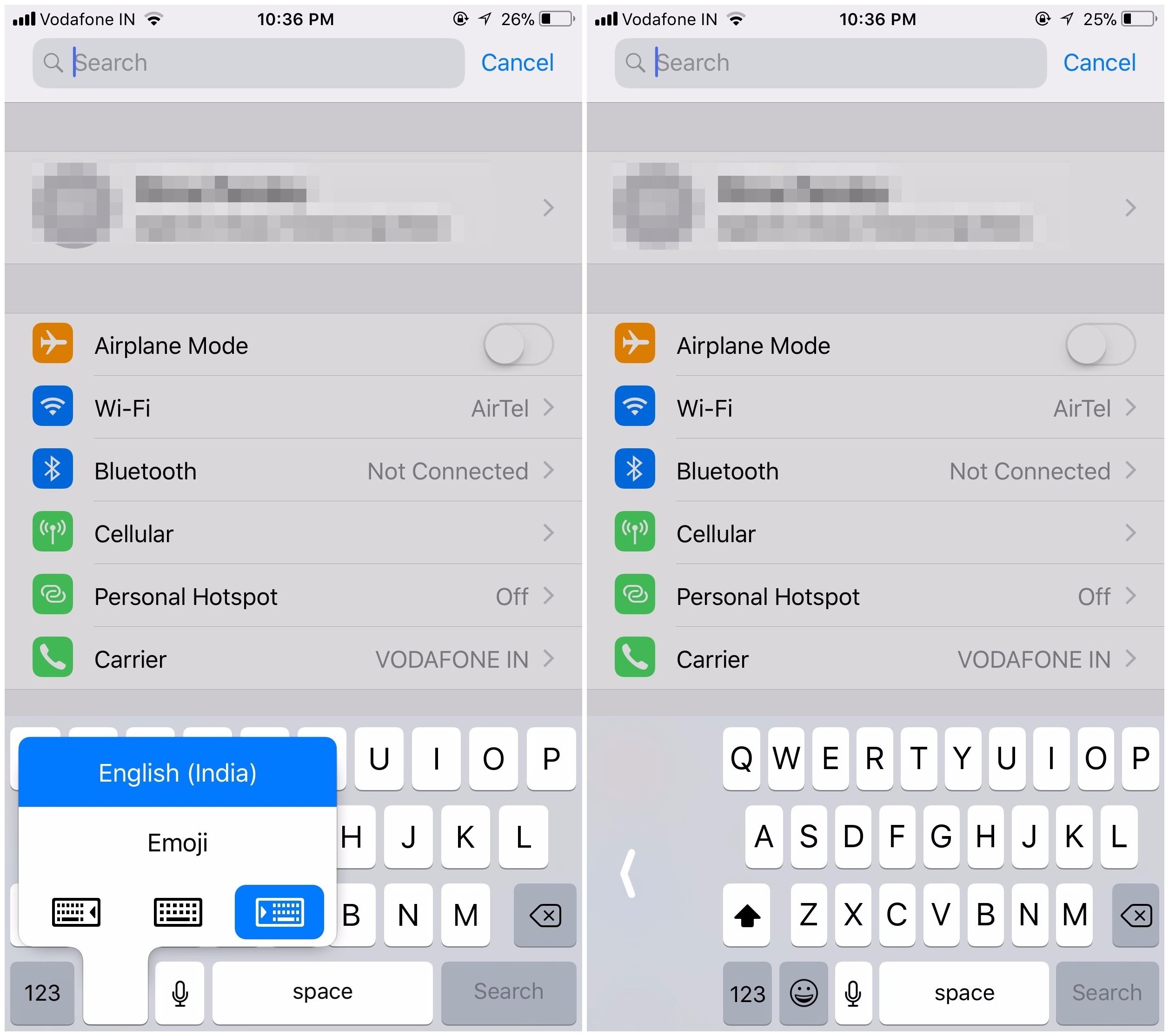 9. Move multiple icons at the same time
The iOS home screen has largely remained the same since its inception and Apple has made little efforts to improve it with iOS 11. However, it has made it easier to reorganise the home screen by adding the option to move multiple app icons at the same time.
The feature is implemented a bit poorly though and not really that obvious. Hold an icon on the home screen of your iPhone or iPad until they start wiggling. Then drag one of the icons and whilst holding it, tap on another icon. This will add both icons to a stack which you can then drag around and place according to your wish. You can tap on multiple icons to add them to a stack as well.
10. Files app for managing files in local and cloud storage
Apple has debuted a new Files app in iOS 11 that makes it convenient for one to manage their files stored not only on their iPhone or iPad, but also in other cloud locations like iCloud, Google Drive, OneDrive, and more. The app allows one to browse, search, and organise all their files irrespective of where they are stored.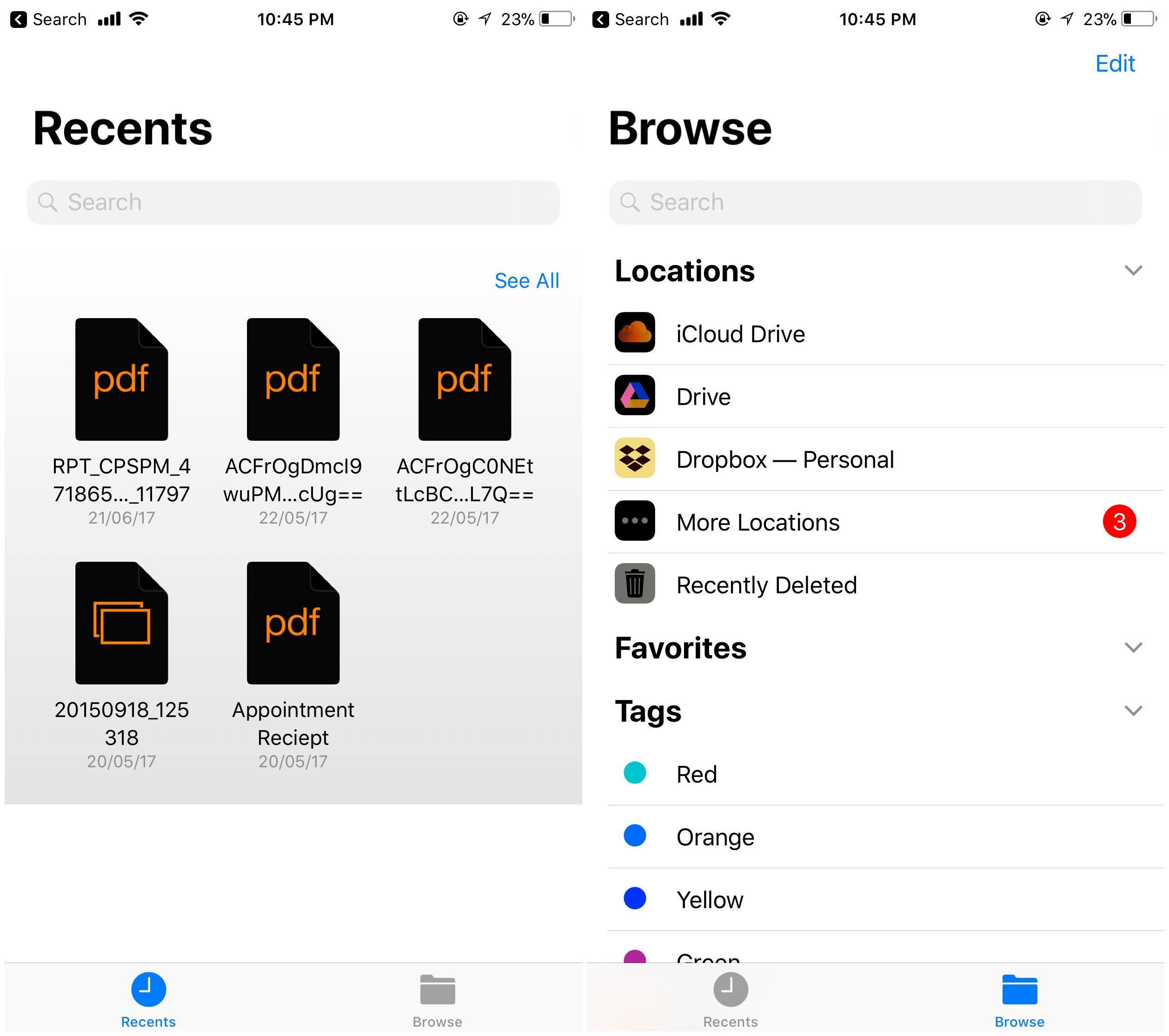 The Files app is a far cry from the iCloud Drive app which it replaces. The older app was limited in its functionality and hardly offered proper file management options.
The new Files app goes a long way in making it manageable to easily view and access all your important documents and files irrespective of where they are stored.
---
The above tips and tricks should really help you master iOS 11 and show off those little new features and enhancements that Apple has introduced with the update.
What are your favourite iOS 11 tips and tricks? Do drop a comment and share them with us.