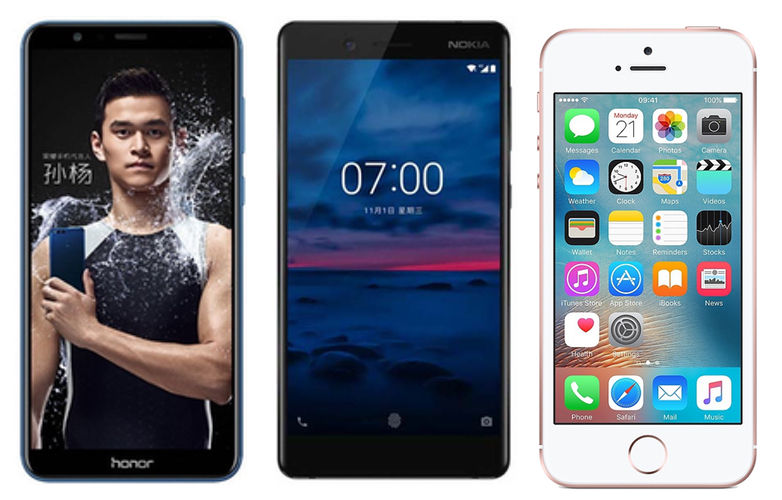 We've put together an interesting list of phones to compare – the Nokia 7, which is an upcoming phone from the born-again Nokia, the iPhone 5s which came out in 2013, and the spanking new Huawei Honor 7x which released earlier this week. While the mobile phones are priced very closely, let's compare these phones so we can recommend which the best phone to buy would be.
Nokia 7 vs iPhone 5s vs Honor 7x: Price in India
The Nokia 7 was released in China this October and is expected to release in India sometime in December, latest by early next year. The phone will be priced at approximately ?18000. The four-year-old Apple iPhone 5s has come down to approximately ?16000. The Huawei Honor 7x is currently priced at approximately ?16000 as well. Since these phones are priced so similarly, let's take a look at what sets them apart.
Nokia 7 vs iPhone 5s vs Honor 7x: Display
The Nokia 7 has a 5.2-inch IPS LCD screen which offers a resolution of 1080 x 1920 pixels and a pixel density of 424ppi. Comparatively, the iPhone 5s has a 4-inch LED-backlit IPS LCD display with a resolution of 640 x 1136 and a pixel density of 326ppi. The Huawei Honor 7x offers a resolution of 1080x 2160 pixels on a 6-inch IPS LCD screen, with a pixel density of 407ppi. The Huawei has an aspect ratio of 18:9, unlike the other two in this comparison which offer traditional 16:9 aspect ratios. The bezel-less Honor 7x also has a better screen-to-body ratio, at 77% as compared to 73.8% on the Nokia 7, and a measly 60.8% on the iPhone 5s. We gave this round to the Honor 7x.
Nokia 7 vs iPhone 5s vs Honor 7x: Performance
The Nokia 7 comes with 4GB RAM and 64GB of onboard space, with a 6GB variant possibly releasing in the future. The iPhone 5s in comparison comes with 1GB RAM, and three storage options – 16GB, 32GB, and 64GB. The Huawei's 64GB storage version comes with 4GB RAM, but the phone is available in a 4GB 32GB variant as well. Both Android phones support expandable memory up to 256GB, a feature which is not offered by the iPhone 5s.
The Nokia 7 is powered by a Qualcomm Snapdragon 630 octa-core 2.2 GHz SoC, whereas the iPhone is powered by the dual-core 1.3GHz A7 chip. Comparatively, the Honor 7x runs on a HiSilicon Kirin 659 octa-core processor with four cores at 2.36GHz and four cores at 1.7GHz.
The Nokia 7 comes with Android Nougat 7.0, whereas the iPhone 5s comes with iOS 7 and is upgradable to iOS 11.2. The Honor 7x comes with Huawei's proprietary EMUI 5.1, which is equivalent to Android 7.0. The Honor 7x comes with a 3340mAh cell, which offers longer life as compared to the Nokia 7 (3000mAh) and the iPhone 5s (1560mAh). Performance-wise, we found the specs of the Honor 7x to be very close to the Nokia 7, and differences if any are marginal.
Nokia 7 vs iPhone 5s vs Honor 7x: Camera
The Nokia 7 comes with a 16MP f/1.8 rear camera and a 5MP (f/2.0) front camera for selfies. The iPhone 5s comes with an 8MP shooter on the rear with an aperture size of f/2.2. Comparatively, the Honor 7x offers a dual camera setup with a 16MP and 2MP pair allowing users to take 'Portrait Mode' images. Its front selfie shooter is an 8MP camera that is loaded with features that would appeal to the selfie-obsessed smartphone buyer. We found the Honor 7x to comfortably win this round yet again.
Nokia 7 vs iPhone 5s vs Honor 7x: Verdict
The Honor 7x is a much better phone as compared to both the Nokia 7 and the Apple iPhone 5s. Though a lot of people would want to experience an iPhone, given the attractive price tag, the compromise on performance and features is a bit much. The Nokia 7 put up a good fight, but the Honor 7x ultimately won thanks to all the features we mentioned and other factors like build quality, design and user experience.