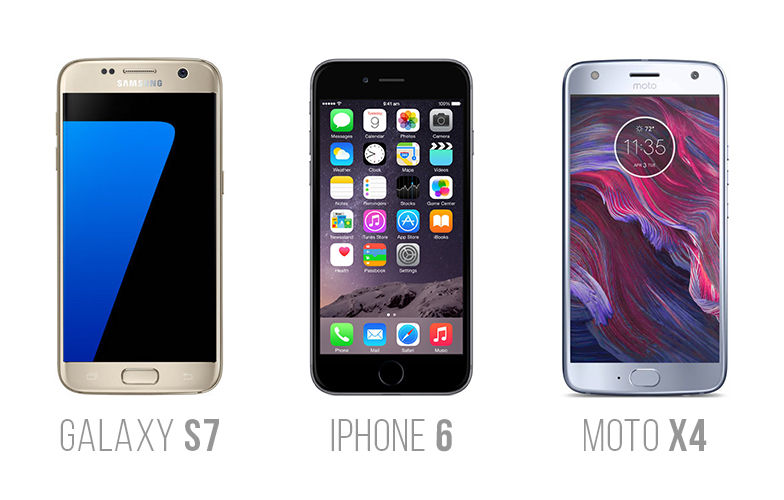 The Samsung Galaxy S7, Apple's iPhone 6 and the brand new Motorola Moto X4 make for a great comparison – these phones were highly anticipated, their predecessors were extremely popular, they have some snazzy features, and they fall in the same price range, more or less. But among these three, there is a price difference of approximately ₹7000 between the cheapest and the most expensive. So we decided to break it down and see if that extra cash is really worth it.
Samsung Galaxy S7 vs iPhone 6 vs Moto X4: Price in India
The Samsung Galaxy S7 was released in February last year and is currently priced at approximately ₹30,000 in India. The iPhone 6 is even older – it was launched in September of 2014, making it the oldest phone in the comparison. It is currently priced at roughly ₹26,000. And finally, we have the Motorola Moto X4, the latest phone in the Motorola X series, which released in August this year and is available for approximately ₹23,000. Now that we've established which phone is most pocket-friendly, let's take a look at the specs and features of the three mobile phones.
Samsung Galaxy S7 vs iPhone 6 vs Moto X4: Display
The Samsung Galaxy S7 has a 5.1-inch super AMOLED screen with a resolution of 1440 x 2560 and a pixel density of 577ppi. The iPhone 6 in comparison has a 4.7-inch LED-backlit IPS LCD touchscreen which offers a resolution of 750 x 1334 with a pixel density of 326ppi. The Moto X4 offers a resolution of 1080 x 1920 on its 5.2-inch IPS LCD display, with 424ppi. All three phones have an aspect ratio of 16:9 and offer screen protection in some form. The S7 won this round quite clearly – it not only has a better screen but also wins in terms of screen-to-body ratio.
Samsung Galaxy S7 vs iPhone 6 vs Moto X4: Performance
The Samsung S7 is powered by Samsung's very own processor, the Exynos 8890 octa-core processor (4×2.3GHz and 4×1.6GHz) paired with a Mali-T880 MP12 graphics processing unit. Comparatively, the iPhone 6 runs on Apple's A8 processor (dual-core, 1.4GHz Typhoon) and a PowerVR GX6450 GPU for graphics. Lastly, the Moto X4 has a Qualcomm Snapdragon 630 octa-core 2.2GHz SoC under the hood. The Adreno 508 handles graphics processing for the Moto X4. Going by what's under the hood, the S7 and the Moto X4 were neck-to-neck in this round.
The Galaxy S7 comes with 4GB RAM and 32GB onboard storage but is also available as a 64GB variant. The iPhone offers 1GB RAM to go with 32GB ROM, as compared to the Moto X4 which offers 4GB RAM with 64GB internal memory. An interesting feature of the Moto X4 is that it can be upgraded up to 2TB storage, via the microSD slot. Comparatively, the S7 allows 256GB expandable memory with its second SIM slot and the iPhone 6 does not support expandable memory at all.
The Samsung Galaxy S7 runs on Android Nougat currently, whereas the iPhone 6 runs on iOS 11.2 (it ships with iOS 8). The Moto X4 currently ships with Android Nougat (7.0) but an Oreo update will be releasing soon. The battery life on the Samsung S7 and the Moto X4 is tied at 3000mAh whereas the iPhone 6 comes with a 1810mAh cell.
Samsung Galaxy S7 vs iPhone 6 vs Moto X4: Camera
The Samsung Galaxy S7 has a really impressive 12MP (f/1.7) camera that features OIS (Optical Image Stabilisation) and Dual Pixel phase detection autofocus (PDAF). The iPhone 6 has an 8MP f/2.2 rear camera that also features phase detection autofocus. The Moto X4, being the newest of the lot, features a dual camera setup – a primary 12MP camera with an aperture of f/2.0 which supports dual pixel PDAF and an 8MP camera with a f/2.2 aperture.
The S7 features a 5MP front camera, the iPhone 6 has a 1.2MP front shooter and the Moto X4 comes with a 16MP camera for your selfie needs. In terms of camera awesomeness, the Moto X4 definitely wins.
Samsung Galaxy S7 vs iPhone 6 vs Moto X4: Verdict
It was pretty difficult to decide between the phones, mainly the Android handsets. The iPhone 6 couldn't quite keep up because it's outdated in a few ways, which is understandable considering how rapidly mobile technology is evolving. But between the S7 and the Moto X4, we'd recommend the Moto X4. This is because the newer phone offers more storage space, a better camera, newer software, and a very attractive price tag. So unless you're a Samsung or Apple fanboy, the Moto X4 is the obvious answer.